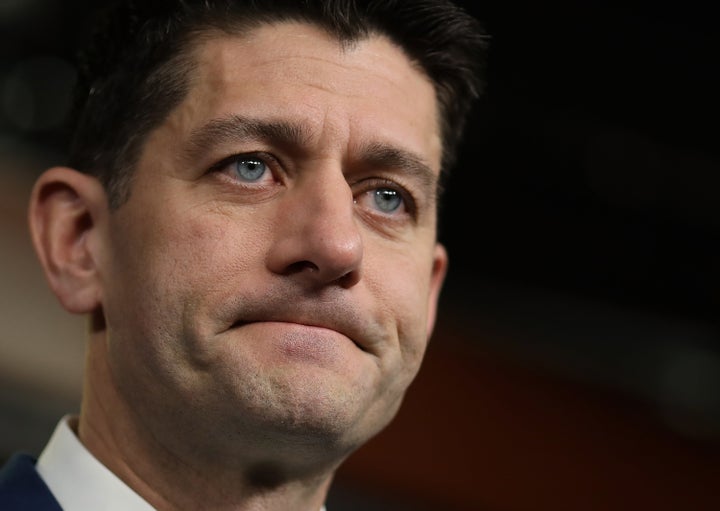 WASHINGTON ― Early in their efforts to push through tax reform last year, Republicans insisted the legislation was key to maintaining GOP majorities in Congress. Tax cuts, they said, would be popular enough that Americans would vote to keep Republicans in power.
But Democrats' shocking upset in Tuesday's special congressional election in Pennsylvania, in a district where Donald Trump won by nearly 20 percentage points in 2016, cast doubt on that argument and further served as a warning sign for the GOP ahead of November.
Public polling on the tax law has improved over the initial numbers. But it became evident a few weeks ago that Republican messaging on the law wasn't working the way the party hoped. Outside GOP groups, which had poured nearly $11 million into the race ― much of it on advertising the tax law ― suddenly shifted tactics. Instead of touting their signature legislative achievement, Republicans began airing scary-sounding ads about immigrants, and attacking Democrat Conor Lamb's record as a prosecutor. One GOP ad accused Lamb of allowing "gun runners" to avoid jail time and "walk free." It's a well-worn playbook, one that Republicans used to turn out their base last year in gubernatorial races in Virginia and New Jersey.
It didn't work on Tuesday. Democratic enthusiasm proved too great, giving Lamb a lead of several hundred votes with all absentee ballots counted. Republican candidate Rick Saccone, meanwhile, is expected to petition for a recount in the coming days.
Republicans attempted to downplay the results of the race Wednesday by arguing that Saccone was a terrible candidate with regrettable facial hair, and that Lamb ran a unique race that can't be used to make predictions about other parts of the country. Some even argued that running on the GOP tax law is still the way to go for candidates this November.
"We aren't even in full momentum on tax reform," House Republican Conference Chair Cathy McMorris Rodgers (R-Wash.) told reporters Wednesday.
Sen. Pat Toomey (R-Pa.), meanwhile, said the tax bill helped Saccone, and that recent stories about how the bill has fueled a surge in corporate stock buybacks rather than raises didn't hurt the Republican candidate.
"I'm quite confident that the tax bill is net favorably perceived in that district," Toomey said. "People understand that there's a combination of increasing compensation for employees, returning money to shareholders, more investment by the business ― all of those things happened as a result."
But not every Republican was so sanguine.
"There's no way to pretty this up, and I'm not going to insult the American people. We got our butt kicked last night. We need to find out why," Sen. John Neely Kennedy (R-La.) told HuffPost. "The truth will set you free, but sometimes it'll make you feel like hell first. We need to face facts."
Another possible cause for GOP concern is the potential psychological effect of Tuesday's election on other candidates and incumbents alike. If Republicans can't win in a district that Trump carried so handily, they may also not be able to win in districts where the margin was smaller. That realization could prompt further GOP retirements, opening seats like the one in Pennsylvania.
Rep. Tom Cole (R-Okla.) doesn't buy this view. "There's a lot fewer open seats if you look at competitive open seats," he said Wednesday.
Cole, who served as chair of the National Republican Congressional Committee in 2006, argued that incumbents will have an easier time defending the GOP tax law.
"It's tougher for a candidate like Rick Saccone to run on it, because he wasn't here to vote for it," he said. "And it's easier for a candidate like Conor Lamb to negate it, 'cause he wasn't here to vote against it."
Democrats plan to run against the GOP tax law in November, at least indirectly. Last week, they introduced a $1 trillion infrastructure plan meant to overhaul the nation's roads, bridges and waterways, and proposed paying for it by rolling back some of the tax cuts for the wealthy.
The success of GOP messaging on the tax law and the economy in November may ultimately hinge on other factors, though.
"The popularity of the bill has increased since passage, no doubt aided by voters seeing both increased take-home pay and stories of bonuses and increased benefits due to the bill," said Doug Heye, a former spokesman for the Republican National Committee.
Heye lamented "the cacophony of Trump-created noise," adding that the president "could help things tremendously by staying out his own way and letting, indeed helping, these stories break through."
Arthur Delaney contributed reporting.