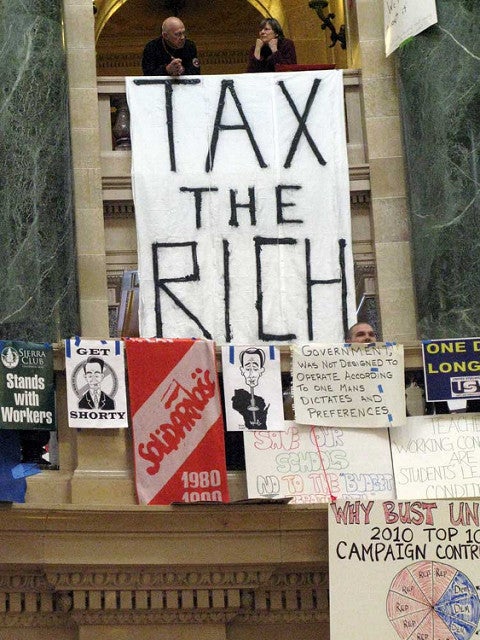 By Holly Straut-Eppsteiner
The Senate recently passed a disastrous tax bill, which represents a terrible deal for middle-class families and will disproportionately benefit wealthy filers and corporations. In addition to the fundamental unfairness in these tax breaks, Americans should be concerned about cuts in funding and access to health and safety net programs that millions of families rely on, which will be a direct result of the trillions of dollars the federal government will lose from this massive tax giveaway.
Republican legislators like Senate Majority Leader Mitch McConnell promise Americans tax breaks that will "put more money into the pockets of the middle class." In reality, Republican tactics have amounted to a bait and switch ― providing minor concessions to appease middle-income voters as a red herring to push through substantial tax cuts that primarily benefit wealthy filers and corporations. Individuals with low and moderate incomes, in fact, will suffer under the bills passed by both the House and Senate. Corporate tax breaks will be permanent, but individual cuts will expire by 2025. A report by the Congressional Budget Office found that under the current Senate bill, filers with incomes under $30,000 per year will be worse off by 2019 and those who earn under $75,000 will experience a tax hike by 2027. Moreover, workers are unlikely to benefit from tax breaks benefitting their corporate employers. This week, the Senate is making changes to their bill to appease Senators who have withheld support. Nevertheless, we can expect that the bill's fundamental structure will remain unchanged.
Although other spending cuts for crucial programs are not currently included in the legislation that enacts tax cuts, the Congressional budget resolution provides a vision of what to expect. The resolution called for $5.8 trillion in cuts to safety net programs over the next 10 years. These cuts will restrict access to health care, education, housing, and other basic needs for working families. Specific areas include $1.8 trillion in cuts to Medicaid, Medicare, and other health entitlement program, $653 billion in cuts to income security programs like the Supplemental Nutrition Assistance Program (SNAP), SSI, and TANF, and $800 billion to non-defense programs, including education, transportation, childcare, low-income housing assistance, services for the elderly, medical and scientific research, and environmental programs.
Despite progress in recent years, we have a long road ahead to end poverty in the United States: 40.6 million people remained living in poverty last year, including more than 13 million children and 4.6 million seniors. The share of the poor population living in severe poverty is at its highest rate since 1996. Meanwhile, the top one percent has experienced 160 percent income growth since 1979. If we are serious about overcoming poverty and improving the health and wellbeing of working families, Americans should be cautious not to be fooled by the empty promises of this tax bill and the threats it poses to critical programs over the next decade.
Holly Straut-Eppsteiner is a Public Policy Fellow at the Center for Community Change.
REAL LIFE. REAL NEWS. REAL VOICES.
Help us tell more of the stories that matter from voices that too often remain unheard.
BEFORE YOU GO