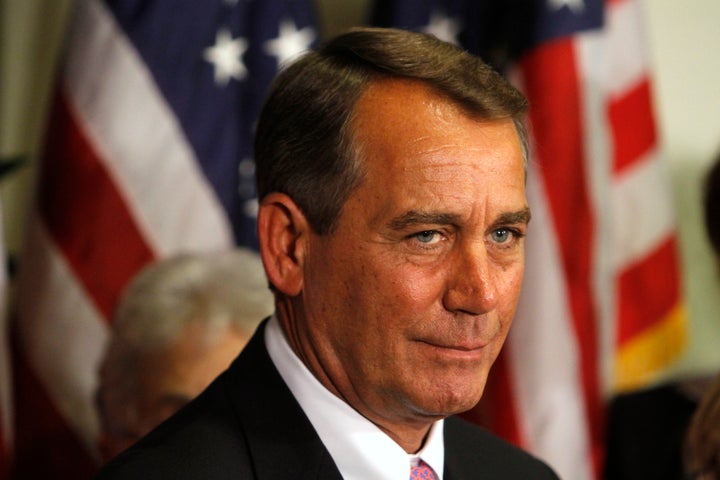 WASHINGTON -- Less than two hours before a planned speech by the president, top Republicans said they will not support any debt-reduction plan that includes a tax increase.
The line reignites a recent debate over how the government should issue taxes. Republicans won a major victory on the issue in December, when President Barack Obama supported an extension of Bush-era tax cuts to the wealthy. But Obama has said he will push for those tax cuts to expire in 2012, and may take measures in the meantime to bring in more revenue through taxes.
Obama is expected to call for a repeal of the Bush tax cuts during his speech on Wednesday afternoon, when he lays out a long-term plan to reduce the deficit.
After meeting with Obama and leading Democrats at the White House on Wednesday morning, GOP leaders said that measure will be a non-starter, given the Republican control of the House and Senate Republicans' heavy opposition to tax increases.
"We don't believe lack of revenue is part of the problem, so we will not be discussing rate of taxes," Senate Minority Leader Mitch McConnell (R-Ky.) said during a press conference at the Capitol.
House Majority Leader Eric Cantor (R-Va.) said Obama's plan, which he previewed for congressional leaders during the meeting, did not include many specifics. He said the only major plan by the president to shrink the deficit was to raise taxes.
"I find that very unacceptable given we're several days out from Tax Day in this country," he said. "We don't believe that raising taxes is the answer here."
Cutting taxes produces less growth than a number of other policies, such as a temporary tax holiday or infrastructure investment, that would cost the government the same amount, according to a study from the nonpartisan Congressional Research Service last year.
Despite these findings, the House Republican leadership is throwing its weight behind a plan unveiled by House Budget Chairman Paul Ryan (R-Wis.) last week. The plan cuts taxes and a number of government programs while also virtually eliminating Medicare, a popular program that provides medical insurance to the elderly and poor, and replacing it with a voucher-like system.
Because of its heavy reliance on tax cuts, the Ryan plan would have a smaller-than-reported affect on the deficit, cutting it by about $155 billion over the next decade, according to a Congressional Budget Office analysis.
"I think Paul Ryan has set the bar," said House Speaker John Boehner (R-Ohio), who added that he he fully supports the Ryan budget.
Republicans plan to demand major debt-reduction concessions as part of a vote to raise the debt ceiling, which must be done before early July to prevent the federal government from defaulting on its loans. GOP leaders have said they understand the urgency of increasing the limit, which authorizes the Treasury to take on more loans to pay its existing debts, but that they want to couple the vote with other measures.
Although the White House indicated on Monday that the administration would prefer a "clean" bill to raise the debt ceiling, Boehner said Obama told him during Wednesday's meeting that he would allow for a bill with other deficit-reduction measures included.

Popular in the Community