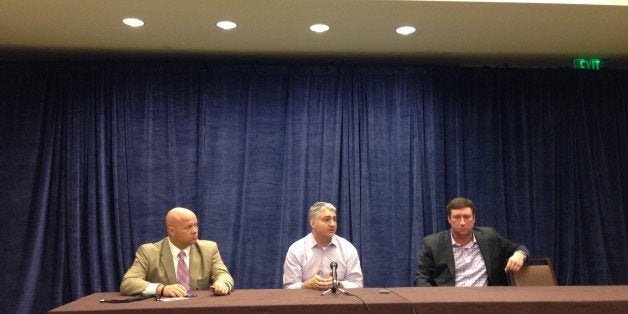 BOSTON -– When the new face of Republican technology met the press for the first time Friday, it was obvious that digital expertise is not his only asset. He's a strong personality willing to engage in critique of his own party.
"My job is to build things," said Andy Barkett, the Republican National Committee's 32-year-old chief technology officer, who moved to Washington last month after leaving his management job at Facebook.
That may be the case, but Barkett also said things that many Republicans have said for a while, only privately.
"To be honest about the Republican ecosystem," Barkett said, "most of the technology vendors were political people who played the most video games in college. Right? They weren't necessarily real technologists.
"So we're trying to provide what's been missing for some time, which is to fill in that real hard core technologist gap," he said.
Those comments were unusually blunt for any political operative speaking about those in his own party. But they are the privilege of a newcomer to the Washington culture. Barkett, who will turn 33 this month, is not as concerned about ruffling feathers as those who have been part of the political scene for many years. And that's partly the point.
Barkett's hiring, and the spirit of his first press conference, are what happens when a political party has been beaten and humbled. Barkett appeared with Chuck DeFeo, the RNC's new chief digital officer, and political director Chris McNulty. The session was replete with promises of a "new model" for political organizing, "a new RNC," and "retraining the grassroots to think a new way." For all the talk about moving on from the 2012 election, the GOP is still trying to catch Democrats in the era of big data.
Barkett's hire, then, was a big moment for the RNC, some Republicans say -- a symbol of a new approach to politics that President Barack Obama's two presidential campaigns pioneered.
"Politics has been 'Mad Men.' You know: 'This is the best practice. This is the kind of the way that we've done things before,'" said RNC chief of staff Mike Shields, who sat in the front row watching Barkett, DeFeo and McNulty speak with reporters.
The RNC crew said that, unlike the Obama campaign, they are trying to build a tech and data operation that can be used at all levels of electoral politics, from local and statewide campaigns to the 2016 presidential election.
Barkett's hiring was significant for two reasons. First, he is an engineer and can actually help the RNC build new products. But second, and perhaps more importantly, he can recruit other technologists to the party. Barkett was not shy about touting either these qualities. It was a window into the mind of a young man who lacks neither confidence nor salesmanship.
"If you see me around here this week, this is the only time you've seen me in a suit," said Barkett, who was wearing an open-collar shirt and jacket. "Usually I'm wearing my Steve Jobs costume because I'm rolling out new products or I'm teasing products we're going to have in the future. Or you see me and I'm literally behind my computer, my eyes are kind of bloodshot because I was writing code. That's a different type of person than we typically have in the RNC, and that's kind of why they hired me."
Barkett acknowledged that there are far fewer tech and data natives who are Republicans than Democrats, but he said this did not trouble him greatly. After the RNC announced his hiring, Barkett said, he got more than two dozen emails from fellow Silicon Valley professionals who admitted that they, too, were Republicans.
"I think that more of them are Democrats than are Republicans. But not all of them. And I don't actually need the median person on the gradient, or the average in Silicon Valley to be a Republican," Barkett said. "I just need like 30 really good ones. Right? And I know those are out there because I got that many inbound requests, just based on one press release."
He diagnosed data science as the weak spot in the GOP catch-up effort.
"I do think that we're further along at this point in putting together some people who can build the plumbing and the technology than we are on the data science," Barkett said. "We're going to have to get going over there. I'm going to look to Wall Street guys, some of the quant guys there. I'm going to look to Berkeley and Stanford college Republicans, maybe check Texas. Boston may be a fertile ground for it. We're going to have to find and in some cases train kind of a whole generation of those whole data science guys. There are some in the Republican ecosystem, but there aren't enough."
McNulty, a bald-headed political veteran who looked like he would have been more comfortable in a T-shirt, jeans and combat boots than the suit and tie he was wearing, said that at the RNC, "a culture shift has already occurred."
In the past, he explained, the digital and field divisions barely communicated. That, in and of itself, was evidence enough that the committee had fallen badly behind the times. The new model, Shields said, will make the "data and information infrastructure" the "center of gravity."

Before You Go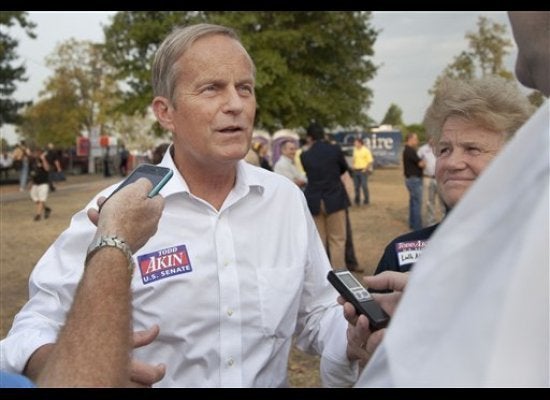 Extreme GOP Platform Positions
Popular in the Community