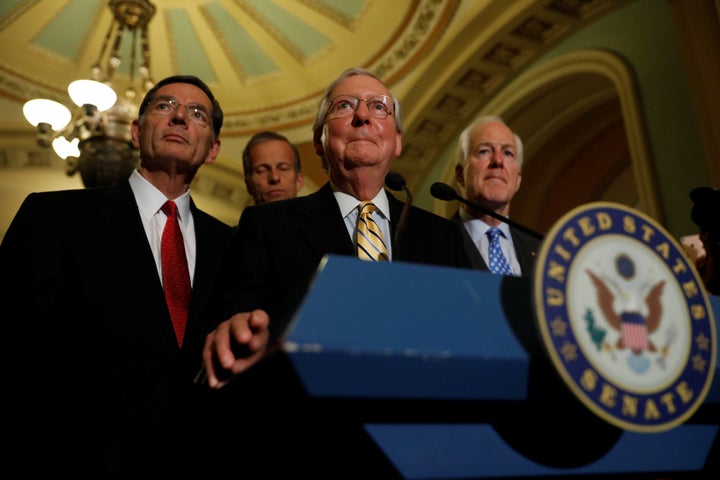 Americans say by an 11-point margin that they trust the Democratic Party more than the Republican Party to handle health care issues, a new HuffPost/YouGov survey finds.
Forty percent of Americans have more faith in Democrats, and 29 percent prefer the GOP, with the remainder unsure. (Among only registered voters, Democrats also have an 11-point lead over Republicans, 44 percent to 33 percent.)
Details of the GOP bill remain fuzzy and protean. But Americans are clear that they don't like what's happening in Washington. Just 26 percent say they favor the bill Republicans are working to pass, with 47 percent opposed. They're more than three times more likely to strongly oppose the bill than to strongly favor it.
Other recent surveys have found the GOP repeal effort to be similarly unpopular.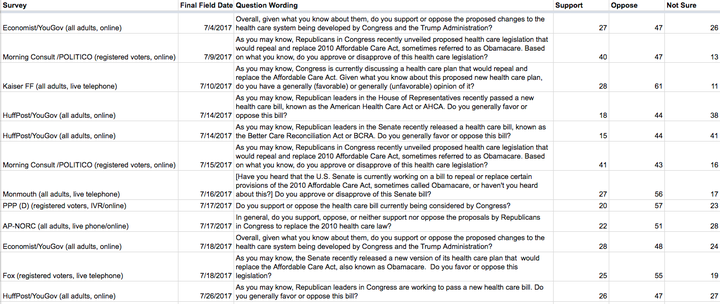 Just 10 percent of the public believes the GOP health care bill would make things better for them personally, and just 23 percent that it would improve things for most average Americans. One-third say the bill would make things worse for them personally, with 45 percent predicting it would have an adverse effect on most average Americans.
The issue of health care remains at the top of many Americans' minds. Forty-six percent say it's one of the two issues that's most important to them, above 10 other topics, including the economy (41 percent), immigration (18 percent), and, much further down the list, President Donald Trump's relationship with Russia (10 percent).
As another sign of the salience of the issue, 24 percent of those polled say they've written or called their congressional representatives this year about health care.
Of those who say they've contacted Congress, 71 percent oppose the GOP's bill, with just 21 percent in favor.
Use the widget below to further explore the results of the HuffPost/YouGov survey, using the menu at the top to select survey questions and the buttons at the bottom to filter the data by subgroups:
The HuffPost/YouGov poll consisted of 1,000 completed interviews conducted July 25 and July 26 among U.S. adults, using a sample selected from YouGov's opt-in online panel to match the demographics and other characteristics of the adult U.S. population.
HuffPost has teamed up with YouGov to conduct daily opinion polls. You can learn moreabout this project and take part in YouGov's nationally representative opinion polling. More details on the polls' methodology are available here.
Most surveys report a margin of error that represents some, but not all, potential survey errors. YouGov's reports include a model-based margin of error, which rests on a specific set of statistical assumptions about the selected sample rather than the standard methodology for random probability sampling. If these assumptions are wrong, the model-based margin of error may also be inaccurate. Click here for a more detailed explanation of the model-based margin of error.
Popular in the Community