WASHINGTON ― The Republican bill to reform the Affordable Care Act cuts taxes on the wealthiest Americans while slashing benefits to the middle and working class. It also guts funding to states that cover low-income Americans via Medicaid ― a key sticking point for several GOP senators who represent states that expanded the program under Obamacare.
But another provision that shifts benefits to the wealthy hasn't gotten as much attention.
The American Health Care Act, as the House bill is called, gives health insurance executives who earn more than $500,000 per year a tax break. It does so by repealing the limit on corporate tax deductions set in place by Obamacare ― a measure that helped pay for the law and told consumers that it was not a giveaway to insurance companies.
According to an estimate from the nonpartisan Joint Committee on Taxation, repealing the cap would cost taxpayers $400 million over 10 years. That's a significant sum considering the bill likely won't be revenue-neutral when the Congressional Budget Office scores it next week.
Although some media outlets have called the deduction a sweetener for the health care industry, which has serious concerns about the legislation, GOP leadership has not given an official explanation for it.
Asked about the provision during a press conference at the White House briefing room on Tuesday, Health and Human Services Secretary Tom Price said he was "not aware of that."
Most Republican senators dodged questions about the tax break this week, saying they needed more time to familiarize themselves with the specifics of the bill. Others reserved comment due to the likelihood of the bill being changed before it moves to the Senate.
"We don't know that it's even going to resemble what it is right now when it comes over here. I think there are going to be levels, regardless, in the ultimate thing. I just don't know what it's ultimately going to be," said Jim Inhofe (R-Okla.).
Sen. John McCain (R-Ariz.) said he needed more time to consider the provision.
"That one is a new one. I'd have to think about it. Honestly, I'm not engaged to that degree," he said.
Asked about the tax break, Sen. Steve Daines (R-Mont.) said he was "focused right now on the Medicaid expansion because we are one of the states that expanded Medicaid."
Sen. Thom Tillis (R-N.C.) said he tended "not to wade too far into what businesses have to pay to get their best talent." More broadly, he added, "I think they need to be accountable to their shareholders."
"I haven't looked at it," Sen. Jeff Flake (R-Ariz.) said when asked whether he supported the tax break.
Democrats on the House Ways and Means Committee attempted to generate noise over the matter during a markup of the bill on Wednesday. But Republican members of the committee who spoke with The Huffington Post defended the provision, arguing it unfairly targeted the insurance industry.
"This is exactly the type of back-room dealing and rushed process that we criticized Democrats for and it is not what we promised the American people."
"It's an ineffective tool to try to punish people and pick winners and losers in the tax code," Rep. Devin Nunes (R-Calif.) said outside the committee room.
"I think it's very dangerous if we start singling out individuals and provisions that the tax code will discriminate against. What if tomorrow it's plumbers, or doctors, or nurses?" Rep. Carlos Curbelo (R-Fla.) said.
Sweeping legislation like the GOP Obamacare replacement bill often includes special interest giveaways to help move it across the finish line, especially on the issue of health care, which is set to account for 20 percent of the U.S. economy by 2025. But giving a tax break to wealthy health insurance executives undercuts President Donald Trump's vow to "drain the swamp" in favor of working-class Americans.
"This is exactly the type of back-room dealing and rushed process that we criticized Democrats for and it is not what we promised the American people," Sen. Mike Lee (R-Utah) said Tuesday in a statement.
Sen. Joe Manchin (D-W.Va.), a centrist who has taken a more conciliatory tone with Trump than his Democratic colleagues, called the tax break "ridiculous."
"I got to think the president doesn't know that's in there," he said, noting the president made a commitment not to cut benefits to Medicare and Social Security.
"So I hope that he is made aware of that," he added.
Lifting the cap on corporate pay deductions even rubbed some conservatives the wrong way. Rep. Dave Brat (R-Va.), a member of the House Freedom Caucus, said the tax break for health insurance executives illustrated the need for comprehensive tax reform.
"That's where I don't want to go, is this infinite labyrinth of regulations and that kind of thing," he said of the tax break. "That's what's wrong. We need to get rid of the complexity. That's the way D.C. operates. We make all these exclusions. We need a fair tax system across the board for everybody."

Before You Go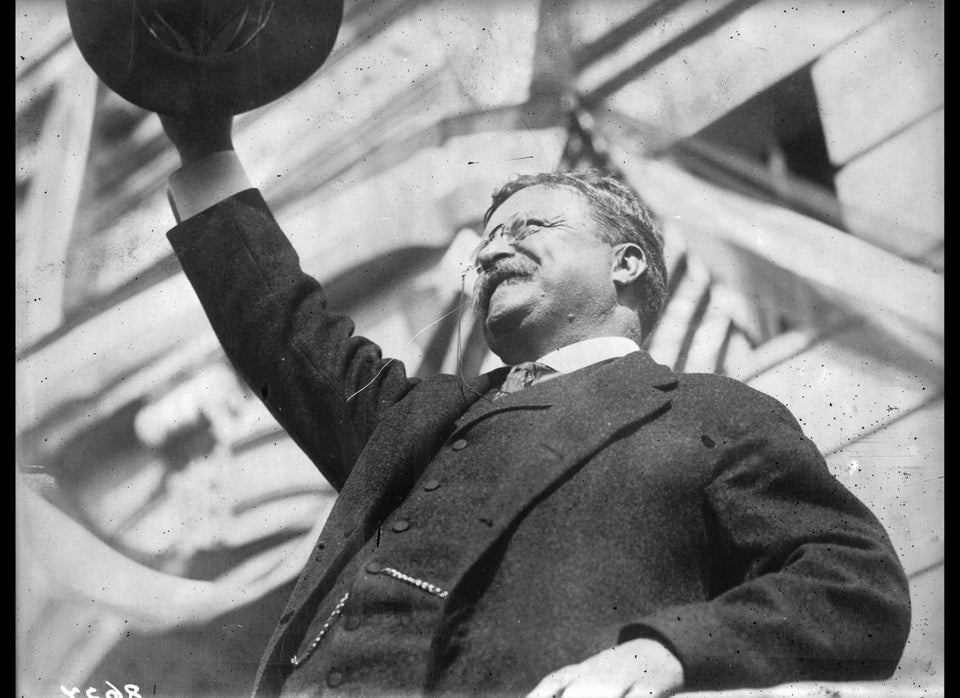 Health Care Reform Efforts In U.S. History
Popular in the Community