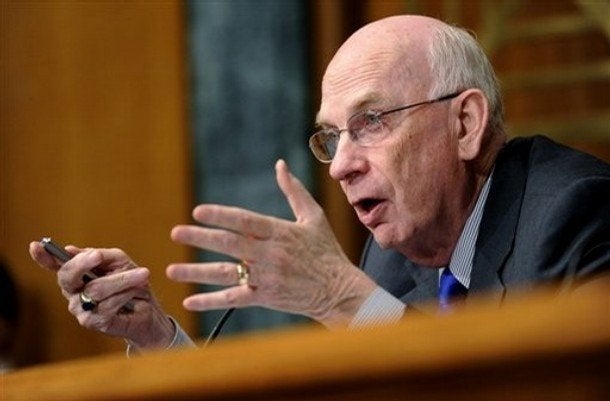 Senate Republicans are determined to prevent the creation of an independent Consumer Financial Protection Agency because they consider it as threatening as their current arch-nemesis regulator: the Environmental Protection Agency.
Consumer advocates, meanwhile, say the CFPA must have strong, independent authority to craft and enforce rules. Anything less, they argue, would be too much of a concession to banks that have gotten enough already.
"From the Republican point of view, the idea of a separate agency is still anathema," said Sen. Robert Bennett of Utah, a senior Republican on the banking committee. An independent agency, he said, can go too far in the direction of tight regulation without taking into account the effect of the rules it creates on business and the economy. He said he's seen it happen before.
"Can you say EPA?" he asked, lifting his eyebrows. The Republican Party has regretted for years that President Richard Nixon made the EPA independent.
There's been some movement: Republicans who once pushed for total elimination of the CFPA are now ready to back a compromise solution that would make the CFPA subservient to a larger financial regulatory agency, whose leadership could modify or eliminate any protections deemed hurtful to business.
"That doesn't mean we're opposed to consumer protection, but a single agency whose sole purpose is consumer protection would be really bad news," Bennett said. "I've served in the executive branch. I know what happens when the culture around a single mission takes over an agency. Republicans say that consumer protection has to be tied to regulation so the regulator who's involved with regulation and consumer protection doesn't go overboard in one direction or the other."
Supporters see the CFPA's independence as essential. "For reform groups, this effort will not be successful without a stand-alone consumer agency. Putting consumer protection into a new, larger banking agency takes the failed structure of the Fed and the other existing banking agencies and consolidates it. These regulators repeatedly prioritized banks' business practices over consumers' financial security, and this proposal is a recipe for more of the same," said Graham Steele, policy counsel with Public Citizen's Congress Watch.
Rep. Brad Miller (D-N.C.), who championed the CFPA in the House, where it passed as an independent agency, said that he wants an agency much stronger than the EPA.
"I don't want the CFPA to be 'another EPA' either," he said. "I want the CFPA to be a tough, independent watchdog for consumers. My worst nightmare is a CFPA headed by some embarrassing yes man like [Bush administration EPA administrator] Stephen Johnson. How much more slavish to polluters did Republicans want the EPA to be? We have no idea how many Americans have cancer or children have birth defects because polluters ran the EPA for the last decade."
When Senate banking committee Chairman Chris Dodd (D-Conn.) crafted his original financial reform package last year, ranking Republican Richard Shelby (R-Ala.) made complete removal of the CFPA a condition for participating in negotiations, people involved in the talks tell HuffPost.
Dodd rejected the conditions and crafted a package without GOP support, introducing it in November.
With Dodd moving forward, the GOP relented and agreed to come to the table. "That was several weeks ago," Dodd said of the GOP line in the sand, saying that negotiations are now progressing smoothly.
But Dodd, people close to the negotiations say, is concerned that a strong, independent CFPA might not be able to get the 60 votes needed to break a filibuster.
Backers of consumer protection, meanwhile, are itching for the fight, daring lawmakers to stand on the side of the financial industry.
The CFPA is such a high priority to both parties that Dodd tasked himself with working out a compromise with Shelby, while delegating much of the rest of the negotiations to bipartisan pairs of lower-ranking lawmakers.
"I think it's a question [for Republicans] of 'What does it look like now?' more than 'Can we have it at all?'" says Sen. Robert Menendez (D-N.J.), a senior member of the committee. "They don't like it as a separate agency, for sure."
Sen. Evan Bayh (D-Ind.), a senior committee member, said that "how to protect consumers, whether to have a stand-alone agency, the powers of that agency, that's one of the big issues."
Currently, the Federal Reserve is technically tasked with consumer protection -- but its primary purpose is to protect the safety of the financial industry. Consumer protection, said Sen. Jeff Merkley (D-Oregon), a freshman committee member, has been "somewhere in the basement".
Republicans argue that consumers lose out if regulation is too tight and as a result, businesses close and jobs are lost. Democrats counter that a business that can't operate without wrecking the environment or ripping off consumers isn't worth saving.
Merkley and other committee members also argue that defrauding consumers can itself lead to systemic risk. When homeowners who've been hoodwinked into mortgages with skyrocketing and hidden monthly costs default, it's the banks -- and the banking system -- holding the loans that suffer.
Minority Whip Jon Kyl (R-Ariz.) said that if Democrats want financial reform to pass in 2010 they'll have to abandon the Democrats-only approach taken by Dodd late last year. Asked about the prospects for passing reform, Kyl told HuffPost, "For some kind of financial reform, probably not too bad. But for what they've been talking about in [the] banking [committee], not too good."
Before leaving for the Christmas recess, the committee announced bipartisan progress had been made and members on both sides of the aisle spoke optimistically. "Contrary to what you see happening on the floor as it relates to healthcare, I think we leave here as a committee on a high note, hoping that we're going to have the opportunity to do something that is very bipartisan and will stand the test of time," said Sen. Bob Corker (R-Tenn.).
Corker has been teamed with Sen. Mark Warner (D-Va.) and charged with reaching bipartisan agreement on a way to resolve large failed institutions. The duo has reported more progress back to the committee than any other pair, said a person familiar with the negotiations.
Meanwhile, committee Republicans are asking Dodd to keep a slow pace. "I think if Chairman Dodd is patient and continues to work across the aisle, it is definitely possible to get a bipartisan bill," said Sen. Mike Johanns (R-Neb.). "It happened with credit cards and I would have guessed at the time that was going to be very, very difficult to get done."

Popular in the Community