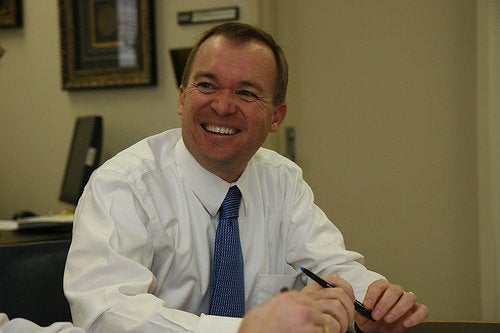 Chalk this up as one of, if not the, sleaziest robocall of this election cycle.
In a race for a South Carolina Senate seat, the Republican challenger, Mick Mulvaney, has reportedly launched an automated call effort that makes it seem as if a gay-rights group is effusively praising his opponent's extremely liberal agenda.
The calls claim to be sponsored by an organization called the Alliance for the Advancement of Gays and Lesbians -- except such a group doesn't actually exist. And "they" praise the Democratic candidate in that race, Mandy Powers Norrell, for absurdly framed positions, such as her support for "homosexual unions and abortion rights."
It is all an outrageous (if not sad) gay baiting effort designed to make Norrell seem way out of touch with traditional South Carolinian values. Not to mention the fact that it may also be fraudulent -- there are laws prohibiting robocalls in the state.
It also brings to mind two other instances of similarly devious campaigning. The first being, of course, the calls the undermined John McCain's 2000 primary run in the Palmetto State. The second occurred this past fall when calls were made in the Kentucky gubernatorial race claiming that "For the first time in 20 years, the homosexual lobby proudly endorses" Democrat Steve Beshear.
Popular in the Community