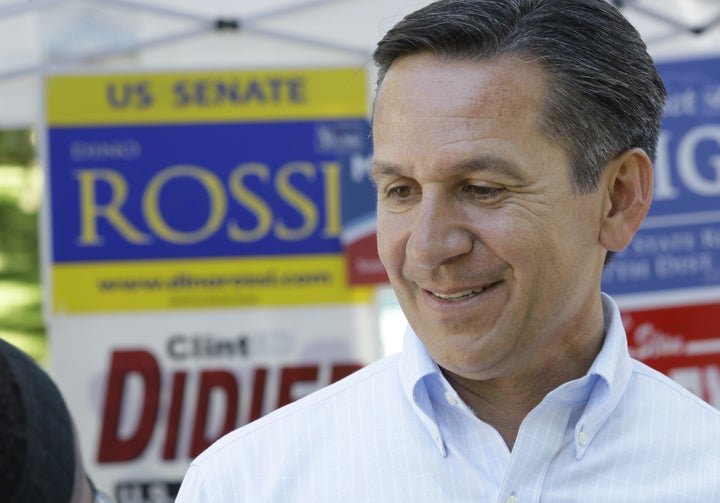 Last month Dino Rossi became the first Senate candidate in the country to call for the repeal of Wall Street reform. Now it's clear he has plenty of conservative company on Capitol Hill.
With Washington state's primary Tuesday just a few days away, HuffPost asked around at the Capitol to see how Rossi, the Republican challenger expected to face Democratic incumbent Patty Murray in the general election, stacks up with sitting Republican Senators on financial reform.
The verdict? When it comes to Wall Street reform, Rossi's views fall in line with many top GOP leaders, though his views notably put him to the right of Sen. Jeff Sessions (R-Ala.).
Rossi made headlines when he said on ABC/Washington Post's "Top Line" program, "I think it should be [repealed]", charging the Wall Street reform bill has "created six super banks and left Fannie [Mae] and Freddie [Mac], which were at the epicenter of the problem, out of the deal."
Democrats pounced on Rossi's words, saying he is much too conservative for a state that leans left and arguing Rossi shows more loyalty to big banks than to Washington taxpayers. "Rossi seems to want to go back to the days when Wall Street ran roughshod over families resulting in the worst economic recession since the Great Depression," DNC spokesman Frank Benenati said. And Democratic Senatorial Campaign Committee spokeswoman Deirdre Murphy said Rossi "is out of step with Washington values and not on the side of consumers in his state."
While Rossi may be out of touch with moderate constituents, he finds company on Capitol Hill in Sessions and Sens. George LeMieux (R-Fla.), and James Inhofe (R-Okla.) all of whom told HuffPost they would repeal the legislation or at least parts of it if given the opportunity.
"Well yeah," Inhofe told HuffPost when asked point-blank if he would repeal the legislation. "I'm not saying I can, but the answer is yes [I would]."
LeMieux and Sessions both said they would repeal parts of it, though they offered few details. "Well, it has some things in it of value but overall I think it's bad legislation," Sessions told Huffpost. "So I guess I would favor legislation that would be on balance better than bad. I would repeal parts of it."
The new legislation regulates derivatives trading, and puts restrictions on proprietary trading and private equity investments through the Volcker Rule, and creates a Consumer Financial Protection Bureau.
Senator Bob Corker of Tennessee, a top Republican player in the financial reform debate, denounced the Democrat-backed bill almost immediately telling reporters "at the end of the day this bill is going to limit credit availability and cause that credit availability to be more expensive." And House Minority Leader John Boehner (R-Ohio) called for the repeal of the Wall Street reform legislation just minutes after it passed, saying the bill penalizes Main Street bankers for the crimes of a few on Wall Street.
"I think it ought to be repealed," Boehner told reporters at his weekly press conference. "I think the financial reform bill is ill-conceived. I think it's going to make credit harder for the American people to get -- clearly harder for businesses to get. And the fact that it's going to punish every banker in America for the sins of a few on Wall Street, I think is unwise. On top of that, I think that it institutionalizes 'Too Big To Fail' and gives far too much authority to federal bureaucrats to bail out any company in America they decide ought be bailed out."
South Carolina Republican Lindsey Graham has long referred to the bill a "missed opportunity" to control spending and set priorities. And Sen. John McCain (R-Ariz.) was similarly underwhelmed, calling it "business as usual."
"No one can make a convincing argument that this legislation indeed prevents any institution from being "Too Big To Fail" -- you can't make that argument," McCain told reporters shortly after the bill passed.
Rossi is the preferred candidate of the National Republican Senatorial Committee. This year's race is his third time running for higher office; his two previous bids against Gov. Christine Gregoire (D) in 2004 and 2008 were unsuccessful.
Rossi is widely expected to be the Republican nominee, though Ron Paul and former Alaska Gov. Sarah Palin (R) have endorsed Rossi's Republican rival, former Washington Redskins tight end Clint Didier. Rossi shrugged it off, saying: "We haven't been seeking endorsements," and adding that Palin endorsed Didier "three weeks before [he] even got in the race."
The real challenge however, will come from Murray, the state's three-term incumbent. Watch Murray's campaign ad slamming Rossi's ties to Wall Street:
Calling all HuffPost superfans!
Sign up for membership to become a founding member and help shape HuffPost's next chapter