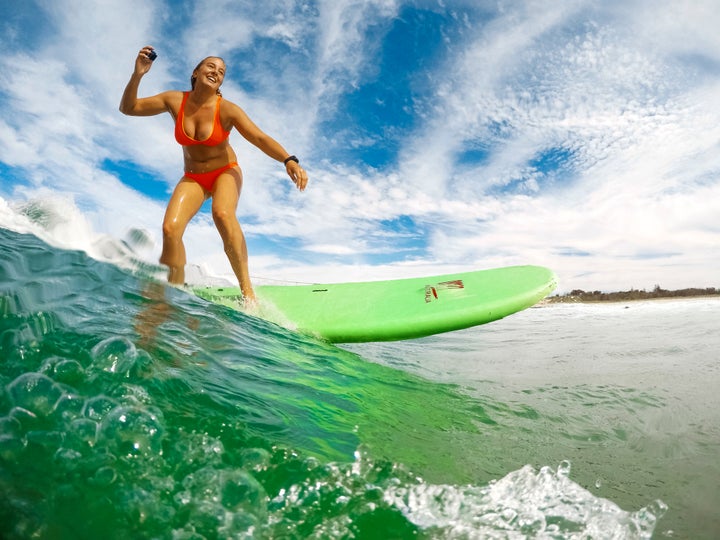 Small talk between adrenaline junkies is a humbling thing to listen to.
"You know, when I was kayaking down that waterfall in Bali..."
"I don't get arrested that often, but I've seen the inside of a few police stations."
"Remember when she flew a wingsuit around an erupting volcano?"
These aren't the musings of everyday folk. It's shoptalk between professional athletes that jump out of planes, do double backflips down ski slopes and climb mountains with cameras strapped to their limbs.
Every other year GoPro, the action camera company, gathers all of its sponsored daredevils at an athlete summit to share clips, go over the latest technology and figure out how to broadcast their extreme lives to the masses. The event, held this year in Australia's Gold Coast, paired BASE jumpers and freerunners with Olympic medal-winning skiers and big wave surfers for a week of photographic experimentation fueled by a communal motto: Live life to the extreme.
GoPro has about 140 athletes on its payroll. The company ships everyone its small, adventure-proof cameras and requests little in return: mainly, that they record all the crazy things they get themselves into and send back a hard drive full of content once in a while. A team of video producers and photographers then packages the content and uploads it to one of GoPro's prolific social media channels.
It's a unique relationship that can provide financial support to niche athletes that haven't traditionally seen the types of sponsorship deals afforded to those from better-known endeavors. GoPro, on the other hand, gets first-hand footage from the world's A-level competitors and access to their vast social networks that reach a combined number north of 80 million people.
"I think our athletes understand that there's a lot of give-and-take between our brand and them," said Todd Ballard, GoPro's vice president of global sports entertainment marketing. "We're helping them build their brand as well, especially with the evolution of social media and storytelling."
Those storytelling chops are on high display during an event like the Gold Coast summit. Throughout the week, GoPro organizes a roster of adrenaline-fueled activities, ships off a group of athletes and asks them to bring back the craziest footage possible. What happens next can only be described as a kid's Lego-building dream.
During an event racing V8 Supercars, one athlete constructed an 8-foot-long gimbal atop a vehicle with GoPros attached to either end. Other mounts mushroomed over the exhaust, the front wheels, underneath the belly and inside the cockpit as a drone flew overhead and people ran around the track filming every turn.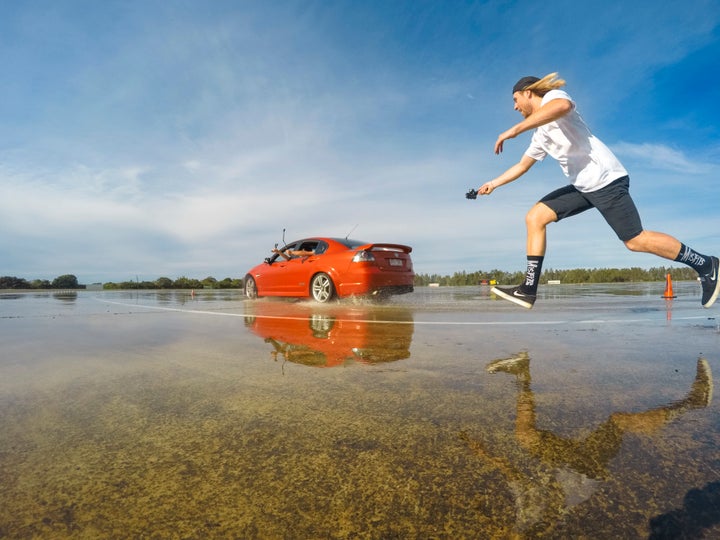 This experimentation is exactly what GoPro wants from its athletes. People need to have fun shooting, but they also need to think about framing the shot. The sickest footage can only be captured if the cameras are actually attached to a snowboard or the top of a skydiver's helmet
Markus "Fischi" Fischer, a lead photographer for GoPro specializing in winter sports, said this consideration can be a hard fit for some athletes that can be hyperfocused on their sport. Adding in another factor like a camera -- even if it's one as discreet as a GoPro -- just doesn't work.
But when the magic happens, the footage can be sensational. The company has more than 1.2 billion video views on YouTube from nearly every extreme environment on the planet and is one of the world's most followed brands on Instagram. More than a million people have used the hashtag #GoPro to upload their own footage and the company regularly features user-generated content on its feeds.
The company's stock has also plunged 90 percent since a height in 2014, and around 7 percent of its workforce was laid off in January. Investors are worried that, like other struggling tech products, the market has been saturated and incremental improvements don't really compel people to upgrade every product cycle.
GoPro President Tony Bates even told The Washington Post earlier this month there were "only so many base jumpers in the world," and the company was looking to branch out beyond extreme sports.
Bates' words are a refrain that was on loop during equipment training throughout the summit, with GoPro's social media team urging athletes with families to strap a camera on the front of their kids' bikes or the collar of a pet. There are already a handful of social media channels devoted to lifestyle content about pets and travel. And many people do use the cameras as what GoPro calls a "life capture device" -- a nondescript, easy to use and relatively inexpensive means to capture those beautiful everyday moments.
But Ballard said the company won't ever forget its athletic roots, and 2016 is amping up to be a big year in product development. GoPro has two major releases slated for later this year: the next iteration of its flagship camera, the Hero5, and a widely anticipated drone called the Karma.
The company is also wading more heavily into the world of virtual reality with new products featuring six or 16 mounted cameras that'll capture 360-degree scenes in resolution up to 8K ultra high definition. Those products, already on the market, produce gorgeous footage that, while a little clunky to view, can make viewers feel like they're in the air with GoPro's human flight team, the Bomb Squad, or on the run with slope stylers.
Almost exclusively, the atmosphere at an event like the athlete summit is akin to that of a family reunion. GoPro employees know when a baby is born, are at competitions when a surfer captures a 60-foot wave and, inevitably, are among the first to know when an athlete gets hurt.
It's a reality that sets in during solemn toasts at the start of a GoPro event to commemorate the family they've lost, like mountain biker Kelly McGarry who died earlier this year.
But for the athletes, the company's aims are right on the money with the lifestyle of professional thrill seekers who just want to get up on the slopes, jump out of planes, dive to the bottom of the ocean or catapult between buildings every day.
As Matthias Giraud, a pro skier, BASE jumper and sometimes BASE-jumping skier known as Super Frenchie, said during the summit, doing these jobs as a profession lets you connect to your world and live a life worthy of a story.
"It puts you in a physical and mental state that's just transcendent," he said. "It's fucking awesome."
The Huffington Post was a guest of GoPro during the athlete summit.
Calling all HuffPost superfans!
Sign up for membership to become a founding member and help shape HuffPost's next chapter
BEFORE YOU GO
PHOTO GALLERY
GoPro-Sponsored Athletes