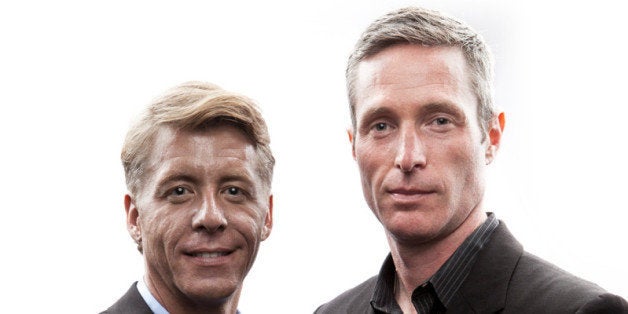 Jimmy LaSalvia and Christopher R. Barron, the founders of a gay conservative lobbying group that styled itself after the tea party, have never feared controversy.
They brought attention to their organization, GOProud, by picking fights with fellow gay activists and Republicans. They successfully courted the conservative firebrand Ann Coulter, whose reams of commentary on the subject of homosexuality include the remark that sexually active gay men should "feel guilty" about their behavior.
At the 2012 Republican National Convention in Tampa, Florida, as protesters gathered outside GOProud's well-attended "Homocon" bash with signs reading "Homosex Is Sin," Barron peered down from a second-floor balcony and grinned like a manic fan at a WrestleMania match. "This is f***ing awesome!" he said.
Now, Matthew Bechstein, a former intern who took over the group in July 2013, says all that controversy could lead to GOProud shutting down, or at least completely reinventing itself. (Bechstein led the group alongside another former intern, Ross Hemminger, until Hemminger left the organization in March of this year.)
"There are concerns among some of our membership and donors that the GOProud brand is associated with former controversies and certain people who are formerly associated with the organization," Bechstein told The Huffington Post. He declined to go into detail.
Barron, never one to shy away from an attack, laughed when he heard this explanation.
"What the hell were they talking about -- 'the brand has been damaged by controversy,'" he said. "The brand was built on controversy."
"The problem," he added, is that Bechstein and Hemminger "haven't done anything controversial."
Barron and LaSalvia announced that they were stepping down from their leadership posts in April 2013. In January, LaSalvia said that he was quitting both GOProud and the Republican Party, citing the "big government conservatives who run the party now" and "the tolerance of bigotry in the GOP."
Barron and several other board members left GOProud in February, after Bechstein and Hemminger told National Journal that the group had been invited to the Conservative Political Action Conference in Maryland after years of exclusion.
Barron disputed his successors' claim, noting the CPAC organizers had never barred GOProud from attending the conference. Rather, they had refused to allow GOProud to serve as a sponsor of the event or to set up a booth, a practice that continued even after Bechstein and Hemminger took over.
For four years, Barron said, GOProud was a "constant fixture on television, talk radio, in print, online, at conservative events all over the country." He contends that things haven't been the same since he left.
"I don't know what these guys did," he said.
LaSalvia, who said he is now "kicking around a book idea" and "exploring opportunities," questioned whether there's still a useful role for an organization like GOProud.
"Chris Barron and I set out to challenge conventional wisdom, and we had very simple goals: to demonstrate that all gays aren't left-wing liberals and all conservatives aren't anti-gay homophobes," LaSalvia said.
And then in a statement sure to stir up controversy with all his old foes -- gays, straights, conservatives and liberals -- he concluded, "We were wildly successful."
After publication of this article, Hemminger contacted HuffPost to say that he left the group in March 2014. The article has been updated to reflect this.
Popular in the Community