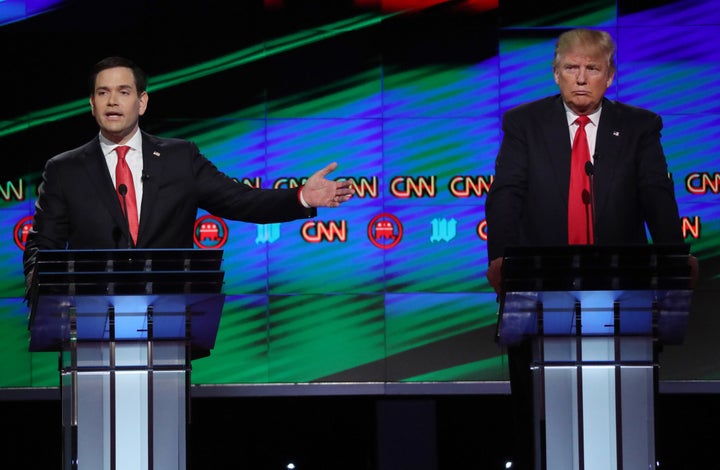 Super Tuesday exit poll data suggest Donald Trump is winning because the field hasn't winnowed enough. Ben Carson is out of the race but no one else seems likely to benefit all that much. And a Marco Rubio comeback is looking unlikely. This is HuffPollster for Thursday, March 3, 2016.
MORE GOP VOTERS WOULD BE SATISFIED WITH RUBIO OR CRUZ AS NOMINEE THAN TRUMP - Sean Trende: "In a night filled with surprising statistics, three pairs of numbers in particular stood out on Super Tuesday: 56, 56, and 47. These are the percentages, respectively, of voters in Arkansas who said that they would be satisfied if Ted Cruz, Marco Rubio, and Donald Trump won the Republican nomination....[A] majority of voters in Arkansas were not okay with Trump as the nominee. Yet Trump won the vote there by three percentage points, along with a near-majority of the state's delegates. We see this in other states. Consider Virginia….Forty-three percent of Republicans said they would be satisfied if Cruz were the nominee, 59 percent said they would be satisfied if Rubio were the nominee, while 44 percent said they would be satisfied with Trump as the nominee….Or look at Texas: 68 percent were satisfied with the prospect of a Cruz nomination, 59 percent with the prospect of a Rubio nomination, and only 43 percent with the prospect of a Trump nomination."
Trump is winning because the party is split - More from Trende: "The fractured Republican field is skewing the results. Tuesday night, Trump won seven contests, Cruz won three, while Rubio won one. Had it been a race between just those three candidates (or perhaps substituting Kasich for Rubio), it probably would have looked much different: Cruz winning four, Trump winning four, and Rubio/Kasich winning three….For example, without Kasich's 4.2 percent support in Texas, Rubio probably clears the necessary vote threshold to win delegates there (and vice versa). Rubio lost Virginia by three percentage points; if he had won, say, two-thirds of Kasich's 9.4 percent, he probably wins the state. Rubio probably prevented Kasich from winning Vermont (and vice versa). On the other hand, Carson's 6 percent may well have kept Cruz from closing the 2 percent gap between himself and Trump in Arkansas, and kept him out of second place in Georgia." [Real Clear Politics]
But polling data shows Ben Carson's supporters are likely to scatter - HuffPollster: "National polls taken before Super Tuesday show Carson at an average of about 9 percent. If all of Carson's supporters were to now gravitate toward someone else, that could be a considerable bump for whichever candidate picks them up. The problem, though, is that Carson's backers look less like an orderly voting bloc and more like a jumble of a fruit salad, split mainly between Sen. Ted Cruz (R-Texas), Sen. Marco Rubio (R-Fla.) and businessman Donald Trump. In NBC/SurveyMonkey polls conducted during the past week, 25 percent of voters backing Carson named Rubio as their second choice, with 24 percent picking Cruz, 21 percent going for Trump and another 10 percent choosing Ohio. Gov John Kasich. Recent Morning Consult polling shows a similar divide, with Carson supporters splitting 29 percent for Cruz, 25 percent for Rubio, 19 percent for Trump and 8 percent for Kasich." [HuffPost]
HUFFPOLLSTER VIA EMAIL! - You can receive this daily update every weekday morning via email! Just click here, enter your email address, and click "sign up." That's all there is to it (and you can unsubscribe anytime).
EXIT POLLS SHOW ELECTORATE IS MORE POLARIZED THAN IN 2012 - The Economist: "One marked difference this year from recent American primary elections is that—when presented with the choice of describing themselves as conservative, moderate or liberal—more Republicans identify as conservative and more Democrats as liberal. This was true for the first four states that voted this year: Iowa, New Hampshire, Nevada and South Carolina—and for all the states where exit polling was available on Super Tuesday. Primary voters, [it] seems, are becoming more polarised." [Economist]
A RUBIO COMEBACK IS LOOKING UNLIKELY - Andrew Prokop: "With about 29 percent of delegates already allotted, Rubio is so far behind that it's hard to see how he can win the 1,237 delegates needed to win the nomination on the first ballot. Indeed, he'd need to win nearly two-thirds of all remaining delegates to pull that off — a highly implausible feat….To put Rubio's challenge even more starkly: He needs 1,237 delegates to win the nomination on the first ballot, but has only 109 or so. And there are only around 1,744 unallotted delegates left. That means that to reach that magic number of 1,237, Rubio needs to win about 64 percent of all remaining delegates in the GOP nomination contest. That's a share that seems absurd based on his tallies to date — he's won just about 15 percent of delegates so far." [Vox]
CHRISTIE SEES FALLOUT FOR HIS ENDORSEMENT OF TRUMP - Heather Haddon: "Gov. Chris Christie's endorsement of GOP front-runner Donald Trump has hurt his standing among New Jersey voters, according to a new poll. Overall, 30 percent of registered voters approved of Mr. Christie's handling of state affairs, while 61 percent disapproved, according to a new [Fairleigh Dickinson] University PublicMind poll.  That's down from a recent high of 34 percent in November. Among voters surveyed before Mr. Christie's endorsement of Mr. Trump on Friday, 33 percent approved of his performance. That sank to 27 percent among voters surveyed after. His standing fell by three points to 53 percent among Republican surveyed and dropped 16 points among independents to 18 percent approval, the survey found." [WSJ]
SANDERS STRUGGLING BECAUSE DEMOCRATS AREN'T ANGRY ENOUGH - Dana Milbank: "Sanders continues his campaign after his Super Tuesday losses, but he has no real chance of wresting the Democratic presidential nomination from Hillary Clinton….[T]he Sanders challenge was doomed by a fatal flaw: Democrats aren't as unhappy as he needed them to be….Certainly, there is real economic anxiety in the United States, but Americans are, overall, quite content: 87 percent of Democrats and 87 percent of Republicans alike said in a Gallup poll in January that they are satisfied in their personal lives. The anger that's out there is directed at the malfunctioning government in Washington — and this anger is mostly on the Republican side. Americans overall have a dim view of where the country is headed: 36 percent think we're on the right track, and 60 percent say we're headed in the wrong direction, in the January Washington Post-ABC News poll. But break that down further and you find that 89 percent of Republicans think we're on the wrong track. With Democrats, it's reversed: Only 34 percent say we're heading the wrong way." [WashPost]
THURSDAY'S 'OUTLIERS' - Links to the best of news at the intersection of polling, politics and political data:
-Ted Cruz's win in Texas set a record for the weakest home-state primary showing by a GOP candidate. [Smart Politics]
-If Hillary Clinton continues to win by the same margins, it will be impossible for Bernie Sanders to beat her. [NYT]
-Patrick Murray takes a look at how Monmouth University polls performed in Super Tuesday. [Monmouth]  
-John Cassidy points out the hurdles Donald Trump would need to overcome to win in the general election. [New Yorker]
-One in four Americans identifies as Afro-Latino. [Pew]
REAL LIFE. REAL NEWS. REAL VOICES.
Help us tell more of the stories that matter from voices that too often remain unheard.