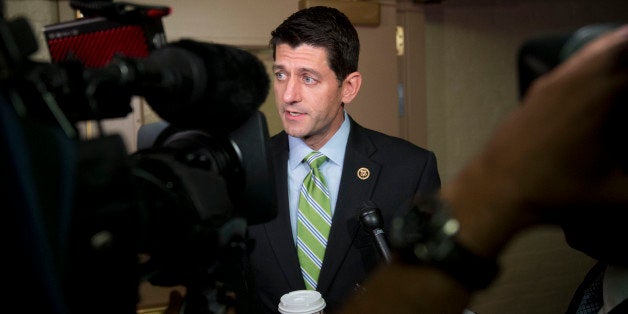 I'm with Sheryl Sandberg. She has been soundly criticized from the left for giving her "Lean In Award" to Paul Ryan, who wouldn't agree to become Speaker of the House unless he could spend weekends with his family in Wisconsin.
Announcing the award of the day on Facebook, Sandberg said she was honoring Ryan because he expressed his worry about "how becoming House Speaker would affect his children, 'who are in the formative, foundational years of their lives' -- and that he won't do the job unless he can still make them a top priority.
We need work to work for parents -- and having leaders who weigh responsibilities as fathers as much as their responsibilities to their jobs shows all of us what is possible." She finished by adding the hashtag #Leanin.
She was accused of giving cover to an antifeminist who opposes family leave policies, the very existence of the minimum wage itself, voted against the Lily Ledbetter Act and the Paycheck Fairness Act, and has fought to eliminate reproductive rights for women. And her critics do have a point -- he is hardly a hero to working women who are laboring to pay the rent, feed their children, save for retirement and still only make 78 cents on the dollar.
But putting that aside, there's something to be said for lifting up Paul Ryan. The fact of the matter is that he helps illustrate the truth about American family policies -- right now, they mostly benefit men, white men particularly, who are at the top of the income scale. Family leave is a perfect example.
In 1993, the United States finally adopted legislation, the Family and Medical Leave Act (FMLA), providing 12 weeks of unpaid leave for new parents. But the FMLA's benefits are limited to firms with 50 employees or more and only to those employees who have worked at least 1,250 hours in the previous year. Because of these two limitations, more than 40 percent of private sector workers fail to qualify. As few as 20 percent of new mothers qualify for the benefit. And since the FMLA provides only unpaid leave, even those mothers who qualify often opt out because they can't afford to lose wages.
Paid family leave seems an obvious answer -- and one that has been apparent to most other countries in the world. Indeed, the only other country known to have absolutely no paid leave policy is Papua New Guinea. But in the United States, workers only get paid leave if their employer decides to offer it voluntarily.
As with most voluntary benefits, the highest earners get the most generous benefits and thus the 11 percent of the workforce that has paid leave is more white and more male. Similarly, these men are also more likely to have paid vacation and sick leave, so they have a much greater ability to combine different leaves for a longer paid time off.
Making their lives even easier relative to lower-earning employees, they are more likely to be entitled to flexibility in their workday to deal with unexpected emergencies, from child care problems to a sick child -- and they don't lose wages as a result of time away.

Some workers cobble together leave for childbirth from sick leave and vacation days, but only some Americans have either of those benefits. Excluding those serving in the military, more than one-third of the workforce -- and three-quarters of low- income workers -- lacks paid sick leave, and 25 percent do not have vacation pay.
For some workers, temporary disability insurance, which covers pregnancy- and childbirth-related disability, may help defray the costs, but fewer than 40 percent of nonmilitary workers are covered by such policies. And women who work part-time have even less access to temporary disability insurance, paid sick leave or vacation time.
Paid leave makes sense. It helps keep families out of poverty. It enables women to take the time to recover from childbirth instead of rushing back to work because of financial stress. It allows parents to bond with a new child and respond to any medical issues the newborn may have. It reduces the stress of caring for an older relative by giving time to spend on their needs as well. It keeps sick people out of the office. But importantly, it also helps advance the goal of making women truly equal in society by reducing the wage penalty of having a baby. Making sure that all women, and not just a few, have paid leave will help address the economic inequality that is growing ever larger in America.

Paul Ryan is the poster child for good family policy. He has family leave, vacation pay and flexible hours and clearly sees the benefit for his family. Now it is time for him to #Leanin for the rest of us.