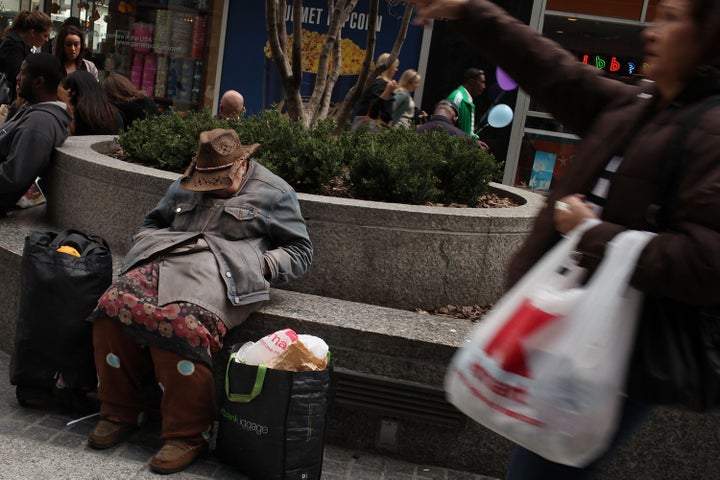 It's been less than two weeks since a guerilla campaign by local activists managed to restore about 20 percent from $131 million in budget cuts targeting Washington, D.C.'s neediest residents -- with little help from the mainstream media, which essentially ignored a looming shutdown of the city's shelter and disabled aid services that could have thrown thousands into the street. The city's reluctant Democratic leadership only bowed at the last minute to under-the-radar pressure to reverse some of the most obvious, draconian cuts with $27 million in restorations, especially services to the homeless.
Andy Silver, an attorney and organizer with the Washington Legal Clinic for the Homeless, has an optimistic perspective on the shelter crisis that was averted: "People need to be creative. You can still win without mainstream media attention."
Other sources familiar with the lobbying to restore homeless funding point out that some leaders in the local downtown business community were concerned about the impact on the city's image and tourism. There was a real prospect of a PR nightmare if 1,500 homeless single adults and 300 families wandered the streets after shelters closed down. So, they pressured city leaders to save the shelter system in the same week that liberal activists stepped up protest at the District's city hall, the Wilson building, with a "Reality Tour." One influential voice was developer Benjamin Miller, who wrote in the Washington Business Journal:
It is unacceptable to cast 1,500 homeless people out on the streets of the District, but that is surely what will happen if the D.C. Council fails to restore year-round operation of shelters for single homeless adults. I am asking my colleagues in the business community to reach out this week to D.C. Council members and urge full funding for homeless services. This is one of those rare opportunities for the council to do right by business, by the taxpayers and by our most vulnerable residents.
Yet a Democratic mayor and a Democratic city council were on the verge of shutting down the entire shelter system and cutting of a mere $250 a month in aid to the disabled waiting for their Social Security claims to be processed. But then a small-scale grass-roots revolt prompted them to reconsider. Yet, on top of all that, the Council rejected any income tax increase on the city's wealthiest residents, including a mild proposals from the Mayor which would have added $35 million in revenues, even though 85% and more of the public in a poll -- including those earning over $100,000 -- wanted taxes on the wealthy raised to save city services.
Keshini Ladduwahetty of DC for Democracy asks, "Who are they listening to? Who are we fighting? How can we fight forces we can't even see?"
But it's really only a partial win, because other vital programs and even affordable housing services are being jettisoned altogether or slashed to the bone, including children's mental health in a city where three clinics serving the poor already closed in the last six months. Homeless services before the proposed cuts have already been so starved for funds that during the winter months, some homeless mothers with infants and newborns were turned away from shelters during cold nights -- and instead were given bus fare to ride city buses all night to keep warm.
"They made a bad budget worse," says Ladduwahetty, the activist with DC for Democracy, a DFA affiliate, that's organized a last-minute attempt to stave off yet another tax giveaway to mostly rich residents with the nation's only tax exemption for out-of-state funds.
The Council voted by a slim majority two weeks ago to end that exemption, but powerful city figures, including the corruption-plagued chairman of the City Council, Kwame "Fully Loaded " Brown, are moving to take away the revenue gains by extending the tax loophole to current bond holders.
And on Tuesday, leading members of the DC City Council are threatening to give away that $13 million in potential tax revenues to the city's wealthiest residents by grandfathering those who receive the exemption. That's why groups like Save our Safety Net and DC for Democracy are urging liberals to call their councilmembers -- especially those at-large members who may reverse previous votes for ending the exemption, including Marion Barry, Harry Thomas an Marion Barry -- to ensure the revenues from ending that exemption remain.
A majority of the City Council voted to add funds to some of the most vital programs for the poor only if a hoped-for windfall of $33 million in tax revenue becomes available. It's the GOP-style Democrats' version of voodoo economics. But as DC for Democracy pointed out in an alert issued Sunday, blaming the "fiscal irresponsibility" of the council for rejecting any tax increases on the wealthy, this economic move...

... Relied on $33.5M in hoped for funding contingent on updated revenue forecasts from the Chief Financial Officer to fund critical human services, including homeless services, affordable housing, children's mental health, libraries, and childcare subsidies. Even assuming they materialize, these funds would most likely be available for one year only. CFO Natwar Gandhi has warned against using this kind of "contingent budgeting".

All told, though, the deep cuts and the apathy of most mainstream media organizations to the impact on the poor should be a wake-up call for progressives everywhere: "This can happen in a Democratic city," says Ladduwahetty, so, she contends, you can't count on the Democratic Party to stand up for a progressive agenda in upcoming state and local budget fights.
***************************************
This article was adapted from a piece originally published on Truthout.org.
Calling all HuffPost superfans!
Sign up for membership to become a founding member and help shape HuffPost's next chapter