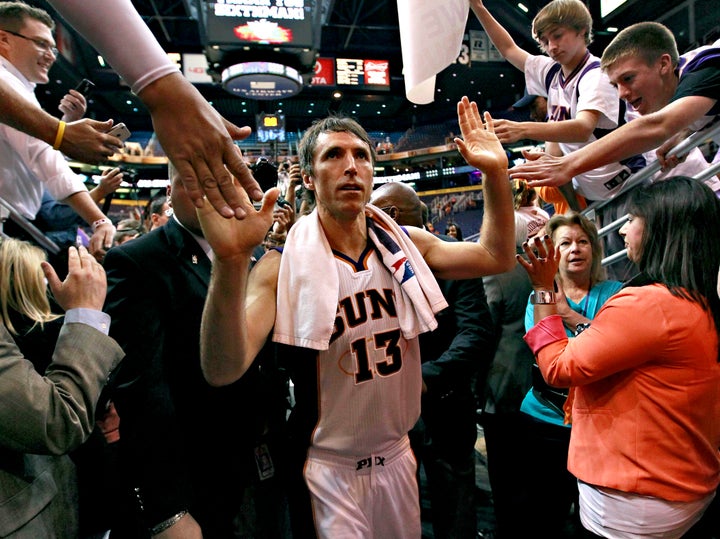 Living in Phoenix has made it inevitable for me to follow the Suns. With the controversial Steve Nash move, Goran Dragic has come back to the Phoenix. Here is a story I wrote after attending a Suns practice.
Goran Dragic returns to the Phoenix Suns following Steve Nash's move to the Los Angeles Lakers- and his mom's advice.
"I mean it's a funny story," Dragic said. "I started first with soccer then with basketball. Then I got my leg injury and then after that my mom said no more soccer for you and then I went to basketball. But I think that was the right decision."
Dragic, a Slovenian native, kicked around a basketball with ease during Monday's practice before a home preseason game against the Sacramento Kings, but he said soccer is one area where he does not compare to Steve Nash.
"He's really good," Dragic said.
Dragic, however, may come out of Nash's shadow on the basketball court. During his time with the Houston Rockets, he started 28 games, including the final 26, and averaged 49 percent overall shooting, with 37.9 percent from three-point range and 83.9 percent of free throws.
These stats are comparable to those of Nash and Oklahoma City Thunder stars James Harden and Kevin Durant.
Moreover, in the five Suns preseason games, he has proved himself not only to be an adequate shooter, but also a decent passer, according to coach Alvin Gentry.
Gentry has seen Dragic before. The Suns first signed Dragic in 2008, the same year Gentry came to the team to coach under Mike D'Antoni. Dragic was Nash's heir apparent until he was traded to the Rockets in 2011.
"He was here before and he really kind of understands what I want in a point guard," Gentry said. "I think he's very athletic. I think, namely passing the ball up the court, I think his decision-making has gotten a ton better. And I think his shooting is improving. Those are the areas where I just want him to be himself and to play the way he's capable of playing."
Dragic, 25, is not alone in needing to fill someones shoes. Last year was center Marcin Gortat's first year as a rotational player in the NBA. And with Channing Frye out for the season, Gortat will need to step up his role.
This puts pressure on Gortat and Dragic to work together. Gentry said they have the potential to be a force in pick-and-roll offenses.
"I think they'll develop a relationship on the court where they will feel good and be able to read each other and understand where [Gortat] wants the ball and where Goran is going to deliver," Gentry said.
But with the loss of the team's identity with Nash, Gentry said the team is still in need of a leader.
"I think leaders, I don't think they can be appointed," Gentry said. "You know I think they just kind of come to the top. I don't know who the leader on this team is yet. I think there are some guys who have stepped up in certain ways, but I think that's something that will take care of itself."
However, there is a possibility Dragic is poised to take over and become the commander. Phoenix fans got a taste of him during the 2010 Western Conference semifinals, when he put up 23 of his 26 points in the fourth quarter of Game Three, going 5-for-5 on three-pointers, leading the Suns over the San Antonio Spurs, 110-96.
He returns to a city that looks at him favorably and, so far, has yet to disappoint.
"I get the opportunity to start here for the NBA and I'm really grateful for that. It feels great to be back," Dragic said. "I know the city, the people and the organization so its much easier for me this year, but I think we will have fun."
Despite being compared to Nash in the media and by Suns fans, Dragic isn't trying to be someone he's not. Instead, he wants to establish himself in his own right in Phoenix.
"Everybody was asking me why don't you try to play like Steve Nash," Dragic said. "He's one of a kind, one of the best ones in the league. I realized that when I got traded that I have to stick with my game. I have to play my game and I will try to do that this year. You know, just try to be myself, try to find the open people. Play Goran Dragic's game."
Related
Popular in the Community