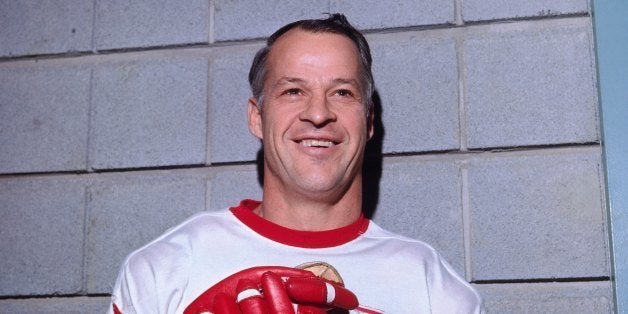 Gordie Howe died at the age of 88 on Friday morning. It is with a heavy heart that hockey fans from all over remember "Mr. Hockey."
I am only 19, and therefore didn't get to see Howe while he was still playing in the National Hockey League. However, he was one of the first names I knew, and will always be one of my favorite players. While many remember the records he made, or the incredible goal-scoring ability he possessed, I remember Howe for his unchanging perseverance and determination, because he is the one who taught me to never, ever give up in the face of a challenge.
Howe never stopped going, no matter what happened. He failed third grade twice, and at age 15, he attended a Rangers tryout camp in Winnipeg, but they told him he "might as well go home" and that he would "never be a hockey player." However, that didn't change Howe; he went for his chance again, and when he returned the next year to try out, he was discovered by a Detroit Red Wings scout. Two seasons later, at age 18, Howe was first wearing No. 17, then No. 9 for the Red Wings.
He played with a unique unorthodox style of hockey, one that combined excellent skating, play-making ability and goal-scoring with toughness, physicality and aggression. Howe was one of those players who could make a huge hit or drop the gloves for a fight, while also leading his team to victory with a goal or a couple of helpers.
Nothing could stop him. Not even 500 stitches on his face alone, could bring him down. Howe played 26 NHL seasons, and in that time, finished with 801 career goals (second-best behind Wayne Gretzky), four Stanley Cups, six Hart trophies, five Rocket Richard trophies and 23 NHL All-Star Games. He also finished with two Gordie Howe hat-tricks, the namesake milestone commemorating players for finishing a game with a goal, assist and fight under their belt.
Perhaps the scariest memory came three days shy of his 22nd birthday. Howe was skating in a playoff match against the Toronto Maple Leafs in 1950, when he went to deck Ted Kennedy into the boards with a bone-crushing hit. However, Kennedy tried to protect himself by putting his stick up, and it caught Howe's eye as he crashed alone, head-first into the boards.
When he reached the hospital, doctors revealed he suffered a broken nose, a shattered cheekbone a concussion, a lacerated eyeball, severe brain damage and skull hemorrhaging. The surgeons had to drill a hole above his right eye to relieve the pressure, and thankfully, Howe was only left with a facial tic, which earned him the nickname "Blinky" in the locker room.
That near-death experience didn't stop Howe, because he recovered fully only to return the next season and win the Art Ross trophy with a league-leading 86 points.
Nothing could faze him and nothing could stop him from playing the game he loved for years to come. He played all the way until age 52, when he retired with the Hartford Whalers after playing in the WHA for some time alongside his sons, Mark and Marty Howe.
Mr. Hockey wasn't just a hockey player; he was, and still is, a legend who truly changed the game. He not only brought great ability to the lineup, but was one of the first "big" players in hockey, coming in at 6 feet and 205 pounds. His courage, determination and perseverance is something that will stick in the National Hockey League forever.
Though this day is a sad one, it is one where we will remember everything Howe did for the National Hockey League. We remember every hit, every stitch, every shift, every goal and every moment Howe had. Mr. Hockey never gave up, and he never quit.
Even after Howe suffered a stroke, his son, Mark, explained how he and his family "had never seen [Howe] quit anything."
With Howe not physically here anymore, the NHL and the Stanley Cup Finals will always have something missing; however, his memory and triumph will live on as time goes by. And still to this day, the number nine is raised in the rafters of Joe Louis Arena, and today, it waves just as proudly as it always has, hanging with a hint of glory and memory for the greatest hockey player of all time.
REAL LIFE. REAL NEWS. REAL VOICES.
Help us tell more of the stories that matter from voices that too often remain unheard.