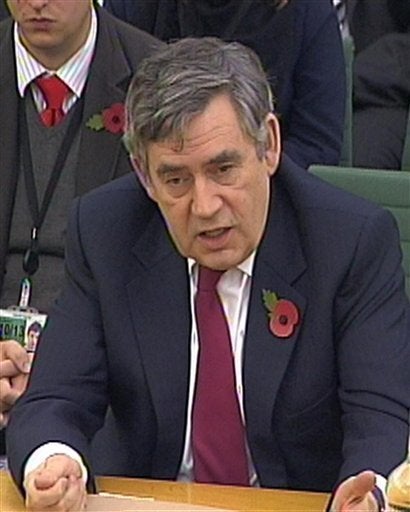 WASHINGTON -- A former head of the World Bank waded into a public row between Britain's last and current prime ministers over who should be the next managing director of the International Monetary Fund.
One day after British Prime Minister David Cameron offered a scathing denunciation of Gordon Brown's qualifications to oversee the world's economic and financial affairs as head of the IMF, James Wolfensohn told The Huffington Post that the conservative leader was still "a little bitter" over the nasty campaign his Tory Party narrowly won last election.
If "internal politics" are extracted from the debate, he said, "there is no one better than Gordon Brown" to head the global fund. Brown spent a decade working as former Labor leader Tony Blair's chancellor of the exchequer -- the British equivalent of the U.S. Treasury Secretary -- before becoming PM himself in June 2007.
Brown was evicted from 10 Downing Street by Cameron after a hard-fought, three-way race that included Liberal Democrat Nick Clegg. The 2010 election came on the heels of the global financial crisis, which left the British -- much like their American cousins -- mired in a deep national debt.
Cameron strongly hinted that he would block any attempt to nominate Brown to the IMF post in a BBC interview on Tuesday.
"It does seem to me that, if you have someone who didn't think we had a debt problem in the UK when we self-evidently do have a debt problem, then they might not be the most appropriate person to work out whether other countries around the world have debt and deficit problems," Cameron said in the radio discussion.
"Above all what matters is: is the person running the IMF someone who understands the dangers of excessive debt, excessive deficit?" he went on. "And it really must be someone who gets that rather than someone who says that they don't see a problem."
Wolfensohn worked closely and often collaborated with Brown, then Britain's chancellor, during most of his two terms as head of the World Bank, which spanned from 1995 to 2005. As head of the institution charged with promoting economic growth in less-developed countries, Wolfensohn said his personal dealings with Brown revealed he was "extraordinarily professional and very capable and knows the business extremely well."
"I don't know why he said it," Wolfensohn said of Cameron's remarks. "[Brown] is extremely well-informed, always well-prepared and has vast experience."
The IMF is responsible for ensuring the stability of the international monetary system -- a network of exchange rates and international payments that makes it possible for countries to transact business with one other. Brown chaired its key International Monetary and Financial Committee until 2007, and he has made no secret that he would like return as the IMF director.
At the moment, though, there is no vacancy to be filled.
The current head of the IMF, Dominique Strauss-Kahn, has more than a year left to his five-year term. But the speculation, which is as high as his place in French opinion polls, is that he may step down in the next few months to challenge President Nicholas Sarkozy in France's election next year.
Whether the current IMF chief serves out his time in office or resigns in the near future, the horse race to replace him is well underway.
But Brown has more than digs from Cameron to contend with if he hopes to be nominated by the British government and voted in by a majority of the IMF's board of directors.
Voicing the concerns of many, financial blogger Felix Salmon said Brown "comes with way too much baggage: he'll never be able to admit that enormous chunks of what he did as Chancellor turned out, in hindsight, to be disastrous."
The head of the IMF "has to deliver tough news about debt and deficits to heads of state around the world -- and Brown simply has no credibility on that front," Salmon wrote. "His diplomatic skills leave something to be desired as well."
Salmon endorsed Cameron's suggestion that the IMF consider a candidate from outside Europe, where the recent economic meltdown hasn't exactly been a ringing endorsement for fiscal know-how. The PM said prospects from rising economic powerhouses India, China or South Asia ought to be in the mix. "It may well be the time for the IMF to start thinking about that shift in focus," Cameron told the BBC.
A European has served as managing director of the IMF since it was founded at the end of World War II, just as an American has headed up the World Bank since that time. But that arrangement is, as Wolfensohn noted, "not a rule, it's been tradition." It dates back to a time when most of the world's economic output came from Western nations.
The idea of expanding the pool of potential IMF directors beyond the countries in power in 1944, when the concept for the two Bretton Woods institutions was developed in the woods of New Hampshire, has been discussed before. Still, Wolfensohn said he is certain Brown is the man to carry out needed reforms.
"If it were on the basis of competence, it would surprise me if others come out against him," he said of a Brown candidacy. "If it's on the basis of politics, then I couldn't tell you" how it will come out.
Calling all HuffPost superfans!
Sign up for membership to become a founding member and help shape HuffPost's next chapter