I've known Gordon Greenberg for most of my career, so I feel a little like I know where he has been. And it's all leading up to tonight, when he makes his Broadway debut as a co-writer and director as Holiday Inn begins previews at Studio 54, Roundabout Theatre Company's first Broadway show of the season.

Greenberg began his career as an actor--though he didn't exactly have an auspicious Broadway performance debut. At age 12, he was cast in The Little Prince and the Aviator, a show that never officially opened. Luckily the rest of his acting career, which also included parts on the Great White Way in How to Succeed in Business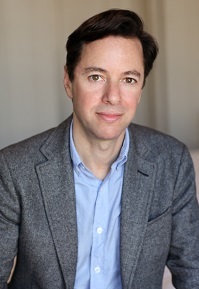 Without Really Trying and Grease, went better, but he still wanted something more. In the late 1990s (well before I knew him, thank you), he was offered a role in the tour of Barrymore with Christopher Plummer as the off-stage voice that delivers scattered lines. But what he really wanted to do was direct. "I had a choice: I could stay in NY and maybe direct a show and make less in a year than I could make in one week doing that show," Greenberg said. "I called my parents to ask what they thought I should do in the hopes they would magically offer some subsidy or brilliant solution and they said: 'Get a job or start a business. Think about what you can do to subsidize your directing career.'" Luckily a friend, who just happens to be multi-Tony winning producer Jeffrey Seller, had an idea for Greenberg involving marketing. That eventually became an entire education initiative, of which Greenberg remains proud.

But back to directing. While supplementing his income, Greenberg worked on small shows here and there, hooked up with Theatreworks USA, met husband-and-wife writing team Laurence O'Keefe and Nell Benjamin (personal favorites of mine) at a "blind date" arranged by Theatreworks Artistic Director Barbara Pasternack and in 2004 made his New York directing debut with the Theatreworks production of Cam Jansen, written by O'Keefe and Benjamin based on the book series of the same name. The show received positive reviews, including for Greenberg's "brisk direction" (The New York Times). Soon he was directing The Baker's Wife at Paper Mill Playhouse with Alice Ripley and Max von Essen, an assignment that included working with Stephen Schwartz and Joseph Stein to make the story have a more authentic French feel. That led to an off-Broadway revival of Jacques Brel is Alive and Well and Living in Paris, another musical that attracted the Francophile in him.
Every single time I've spoken to Greenberg since then he has had at least five things he is working on. He has more projects than I have ideas for stories. At some point he began conceiving and co-writing projects, including Pirates! (a take on Pirates of Penzance which he conceived with Benjamin and John McDaniel) and Band Geeks! (he wrote the libretto of with Tommy Newman), both of which he also directed regionally. He credits a very famous person with giving him the courage to commit to his writing, a decision that eventually led to Holiday Inn.
In 2007, he directed the world premiere of a musical based on Happy Days with book by the iconic Garry Marshall. "It was nobody's great show," Gordon admits. "It was one of the best experiences in my life because I became close with Garry Marshall. He was the person to really encourage me to write my own stuff. He is the reason I followed through on it. He knew how to get the best out of people by assuming the best of people." (To honor the departed legend--who gave Greenberg a small, cut acting role in the film New Year's Eve not that long ago--Greenberg is working on a big celebration on what would have been Marshall's 82nd birthday in November.)
At some point shortly after Happy Days, Greenberg began revising the ensemble musical Working based on the Studs Terkel book Working: People Talk About What They Do All Day and How They Feel About What They Do. The new version, which also featured revisions by Schwartz, one of the original authors, included two new songs by Lin-Manuel Miranda. It had a commercial run in Chicago before having a very limited non-profit run at 59E59. The New York run featured, among others, Donna Lynne Champlin (whose work on Crazy Ex-Girlfriend you can/should vote for in these Entertainment Weekly awards) and Jay Armstrong Johnson. This revision is now the licensed version of the show, having sort of resuscitated interest in the tuner despite its lack of a commercial New York transfer.
Other New York credits of his include Slut!, We the People! America Rocks! and Stars of David. His last three years have been particularly busy. His acclaimed production of Guys and Dolls transferred from England's Chichester Festival Theatre to the West End (where it recently featured Rebel Wilson), he's been writing a Disney television movie, he brought Tangled to a cruise ship, and, of course, Holiday Inn. It's only been about three years since he and co-writer Chad Hodge began working on Holiday Inn. Chris Herzberger from Universal Pictures had been talking to Greenberg about possible stage adaptations of movies from the Universal catalog. The first was The Secret of My Success--featuring a score by Alan Schmuckler and Michael Mahler and a book by Greenberg and Steve Rosen--but shows with a new score take longer to develop generally. Holiday Inn could be fast-tracked.
Greenberg had never seen the movie. "Being a Jew, it wasn't part of my holiday tradition," he said. He fell in love with it and the opportunity to work with the Irving Berlin estate. He had been writing a different musical with Hodge and thought they could write this one together.
"This show is all about your work life, show business, and your real life and where you place your efforts, where you spend your time and where your values lie," Greenberg stated. "In a world where curated reality is everything, and we're not even sure what is actually real, I thought that was a fundamentally relatable tension."
While Greenberg is in a good place both professionally and personally--he has been in a relationship with a doctor for five years (which, as he noted, is pretty much a Jewish mother's dream)--he is indeed always seeking a balance. He said he sometimes watches House Hunters International and dreams of leaving it all. But, for now, a guy that used to beg his parents to take him into the city to take photos of him under Broadway marquees is living one of his childhood dreams.
"I feel lucky to be doing the thing that I did in our garage or our driveway using the garage as a curtain," he said. "Just telling stories in anyway is a really fortunate way to spend your life. I think the only way to have a successful career as an artist is to derive joy just from doing it. The fact that people are paying you or even paying attention is a blessing."

Please vote for Donna Lynne Champlin for her work Crazy Ex-Girlfriend in these Entertainment Weekly awards, thereby supporting the person with the most theater credits (who also happens to be the best).
If you want to contact me, you can find me on Twitter @CaraJoyDavid. I also welcome emails at carajoy@gmail.com. Please do not send me a Facebook message if we are not friends on Facebook. I will not see it.

Related
Popular in the Community