How do you start a conversation with children on America's legacy of racial injustice? You tell them the story of an artist who confronted segregation and exposed that legacy.
A new picture book, Gordon Parks: How the Photographer Captured Black and White America, takes on the admirable task of translating challenging material to readers ages 5 to 8. Written by Carole Boston Weatherford and illustrated by Jamey Christoph, the book traces Parks' journey from Fort Scott, Kansas, to Washington, D.C., as he nurtured his interest in photography as a way to document and expose oppression in the United States.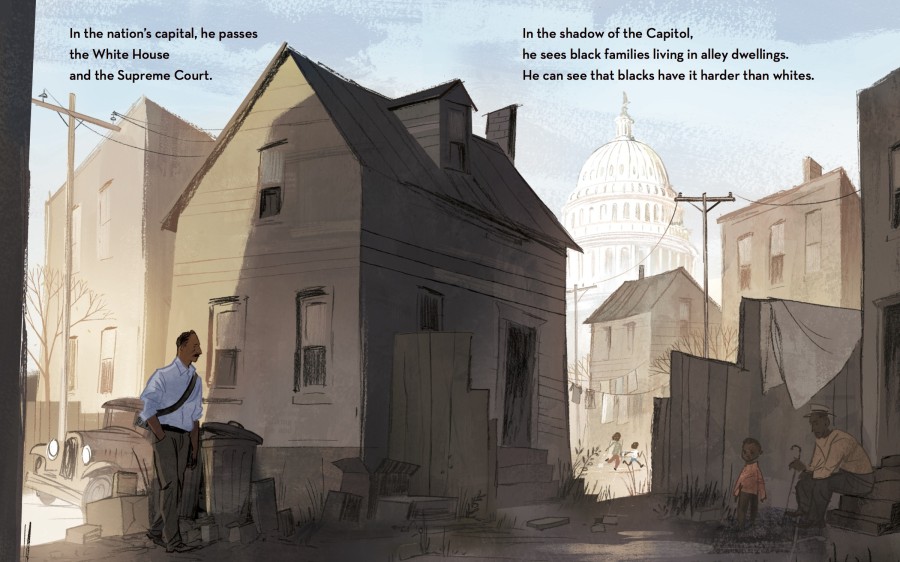 Inspired by Parks' focus on Washington, D.C., in particular, Weatherford and Christoph produced writing and illustrations that highlight a very real American urban setting. While working on the project, Christoph retraced Parks' steps in D.C., wandering through the same streets and landmarks to immerse himself in the environment. "It was so exciting," Christoph said to The Huffington Post, "to be able to just go walk around and be inspired by the actual areas that he walked."
Parks' career blossomed in the nation's capital, but eventually took him to Harlem, where he would shoot for Vogue and Life magazine, taking iconic portraits of Malcolm X, Stokely Carmichael and Muhammad Ali, among others. He'd go down in history for these thoughtful photo essays addressing prejudice and activism in the U.S., along with his forays into a variety of other artistic forms. You might also remember him as the director of the 1971 film "Shaft."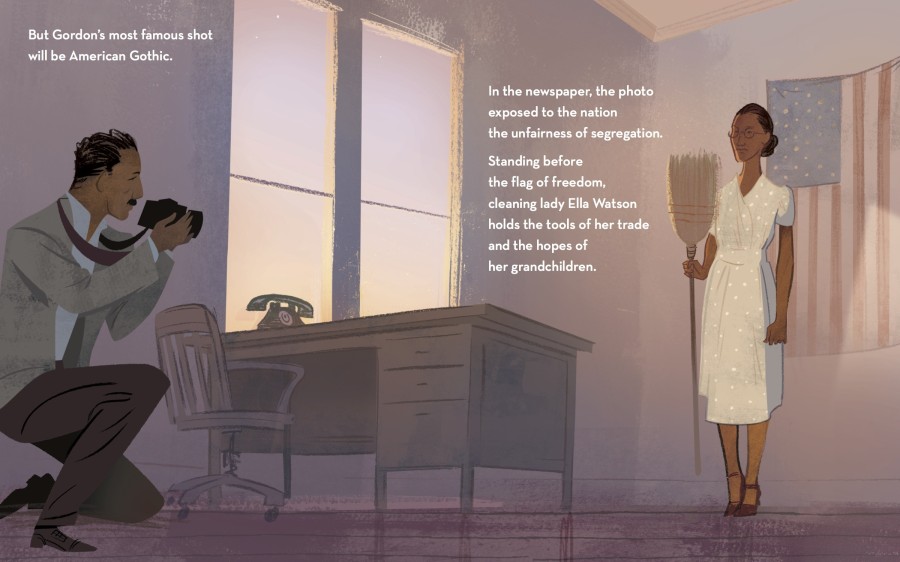 Weatherfords' book, though, keeps the scale small, honing in on the staging of Parks' most famous piece, "American Gothic, Washington, D.C." The photograph plays off the classic Grant Wood painting, replacing the memorable Iowa-bred couple, the man with a pitchfork in hand, with a lone black woman named Ella Watson, shown holding cleaning supplies in front of an American flag.
The portrait is a heavy photograph for any age demographic. According to the Library of Congress: "[Watson] had struggled alone after her mother had died and her father had been killed by a lynch mob. She had gone through high school, married and become pregnant. Her husband was accidentally shot to death two days before their daughter was born. By the time the daughter was eighteen, she (the daughter) had given birth to two illegitimate children, dying two weeks after the second child's birth. What's more, the first child had been stricken with paralysis a year before its mother died."
"Through Gordon's lens, her struggle gained a voice," writes Weatherford, proving that clarity is the best tool for addressing heaviness. When discussing the difficulty of capturing that scene in illustration, Christoph stressed how he tried to preserve its simplicity. "That was the genius of the photo," he said. "It's just her with the tools of her trade in front of the American flag. So stark."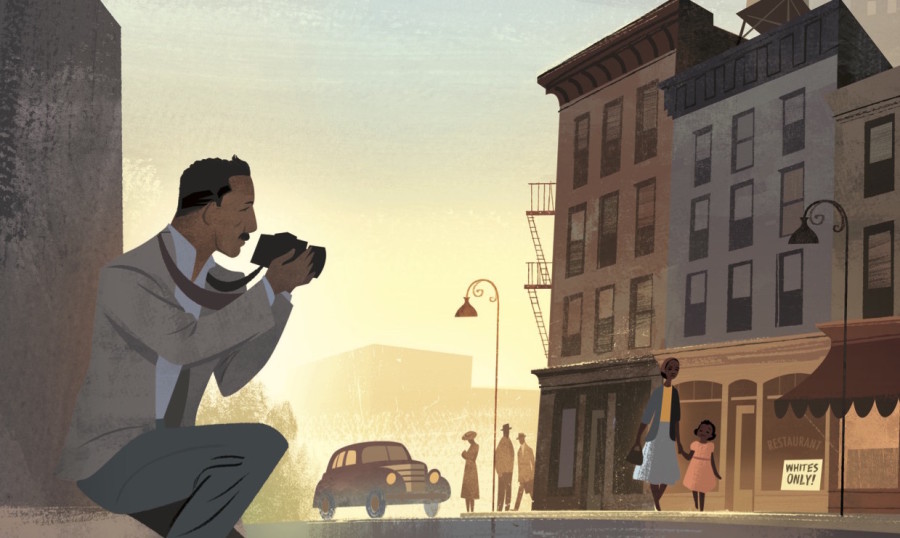 And how have young readers received that narrative so far? Christoph reports that the images are already provoking discussion. The illustrator recounted how at a recent reading, inquisitive hands shot up immediately to ask about his segregation imagery. "Some of the first questions were, 'Why did they have those signs?' They couldn't process that," he said. With just a short picture book, the difficult conversation had begun.
This conversation-starter arrives at a time of renewed focus on Parks' life and oeuvre. The Boston Museum of Fine Art's exhibition "Back to Fort Scott" displays a series of Parks' photographs investigating segregation in his hometown. Last week, the Gordon Parks Foundation Awards Dinner saw the likes of Usher and Pharrell Williams take the stage to honor Parks' legacy.
Weatherford and Christoph, though, pay homage to the artist in a different way: not with flashy performances but by translating his ideas to young audiences. Their work, like Parks', challenges even young readers to ask what struggles lie unexposed -- and how they can be given a voice.
Before You Go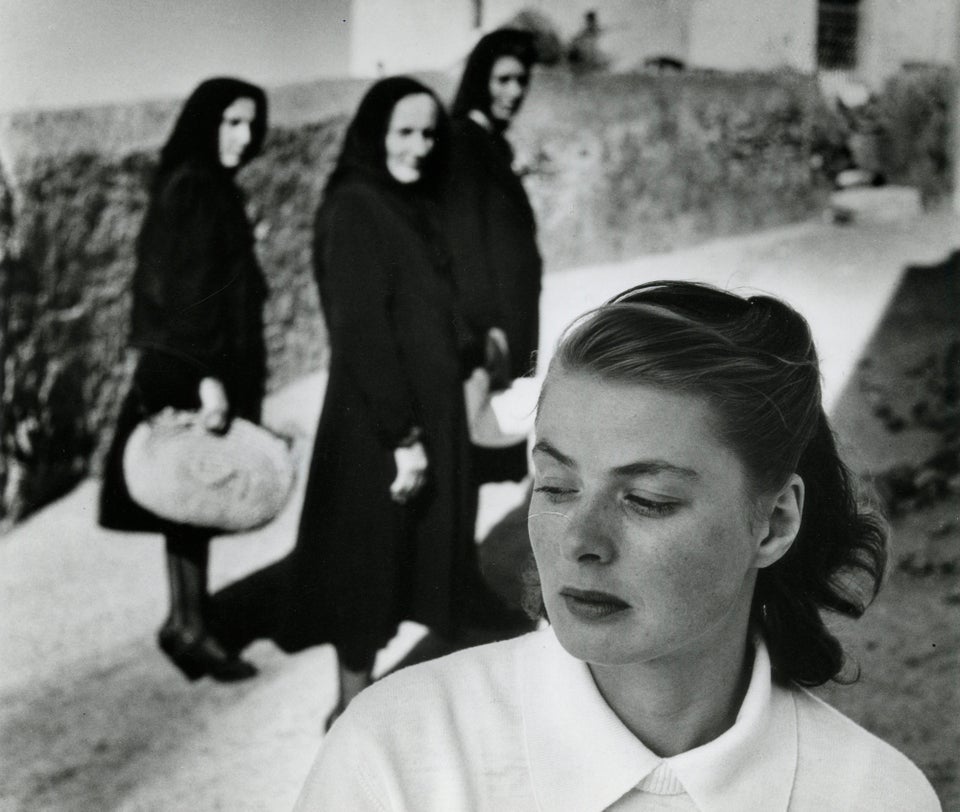 The Gordon Parks Foundation's Photos
Popular in the Community