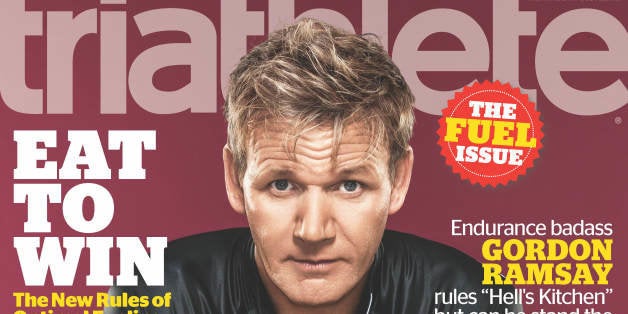 Yes, this celebrity chef has somehow found enough free time to earn some chops outside of the kitchen -- he's run 15 marathons, three ultramarathons and three half-iron-distance triathlons. This month, he plans on adding the Kona, Hawaii Ironman to that list -- and, for once, has become the trainee instead of the trainer.
As Ramsay admits to Triathlete Magazine, being a chef presents some unique challenges to staying on the intense training and diet plan necessary for this type of physical conquest -- as he says, "You've got to taste things" while cooking and judging, which can make it difficult to stay on track. But he appears wholly dedicated to his new regimen of protein-rich dishes, almond milk substitutes, and every-other-day cups of coffee. His trainer even came close to converting him to veganism -- but though Ramsay is no stranger to post-workout vegan shakes and pressed juices, it doesn't sound like he'll be giving up meats anytime soon. As Ramsay reportedly told his trainer, "That's just not part of the deal, mate!"
But what is part of the deal are the fresh and healthy recipes that have become staples of Ramsay's training diet, including the Farmers' Market Salad recipe we've included below. You can find more of Gordon's recipes and training tips in the November issue of Triathlete Magazine, which hits newsstands October 8.
Recipe For Farmers' Market Salad: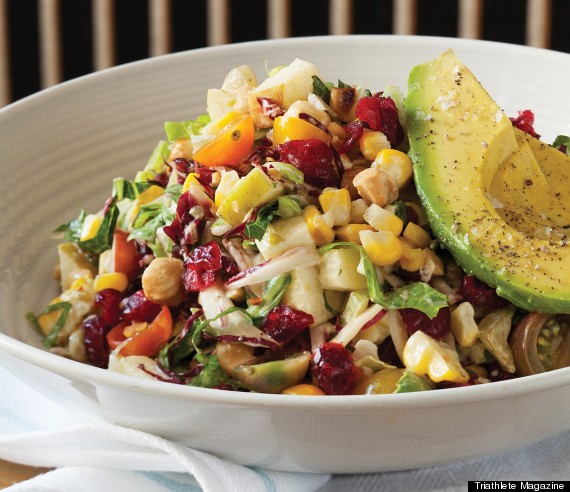 Ingredients
1/2 cup shredded Romaine
1/4 cup shredded radicchio
1/4 cup roasted corn kernels
1/4 cup Fuji apples, diced
1/4 cup dried cranberries
1/4 cup roasted hazelnuts, chopped
1/4 avocado, sliced
3 T lemon oregano dressing (recipe below)
Salt and pepper, to taste

Directions
Toss all ingredients in a mixing bowl. Season with the dressing, salt and pepper. Makes 1 serving.

Lemon Oregano Dressing

Ingredients
Juice of 1 lemon
1 clove garlic, minced
1/2 tsp fresh oregano, chopped
1/3 cup olive oil
2 egg yolks
1 T Dijon
Salt and pepper, to taste

Directions
Place the egg yolks, Dijon, garlic, lemon juice, salt and pepper in a food processor. Blend until emulsified and creamy. Slowly add the olive oil while blending. Once emulsified, fold in the chopped oregano. Season with salt and pepper.