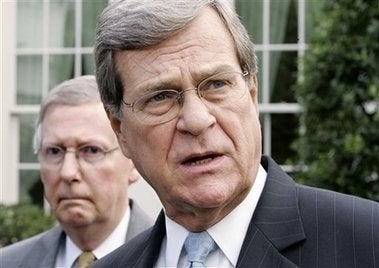 Speaking on the Senate floor Tuesday morning, Sen. Gordon Smith, R-OR, offered a passionate defense of the pro-segregationist comments made by his colleague and friend, Sen. Trent Lott, more then three years ago.
"I was half way around the world when an event befell Trent Lott that shook me deeply," Smith said, referencing Lott's 2002 remarks in praise of Dixiecrat Strom Thurmond's 1948 run for the White House. "I was celebrating my re-election and on vacation. I watched over international news as his words were misconstrued, words which we had heard him utter many times in his big warm-heartedness trying to make one of our colleagues, Strom Thurmond, feel good at 100 years old. We knew what he meant. But the wolfpack of the press circled around him, sensed blood in the water, and the exigencies of politics caused a great injustice..."
Smith's comments were made in a session noting Lott's impending retirement from the Senate.
In 2002, Lott lost his Senate Republican Leader post after he was quoted praising the staunch segregationist Strom Thurmond during Thurmond's 100th birthday party. "I want to say this about my state: when Strom Thurmond ran for President, we voted for him," Lott boasted. "We're proud of it. And if the rest of the country had followed our lead, we wouldn't have had all these problems over all these years, either."
Lott apologized repeatedly for his remarks, calling them "insensitive," "repugnant" and "inexcusable" during an appearance on a black-oriented cable channel.
And at the time, Smith himself seemed to think an apology was in order. As the Oregonian declared in December 2002, "However they were intended, Senator Lott's words were offensive and I was deeply dismayed to hear of them. His statement goes against everything I and the people of Oregon believe in. I look forward to working with my Republican colleagues to arrive at a decision that is best for the U.S. Senate and the country."
Today, however, Smith seemed to insisted that Lott should never have stepped down from his leadership position. "It was a wrong," Smith said of Lott's 2002 resignation, "but it was a wrong that was righted."
Lott recently found himself back among the leadership ranks. His election as minority whip in November 2006 came by a 25 to 24 vote. Sen. Smith played a key role in the internal party election. According to the New Republic:
"Smith rose to give a nominating speech for Lott. Smith's address was deeply emotional: He described Lott's honorable character and talked about the possibility of redemption. He even quoted from Mark Antony's funeral oration in Shakespeare's Julius Caesar. The room fell silent; Lott wept. When the doors opened, Lott had been elected minority whip by a single vote."
Popular in the Community