A retrospective of an artist tends to be a hallowed affair of deep significance and breadth. Over the weekend, I spied a graphic poster stapled to a telephone pole. It read "Gordy Grundy: BURN A Retrospective, One Night Only. The Whole Damn Oeuvre." Gordy Grundy is a Los Angeles-based artist, primarily a painter, who is better known as an art writer. His thoughtful and often humorous essays in the Coagula Art Journal, HuffPost and Artillery magazine have given us an insight into the heart and soul of an artist. This intimacy has earned him a following of sentiment and camaraderie. His poster brought some questions to mind.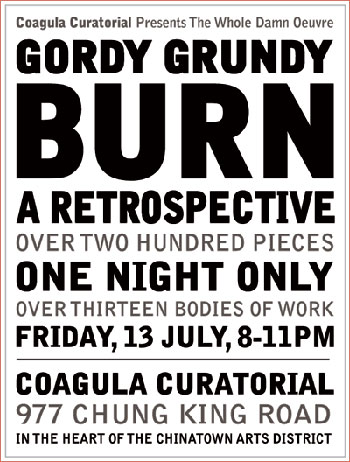 LISA ADAMS: Tell me, are you ready for a retrospective? Why only one night?
GORDY GRUNDY: (laughing) LACMA was booked. And it makes sense. In 2001, a year after my Solo Debut, I had a "Pre-Career Survey" at Occidental College. I like shows with epic names, significance and hallmarks.
LA: Your retrospective promises "over 200 works" that comprise "over thirteen bodies of work." Tell me about that. Any favorites?
GG: It is bringing back many memories. Excavating my studio reminds me what a busy boy I am. I forgot... Yes, many bodies of work. There are things I have never shown before. I played with one series that never gelled. It was called "Gordy Grundy's Blackouts: The Most Fun You'll Never Remember Having." I was aiming for a fast and loose painting style that seemed to get stuck in mid-stroke. Another body never had a title. It was a series of portraits, caricatures actually, on a field of gold leaf, of those we hold in high esteem. I never pitched it as a show.
LA: You've had successes, but you are focusing on the failures. Are there regrets?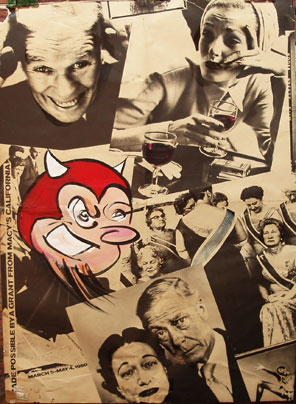 GG: Yeah. I've been shortsighted about showing. And not being political about it. I should have been more aggressive and calculating. I get so excited about the making, that I forget about the showing. The discovery of making art gets so compelling, so involving, I don't think of anything else. There was a body of work, Fortuna, that I debuted in Texas at Sala Diaz. I sought to make a religion out of Chance. I got so busy with the second and third show in the series, that I forgot to present it in L.A. I never introduced the work to my hometown. I was confounded that the world was not loving it! Well, I seemed to have overlooked showing it.
LA: Is Los Angeles important to you?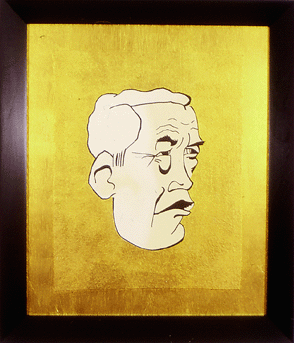 GG: Yes. I was born and raised in SoCal, so it's the language I speak. And think.
GG: It is genetically encoded in my brain and body. I grew up in a beach town, so I had all of that nature and nurture. But a lot of our neighbors worked in Hollywood. And Disneyland was not far away. And the Wax Museum. Umberto Eco pegged it all. Re-creation. Make it better. More happy. More beautiful. Because of neighbors, I had this entrée into music and jazz, pockets of subcultures. As a matter of fact, as a kid, I put my arm through a plate glass window, running too fast, trying to stop, because I was gonna get to meet Cybill Shepherd. Wow! The most beautiful girl in the world!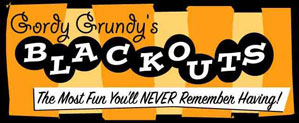 LA: What other influences do you have?
GG: The Venice Beach artists. I've always looked up to John McCracken. Vija Celmins. I'd be a text artist if it wasn't for Ed Ruscha. He did it better so why bother. Wittier. I liked all of their sense of humor. Andy [Warhol]. Bold, singular images. I'd be a Minimalist painter if I didn't know so many good ones. I respond to those ideas and philosophies.
LA: I'm excited to see your retrospective. Why call it BURN?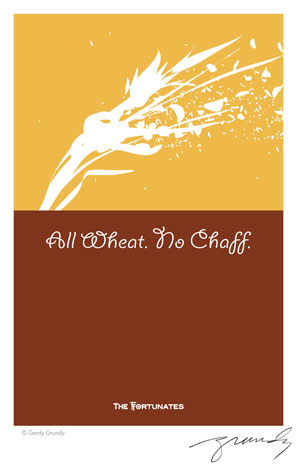 GG: After Baldessari. Destruction, re-creation. I mean, we are living in epic times. We are being forced -- we must live differently. Economically, the artist is bulldozed. We have to think and live and survive in ways that we have never imagined. Burn it down and start new. Human reforestation!
GG: No idea. I just hope I get lucky.
GORDY GRUNDY: BURN: A Retrospective will take place on Friday, July 13, 2012 from 8 pm to 11 pm at Coagula Curatorial, 977 Chung King Road, in Chinatown, Los Angeles.
Popular in the Community