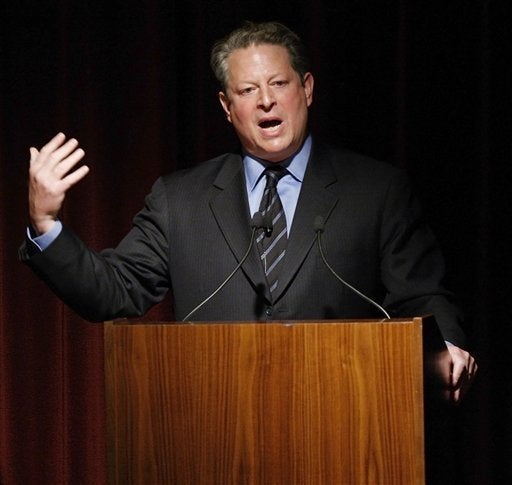 Former Vice President Al Gore is set to unveil a three-year, $300 million climate change campaign Wednesday, one of the most ambitious and costly public advocacy campaigns in U.S. history, the Washington Post's Juliet Eilperin reports:
The Alliance for Climate Protection's "we" campaign will employ online organizing and television advertisements on shows ranging from "American Idol" to "The Daily Show with Jon Stewart." It highlights the extent to which Americans' growing awareness of global warming has yet to translate into national policy changes, Gore said in an hour-long phone interview last week. He said the campaign, which Gore is helping to fund, was undertaken in large part because of his fear that U.S. lawmakers are unwilling to curb the human-generated emissions linked to climate change.

"This climate crisis is so interwoven with habits and patterns that are so entrenched, the elected officials in both parties are going to be timid about enacting the bold changes that are needed until there is a change in the public's sense of urgency in addressing this crisis," Gore said. "I've tried everything else I know to try. The way to solve this crisis is to change the way the public thinks about it."

Private contributors have already donated or committed half the money needed to fund the entire campaign, he said. While Gore declined to quantify his contribution to the effort, he has devoted all his proceeds from the Oscar-winning documentary "An Inconvenient Truth," the best-selling companion book, his salary from the venture capital firm Kleiner Perkins Caulfield & Byers and several international prizes, such as the 2007 Nobel Peace Prize, which add up to more than a $2.7 million. Paramount Classics, the documentary's distributor, has pledged 5 percent of the film's profits to the group, and some of the money raised through the 2007 Live Earth concerts will help the campaign, along with Gore's proceeds from an upcoming book on climate change.
Watch the new "we" campaign from the Alliance For Climate Protection:
Gore also made news over the weekend discussing the 2008 election cycle. Speaking to 60 Minutes' Lesley Stahl on Sunday, former Vice President Al Gore said that Democratic presidential candidates Barack Obama and Hillary Clinton are courting his endorsement. And many Democrats are looking to the former standard-bearer to help end the increasingly bitter Democratic primary fight. But Gore said "I'm not applying for the job of broker." Watch the exchange below:
Gore also touched on other subjects in his interview with Stahl.
Watch the former Vice President discuss the Supreme Court decision that handed George W. Bush the presidency:
Gore on those who don't believe in global warming:
And Gore also answered whether he would be running for another office in the future:
Click here to read Stahl's entire interview with Gore.
Popular in the Community