Gore Verbinski and Johnny Depp are like a popcorn version of Martin Scorsese and Robert De Niro. Combined, the duo have grossed over $2.8 billion at the global box office over the course of four films, a figure that's expected to grow significantly with the upcoming release of their fifth collaboration: "The Lone Ranger."
Starring Depp as Tonto and Armie Hammer as the title masked hero, "The Lone Ranger" took Verbinski six years to development. Then came the hard part: "It was a long, long shoot," co-star Ruth Wilson said during an event for "The Lone Ranger" in April. Indeed, Wilson wasn't kidding: "The Lone Ranger" filmed for seven months, from February 2012 through September 2012.
Verbinski spoke to HuffPost Entertainment about the arduous production process, the reason he wanted to make "The Lone Ranger" in the first place, and how he created one of the biggest action sequences of the year.
You've done spectacle before with the "Pirates" films, but the last act of "The Lone Ranger" takes things to another level, while never becoming confusing or convoluted. How much work went into creating that sequence?It had a very specific roadmap, and it was very timed to the William Tell Overture. We just chipped away at it during the entire 150 days of filming. On any week we might get four or five shots in that sequence. Those things are tricky; I don't have a second unit. I shoot it all myself. When you think about it practically, it's like, "We've got to get that shot, we have to get a techno-crane on top of a train and then drive the train at 35 miles per hour. We have to get this one shot and it's three and a half hours of filming." When you get two guys at a campfire talking for four pages, you try to compensate. Do those scenes a lot quicker. It's the nature of the beast. But, yeah, it took forever. [More on the train sequence can be found in the exclusive video above.]
I loved the way you waited to use the "William Tell Overture" for that scene.It was a time to unleash the beast. That's a tough one because that song is used in Huggies commercials. It's one of the most overused themes in present times.
Well, along those lines, was it hard to make the Lone Ranger relevant for today's audiences?It was always Squaresville to me when I was a kid growing up in the 1970s. For Westerns, I was into Sam Peckinpah and Sergio Leone. At 11 years old, "The Lone Ranger" was something on TV in reruns that my parents liked. I was drawn to this intellectually property from the point of view of being able to tell the story from Tonto's perspective. Reinvent the thing with him as the way in; retelling it from the guy who was there, but he's not entirely trustworthy as the narrator. That was exciting to me.
You really play that up with the framing device of having an old Tonto recall the story to a young boy in 1933 San Francisco. Was that your idea?Yeah, that was my idea early on. Short story: We talked about this in 2006 when I was shooting "Pirates of the Caribbean: Dead Man's Chest" and [screenwriters] Terry Rossio and Ted Elliott were trying to get the rights from Sony, which had struggled in trying to get "The Lone Ranger" remade. We talked to Johnny about playing Tonto and doing this Sancho Panzo thing and telling the story of Don Quixote. I had my version of it. Ted and Terry, however, wanted to go a different way. I said fine. Five scripts later, I went off to do "Rango" and Johnny came back and said he had a wonderful picture of himself in the Tonto makeup. He said, "We don't have a story, but I like this guy Tonto." I said, "Let's do the story I wanted to do four years ago." So we hired Justin Haythe and really started from scratch. One of the conditions, though, was that I was going to tell this thing from Tonto's POV. That was in the first email to Jerry. So, that was a solution. Otherwise you miscast Johnny. That was the problem they were having initially and it's the reason it wasn't moving forward: You've got Johnny Depp and he's playing a sidekick.
You mentioned Peckinpah earlier and this film's violence may surprise people -- you push the edge while keeping things within PG-13 parameters. Did Disney have any problem with the content?You have to realize it was three regime changes from the time we started and finished. But, certainly, it's my job to make those guys nervous. The current regime woke up one day and went, "Oh my God, we made a Western." But I was always interested in taking Jimmy Stewart from "The Man Who Shot Liberty Valance" and throwing him into this Peckinpah movie. Colliding those worlds. That's what's wonderful about these two characters, shackled together. The one guy believes in the laws of nature, the other guy believes in the laws of man -- and the laws of man really don't apply out there. He has to painfully learn that. The Lone Ranger from the television show had his code and stuck with it. I think our Lone Ranger struggles with that code. It's evolving. He's swimming in a world of grey and the black and white doesn't really apply.
So much about "The Lone Ranger" production was played out in the press -- from the shutdown to the reported budget. Is it annoying to have to read all that while you're trying to make a movie?Yeah. Sure. But every movie gets shut down -- especially the big ones. You see the movie, you storyboard it, do location scouts and budget it; then the studio wants the same movie for 30 percent less. You say you can't do that and you say you're not kidding; they say they're not kidding and then they shut you down. That's where Jerry [Bruckheimer] was instrumental. The horse was dead and shot four times in the head and Jerry was down there blowing air in its mouth and he managed to get it back up on its legs. I've never seen him work so hard. He was on me every day, going, "Can you live with 30 less extras in that train car? It's $12,000 in lunches." That went into this column on the left. It was a grind. We had to reconceive a few things, but it's the same story.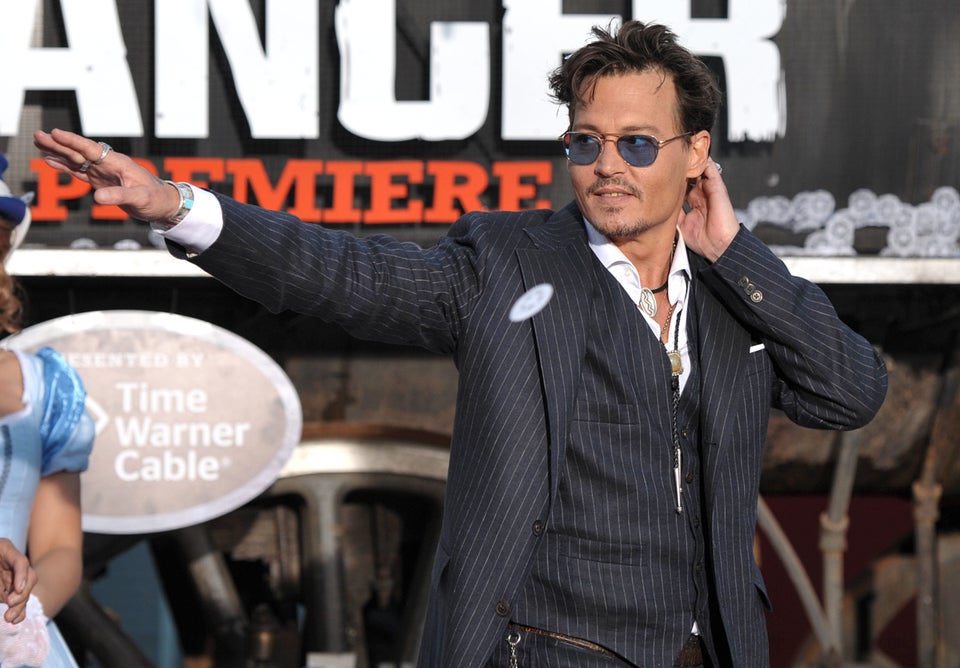 'The Lone Ranger'
Popular in the Community