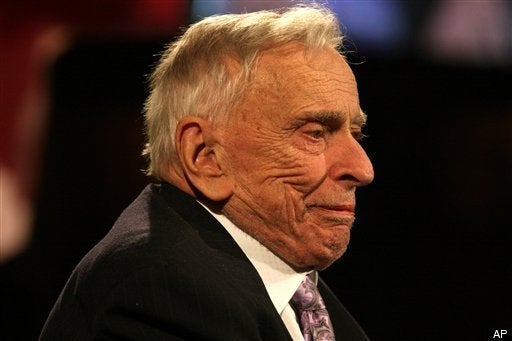 At Wednesday night's National Book Awards, honoree Gore Vidal got in one last dig at his arch-rival, conservative intellectual William F. Buckley, who died last year.
Vidal, who received the award for Distinguished Contribution to American Letters, gave a long speech at the black tie affair at Cipriani Wall Street in New York, in which the 84-year-old writer recalled his first and "only" president - Franklin D. Roosevelt - and referenced his own mortality.
At one point, Vidal called out "Bill Buckley" and rapped his cane on the floor, purring, "Usually, I let him out at midnight," seeming to hint that Buckley now occupied the nether regions.
The infamous rivalry between the two leading intellectuals, on opposite sides of the political spectrum, got nasty during a debate in 1968.
After Vidal called Buckley a "crypto-Nazi," Buckley responded, "Now listen, you queer, you stop calling me a crypto-Nazi or I'll sock you in your goddamn face and you'll stay plastered."
Watch the infamous debate between Vidal and Buckley during ABC's coverage of the 1968 Democratic convention in Chicago:
Related
Popular in the Community