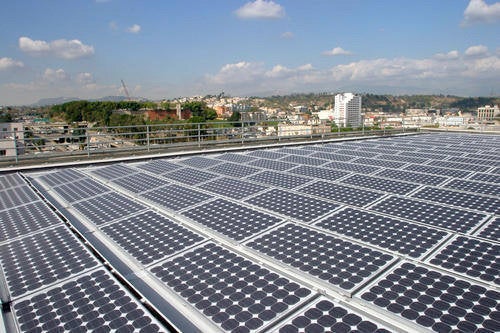 In case you missed it, Al Gore gave a speech today [video here] in which he challenged America to transition entirely off carbon-based fuels for 100% of the nation's electricity generation within the next 10 years. Certainly, it is a bold challenge from a bold leader. It is a challenge worthy of this country and one which I think its citizens are ready -- if not eager -- to take on.
But good gravy! One-hundred percent renewable electricity in 10 years? Wha? Who? Can I help? Where do I begin? I have bills to pay! Student loans to worry about! I can't take on the government! The elected officials across all branches of our federal government have shown that they are either so totally tied to the oil industry that they'll never budge, or they're too politically-minded to take any bold action lest they upset 2% of their voting bloc. Depending on the feds hasn't been a reliable tactic for some time.
Nor will it be. I'm sorry to say it, but even if the next President has an aggressive, forward-thinking energy policy, it will meet roadblocks at every turn. Entrenched interests and stubborn politicians will continue to fight to squeeze maximum profit out of every last drop of oil until it's gone. So...uh...yeah. That's hard.
In order to achieve this monumental task, we Americans will have to think small -- not globally, not nationally, not even statewide. This begins with your town. Your house. Your car. You. And me.
Gore's challenge will not inspire un-inspirable politicians to act. Nor will it inspire businessmen to forgo millions of dollars of profit to uproot an energy industry. It can however, inspire each of us down here on the grassroots level to take responsibility for the energy we use in our own lives and local communities. Begin this fight by taking on the challenge of launching renewable energy initiatives in your town. Why not solar panels on the school gym? A wind tower on the hill? Geothermal heat pumps around the block? There's so much money to be saved, energy to be cleaned up, and community spirit to be built.
The days of merely changing light bulbs, inflating your car tires, and turning down the A/C are over. Gore has challenged us to take the next steps:
local action for local energy production,
electing leaders committed to this cause in every election (local and national),
and shedding our fear of taking the lead.
If ever there were a day to post a flier at the post office to organize a meeting of your community, this is it.
J.S. McDougall is the lead blogger at Chelsea Green--a publisher of renewable energy and sustainable living books since 1984.

Related
Popular in the Community