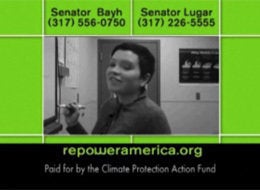 A new ad campaign launched by former Vice President Al Gore's environmental advocacy group is targeting conservative Democratic senators in the hope of holding on to their support for comprehensive climate change legislation.
The Climate Protection Action Fund's Repower America unveiled new television spots on Wednesday that will run in Indiana and Maine -- to be followed by Arkansas and Missouri -- in which those state's senators are urged to support "clean energy jobs."
Called out by name are Democratic Senators Evan Bayh (D-Ind.), Blanche Lincoln (D-Ark.) and Claire McCaskill (D-MO).
The spots are reminiscent of the traditional ads run by Repower America, the initiative that is tucked into Gore's Alliance for Climate Protection. But the direct naming of Democrats is a more aggressive tactic for the group. In many ways, it is a reflection of how fractious the coalition in favor of climate change legislation currently is in the Senate, where a vote seems unlikely to come following the election of Republican Scott Brown to the Massachusetts Senate seat.
Repower America uses the testimony of "elected leaders, small business owners, union workers and farmers" to make the case for "clean energy jobs" in each of these spots. But an official familiar with the ads confirmed that the main push is behind cap-and-trade and other energy reform initiatives.
The ads will begin running in Indiana and Maine on Friday and will air for three weeks on local and network affiliates. Early next week, the group will begin airing custom spots in Arkansas and Missouri.
Below are two versions of the ads:
Popular in the Community