Gluten free green bean casserole that everyone can eat -- and love. We bet you'll think it's the best green bean casserole you've EVER had.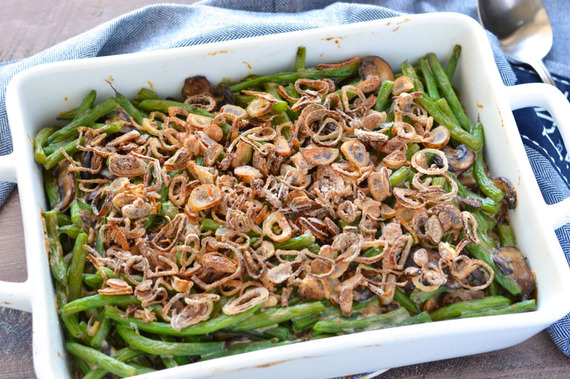 I'm about to let you in on a little secret: This gluten free green bean casserole is probably the best green bean casserole you'll ever have. I'm not trying to brag or anything, I'm just telling you the truth.
The reason it's so delicious? Everything about this casserole is delicious. All the components, individually, are amazing. The crispy fried shallots – yum. The crispy blanched green beans – double yum. The sherry mushrooms – OMG YUM.
It was so hard to stop picking at all the little pieces of deliciousness as I was making the dish.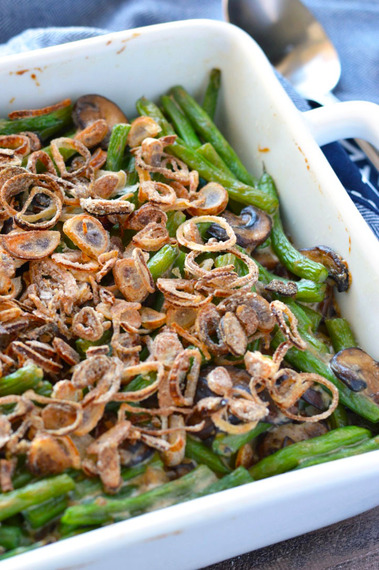 And wait, what was that? Sherry mushrooms? Oh yes. I can and I did. While everything here is delicious, it's those sherry mushrooms that will send you singing to the rooftops, if that's your thing.
If that's NOT your thing, you'll still be begging for seconds, thirds and to lick the casserole dish before it hits the sink. The sherry just kind of permeates the whole dish and a spectacular way without taking over. It really is quite addicting.
And watch out, if you bring this gluten free green bean casserole to somebody's house for Thanksgiving, it WILL be the star of the show and nobody will give a fork about that turkey. People will be having fork fights to get that last little bit of mushroom or green bean left behind. Be prepared, you'll want to be the victor that comes out on top of that fight and get your sweet green bean reward.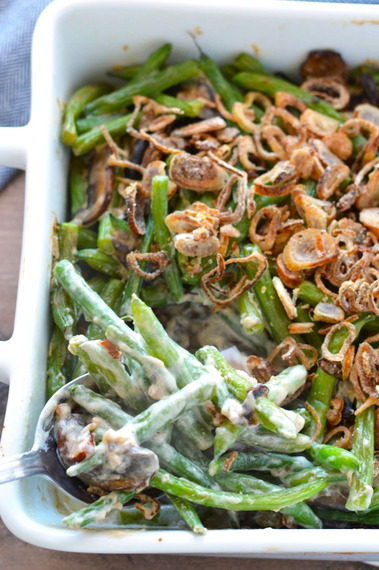 I'm going to be honest though, this casserole is a little bit of work. But like with everything worth having, it's totally worth it. There are several steps to making this that make it a bit of a process. First, frying the shallots and then blanching the green beans.
But to make life a little easier for you come Thanksgiving morning, you can blanch the green beans and fry the shallots up to two days ahead of time. You can even do the shallots earlier than that, just store them in the freezer and toss them on top of the casserole frozen. They'll crisp right up again without a problem. (You can also use my favorite crispy fried onion straws instead of the shallots for an extra wow factor).
Every bit of work that goes into this gluten free casserole is worth the effort. You will be amazed. Everyone will be amazed. And you'll be making this dish for Thanksgiving forevermore.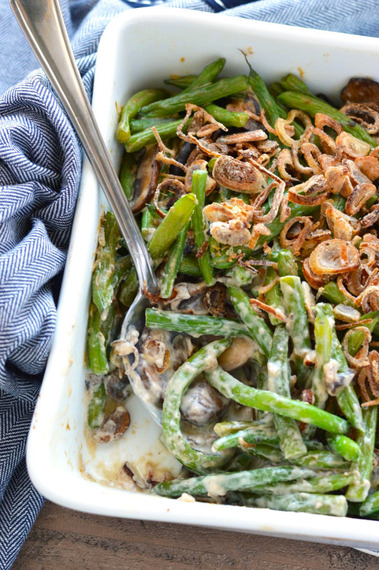 Sharon is our latest
fanatic. We love her easy approach to gluten free recipes that are versatile enough to be gluten-full too. Try one, you'll see what we mean. Find her at
every day.