After the boy, whose name has not been released, got into the enclosure, the gorilla, a 17-year-old western lowland silverback named Harambe, dragged the boy around, and picked him up and held him. Zoo officials feared for the boy's safety, and Director Thane Maynard said at a press conference that they did not use tranquilizers because the drugs would take too long to take effect.
Video of the incident taken by zoo visitor Kim O'Connor was published by local news station WLWT on Saturday. A longer video uploaded to YouTube also shows the gorilla dragging the boy by one of his limbs. The video does not show the gorilla being shot.
O'Connor said she overheard talking about the boy wanting to get into the enclosure before the incident took place.
"The little boy himself had already been talking about wanting to ... get in the water," she told WLWT. "The mother's like, 'No, you're not, no, you're not."
She noted that the boy's mother was also watching several other young children. Officials believe the boy crawled through a railing barrier, then fell into the moat around the enclosure. He was taken to a hospital with serious but not life-threatening injuries.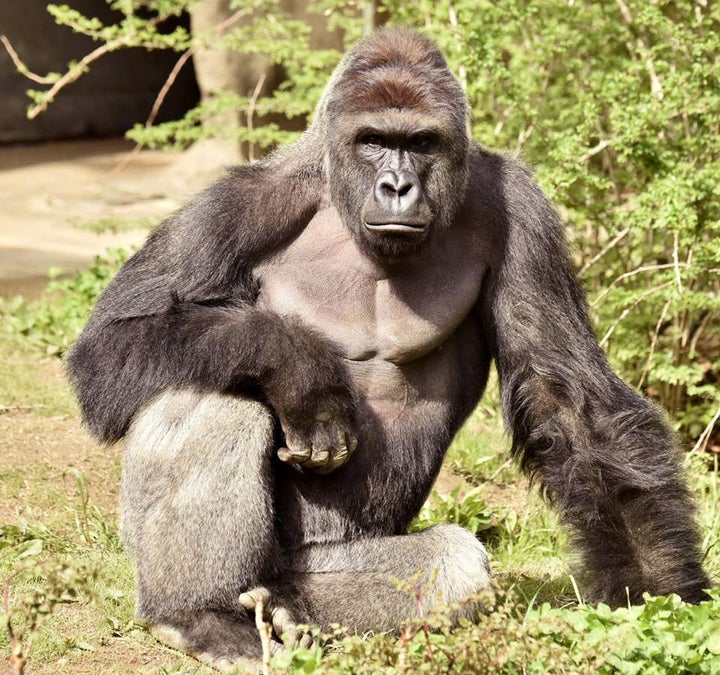 The child was never actually under attack, Maynard admitted at the press conference. But Maynard said the zoo considered the situation life-threatening since the "extremely strong" 400-pound gorilla was in an agitated state.
"I would say it's easy to suggest this is life-threatening danger," Salmoni said. "In a captive environment, you never know how an animal's going to react to something like this. And typically a silverback gorilla can either be nervous of something like this, something new, like a child entering the enclosure, or react aggressively, and it's the aggressive reaction you really have to worry about."
Salmoni noted that zookeepers typically care deeply for their animals, and that people should provide the best possible care for the many animals in captivity.
But, he added, "In a perfect world, there would be no animals in zoos."
This story has been updated to include footage of the gorilla dragging the boy.
Popular in the Community