Jason McCarthy, a former Green Beret and the founder of the rucksack company GORUCK, says a lot of things that command your attention. But when he speaks about his company's growth in the last year and says, "GORUCK has the most passionate brand following in the world," my ears really pick up. What makes it even more remarkable (putting aside that he's just put his small backpack company in league with Harley-Davidson) is that he says this with complete humility and surprise.
To understand how this could be possible, you have to look at how McCarthy has baked his experience in the Special Forces into his company, his product, and what has evolved into the company's strongest grassroots P.R. machine, the GORUCK Challenge.
The concept of starting a backpack company came almost entirely around the name, GORUCK. McCarthy was still in the Special Forces at the time and married to a diplomat who was stationed in West Africa. He planned on joining his wife and doing work as a security consultant for wealthy individuals in Cote d'Ivoire, one of the most dangerous spots on the planet.
In the Special Forces, bags aren't bags, they're rucks. Thus while overly paranoid zombie aficionados may have go bags stored in their closet, Special Forces operators have go to hell rucks packed with gear, grenades, and ammo in the trunks of their Humvees. In short, a go ruck.
While he didn't stay in Africa long, he did spend time consulting on how to build go rucks for civilians. The bags he used had to be tough, as if they were ever going to be used, they'd be used in perilous situations.
The three rules of the Special Forces are: Always look cool. Never get lost. And if you get lost, look cool. These rules merged with the needs of a go ruck and GORUCK was born, with the goal of creating bags along the lines of "GQ meets war." GORUCK bags are stylish in their utilitarian simplicity. "If there's a question about if it's necessary, remove it," McCarthy says. "Less is more and more is lazy."
I'll hazard that a tiny fraction of GORUCK's success has been in the style or the simplicity of their bags. That helps, but the quality of their construction is a much bigger factor. Many backpack companies tell their customers that their bags are tough, GORUCK knows their bags are near-indestructible and stands by them without fear.
Every GORUCK bag is made by American workers in their factory in Bozeman, Montana or in Colorado. They use ridiculously tough fabric and even tougher stitching methods. The average GR1, their flagship ruck, takes three and a half hours to make by hand. In GORUCK's parlance, the bags aren't made -- they're built.
McCarthy has an unwavering belief in the concept of American labor. Using American labor and building products slowly with high-quality fabrics costs more money. The aforementioned GR1 costs $295. But the tradeoff is that McCarthy can stand by his products. "We can have the highest attention to detail in the world and the highest quality in the world."
One of the first things that attracted me to GORUCK was actually the company's blog, GORUCK News. It's unlike any corporation's blog I've ever seen, with a heavy emphasis on photography (McCarthy is a remarkably talented photographer) and frequent posts profiling the production processes of other companies that make their products here in the USA. GORUCK News' three main themes are the US military, US manufacturing and local establishments McCarthy comes across in his travels. He'll reach out to companies of made in USA gear that he uses, likes, and respects and profiles their production process behind the scenes at their factories. This has ranged from new companies like Survival Straps to Annin Flagmakers (since 1847), Danner boots and Randolph Engineering, which have been around for generations making things the same way.
GORUCK has found the use of photography to sell and explain their products, especially the reasons behind the high cost associated with them, as seminal to their sales process. As a result, McCarthy sees his posts profiling other American manufacturers as something he hopes they'll follow. "They're busy building great things," he says. "The GORUCK News posts are a modern version of how to sell their products and their story."
While the ethic of supporting other American manufactures endears McCarthy to these companies, the single largest driver of GORUCK's growth has been an intense physical event known as the GORUCK Challenge. There are a handful of tough races that seek to replicate aspects of military basic training in them. The GORUCK Challenge aims much higher. McCarthy says, "This is not basic training. It's elite training."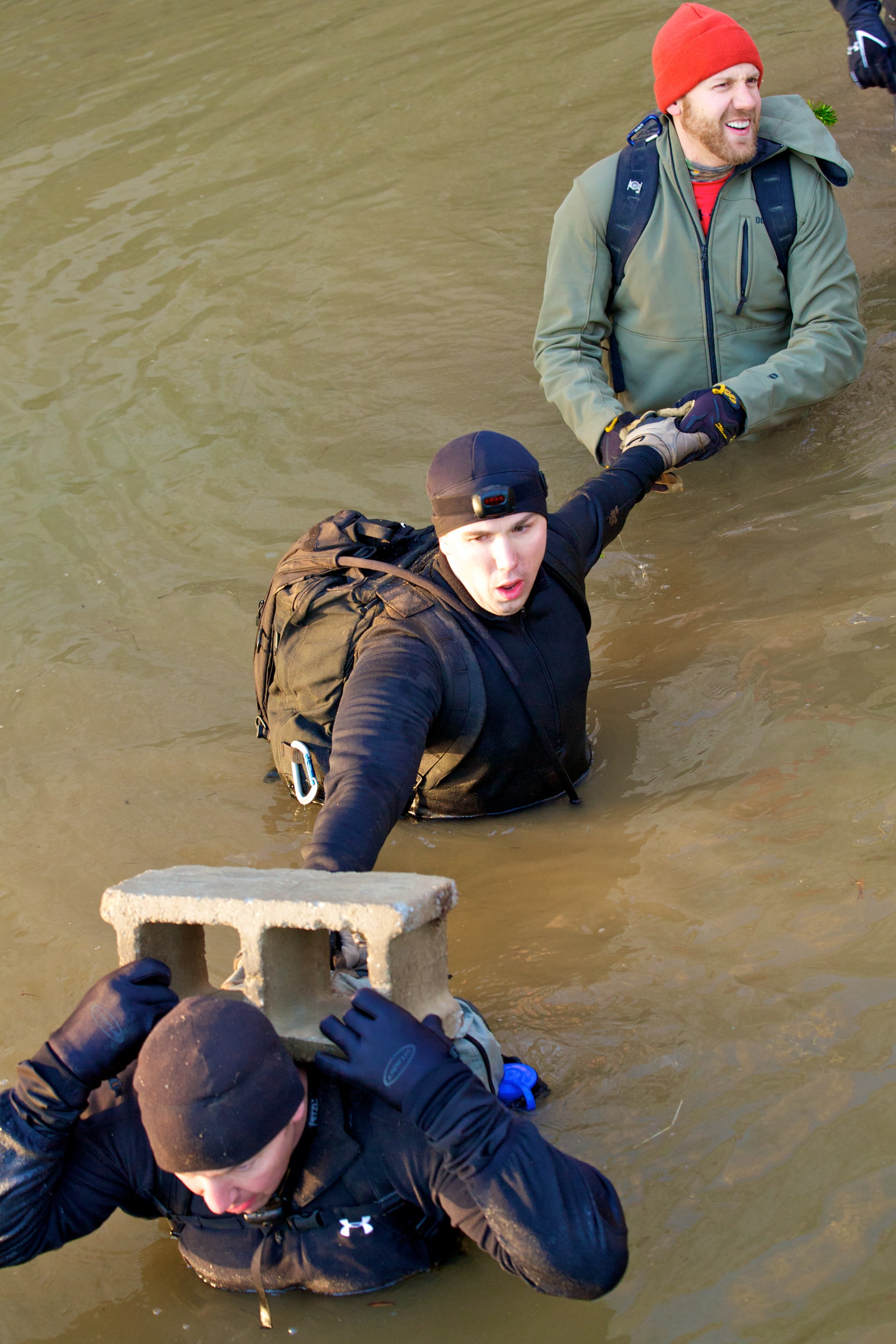 "Recent GORUCK Challenge participants in DC.
The GORUCK Challenge markets itself as a team event - never a race - which last 8-10 hours and covers 15-20 miles. That would be fairly intimidating by almost anyone's standards, but the kicker is the Challenge's motto "Under Promise. Over Deliver." This means Challenges have gone over 14 hours and as far as 27 miles. Those who complete it earn "GORUCK Tough" patches to go along with a remarkable sense of achievement.
The popularity of the GORUCK Challenge is astounding. In little more than a year, they are approaching 100 events completed. The Challenge is so successful that it forces the question as whether GORUCK is a bag company or a company that puts on team-building physical challenges. The tension - or synergy - of these projects is fascinating and challenges the notion of how a small business can build a loyal customer base. After all, when selling bags with lifetime guarantees, GORUCK isn't seeking people who want to replace their GR1 every year. They want to create brand loyalists who evangelize not only the quality of their rucks, but the lifestyle they represent: good livin'.
This is the first post of a three part series. I'll look more deeply at the GORUCK Challenge in my second post on GORUCK. The third will be an account of my own experience taking the GORUCK Challenge in Baltimore this coming February. Stay tuned for more.
Popular in the Community