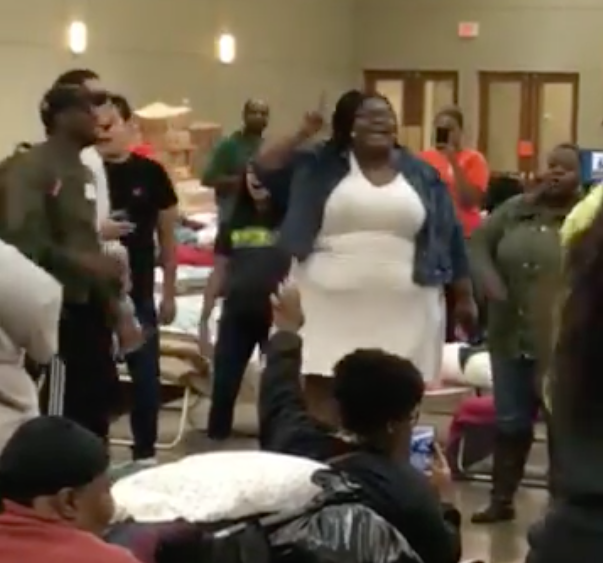 This performance hit all the right notes.
A stirring gospel performance at a storm shelter in Texas is lifting spirits in Houston and beyond after the impromptu singing went viral.
Amid rows of beds and huddled evacuees, a woman on Tuesday was filmed powerfully belting out the lyrics to the song "Spirit Break Out" as people swayed, clapped and echoed her resonating cries of praise.
"So this just broke out in the shelter..." Joni Villemez-Comeaux wrote in a caption of a video of the performance, which she shot at the Lone Star Convention and Expo Center in Conroe. As of Wednesday afternoon, the video had been viewed more than 10 million times.
The singer in the center was identified in Villemez-Comeaux's post as Victoria White, who in her own Facebook post expressed thanks to those who helped the video go viral.
"This blows me AWAY (and that's no easy task)! I had no idea this was being recorded, but God had a plan! Not only did He want to Love on those gathered in Lonestar Expo Center who suffered loss at the hands of Hurricane Harvey, but He wanted to love on people across the world who were dealing with their own personal storms!!!" she wrote while encouraging others to step up and help others where they can.
Popular in the Community