Well here's one wedding detail Gossip Girl would most certainly not approve of: Blair Waldorf's bridesmaids in the upcoming "Gossip Girl" royal wedding episode will be wearing Vera Wang... for David's Bridal.
I think kind of the most surprising thing that we've done this season is for the 100th episode which is the wedding episode that the bridesmaids are actually wearing Vera Wang's line for David's Bridal which is called White. It was important to me to have that accessibility to kind of create this royal wedding and all this drama but I knew we were doing a lot of interviews and I really think it's important to have our viewers at home feel like it's actually something accessible.
It's a distinctly different approach than usual, considering the show's stars, namely Blake Lively as Serena and Leighton Meester as Blair, tend to wear all sorts of covetable designer labels like Jenny Packham and Stella McCartney.
We're guessing this week's episode won't show Blair and her minions swiping their credit cards at the local David's Bridal (they probably don't even know where to find one).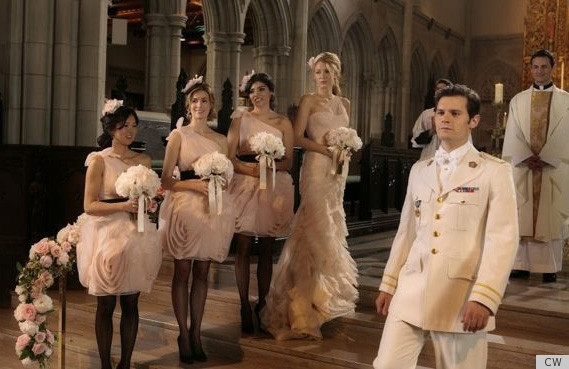 Popular in the Community