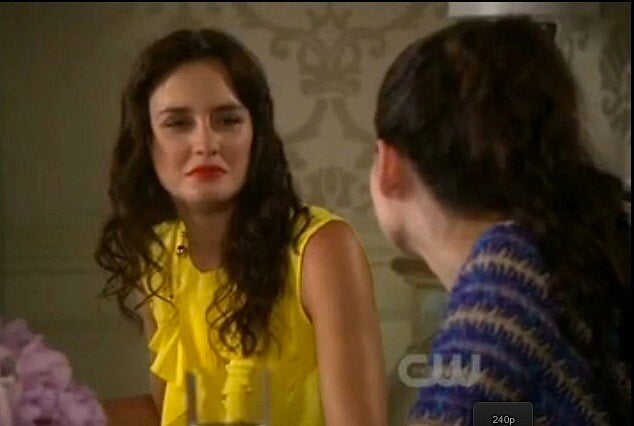 The "L.A. Confidential"-inspired promo for last night's episode promised gunshots and intrigue, but viewers soon discovered that Upper East Siders were more likely to be dodging Blair's morning sickness than ricocheting bullets.
That's right, after Blair tried to hijack Dorota's OBGYN appointment -- asking when they could determine the baby's father as Dorota has "had a few one night stands with the staff of our building" -- Blair confessed that she is with child.
Though, I'm not going to be convinced of the pregnancy until I see Blair pee on a stick. Why can't she just be discovering a gluten allergy? Not only would it explain the nausea (see our slideshow of our favorite Blair nauseous faces below) but it's so trendy among 20-somethings!
Less trendy: being just shy of a teen-mom on the Upper East Side. Unless you're Dorota, who reacts to the news by squealing, "We are like sisters." Which was almost as inappropriate as the maxi-pad that she appeared to be wearing on her head for her trip to the doc. (A versatile piece that easily translates from dusting shelves to getting your ovaries checked?)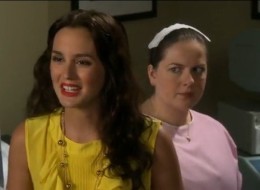 But I digress. Blair is experiencing morning sickness all day, every day, and these frequent trips to "les toilettes" makes Louis' sister Beatrice suspicious that Blair might be on drugs. Scratch that, it's bulimia. Wrong season, princess. Beatrice spends the rest of the episode trying to force feed Blair in front of Louis to prove a point, and Blair spends the rest of the episode trying to find a place to throw up. Blair finally succeeds in commandeering a bathroom with the help of Dan (who, in jeans and a t-shirt, looked sorely out of place at a royal event at a church). Dan also thinks Blair has returned to her I'm-going-to eat-a-whole-pie-and-then-throw it-up season one tendencies until she admits she's pregnant.
Even though Beatrice overhears the announcement, she doesn't tell Louis because, as she later confesses to a Ken doll-like minister in a limo, a royal baby will make the queen like Louis/Blair even better (why is everyone so onboard with this premature pregnancy?) and she wants to dishonor them/steal the crown. Then Beatrice sticks her tongue down the priest's throat. Of course.
Outside the pregnancy storyline:
Rufus is making waffles to remind us that he's still on the show (no real mention of Lily/Erik/Jenny/other secondary characters that have been written off).
Dan's trying to find out where his book-that-shall-not-be-read is getting published.
Chuck has joined a fight club with "pretty rough dudes" that meets in alleyways because he can suddenly no longer feel pain. (This must have developed after he was shot in the streets of Eastern Europe last season). Dan found him by using what appears to be a Gossip Girl Foursquare app, and told him that this PTSD-like illness is cured by making the patient feel again. Maybe feeling good things instead of kicks to the groin? "I could tickle you," Dan offers in the line of the night. (Writers: PLEASE incorporate this into next week's episode.)
Nate is having sex with Elizabeth Hurley (also in alleyways) and is apparently being fought over by Goldman Sachs CEO Lloyd Blankfein and New York Senator Chuck Schumer to be their intern. (Stop laughing).
Serena is still entitled and still kind of dumb. The once again cleavage-bearing it girl forces a resistant Ivy/Charlie to be her new roomie in LA, making her "cousin" provide a bad check for a downpayment and give up her apartment before mentioning that they'll actually be living in NY instead of Malibu. Because friends are like accessories, and you don't have to consult a clunky necklace when moving across the country, right? Oh well, Ivy/Charlie goes along with the move and dumps her boyfriend (a cute chef-to-be who decorated their apartment with stray rolling pins and is blissfully unaware of Ivy/Charlie's deceitful past) to tag along with S.
Now, check out our favorite screen grabs of Blair when she's nauseous!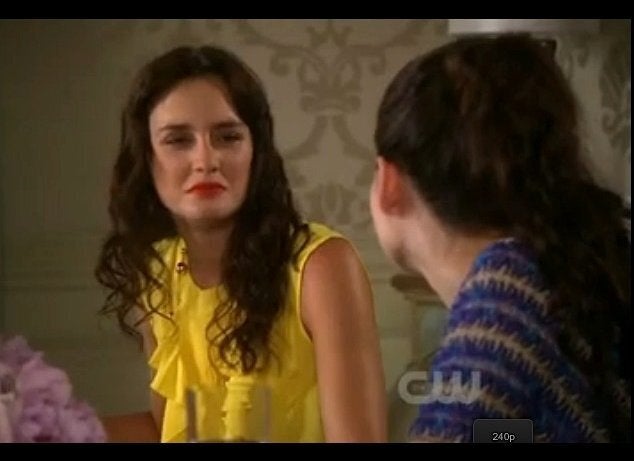 Blair's Morning Sickness Faces
Related
Popular in the Community