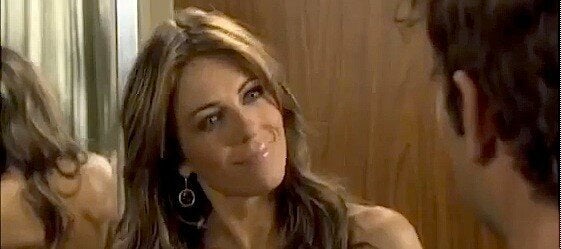 After what I'm sure was a long summer free from impostor cousins, nearly thwarted engagements, manuscript thievery and mysterious, positive pregnancy tests not-so-subtly hidden in trashcans, "Gossip Girl" returned for its fifth season Monday night.
Following in the footsteps of its television brothers and sisters like "Sex And the City" and "Mad Men" -- OK, maybe more like TV half siblings or stepsiblings or fourth cousins once removed -- the show sent Serena, Nate and Chuck from New York to L.A. Despite having fewer zingers than usual, last night's show was kind of what you'd expect from the start of a season of "Gossip Girl":
Serena embarking on an unlikely, and probably fleeting, career path to prove that she really is that intellectual? Check.
After being discovered on the boardwalk by David O. Russel last season, Serena has adjusted to life as a PA on the set of a Hollywood adaptation of F. Scott Fitzgerald's "The Beautiful and the Damned." Because "Entourage" had already taken Gatsby.
But the "it girl to working girl," as Serena so humbly put it, is apparently kicking ass. Not only is she showing less cleavage, but she wrote a "thoughtful comparison between the book and the script" (uh huh), comes in first and goes home last, and even dodges getting fired after the director's assistant (who I will always remember as that cute guy who stole either Mary Kate or Ashley's heart in "Passport to Paris") dupes her into buying medicinal marijuana -- because writers don't want you to forget they're in L.A. -- for a sober actor. She takes the fall but still lands a full-time job. Columbia, what?
Oh, and then she runs into Ivy/Charlie her fake cousin. Of course.
Chuck acting dangerous and impulsive in an attempt to get over Blair? Check.
Chuck and Nate are living on a boat and have adopted a Yoko-Ono approved new mantra: Always say yes.
Chuck begins by having a threesome with blonde, bikini-clad twins (yeah, you and the Situation, Chucky) and goes on to complete a series of death-defying stunts and motorcycle tricks to show he's bad ass. Although Chuck wipes out after doing wheelies on Mulholland and somehow doesn't figure out he's hurt until the next day when he sees a gigantic bruise. This begs the question: does Chuck have a disease where he's immune to all pain or is he just that drunk.
Nate going after older women -- this time actually wearing a leopard print dress just in case we didn't get that she was a coug? Check.
Nate is being Nate. He gets Serena the weed with his club card -- of course it's called "blueberry headband" -- and then lies about owning a swanky Hollywood mansion to sleep with Elizabeth Hurley, the house's true owner. What Nate doesn't know is that she has been scheming to make contact with him for a while, for ambiguous (but I'm guessing shady) reasons.
Dan must hide his true feelings/genius? Check.
Dan's form of escapism apparently involves wearing a jarringly bright blue tee shirt while playing in a Writer's vs. Artist's softball game in the Hamptons, which, by the way, is completely real. I take back my eye roll at the TV screen.
Then author Jack McInerney, making a cameo, and Dan have what is quite possibly the most stilted conversation of the episode (the race was tough).
McIrney informs the "old boy" (Dan) that there's a new piece in Vanity Fair that "reminded me of your work… only better." Har, har, har, cleans monocle. You know, "a little Wharton and a lot Woolf, the modern mores and misdoings of upper crust Manhattan." Oh dear God, I hope that vendors are selling barf bags at this East Egg versus West Egg softball tournament.
Dan realizes that it is, in fact, an excerpt from his super secret novel about, gasp, his relationship with Blair. The next great American novel must never see the light of day! So he pulls all the strings he has -- Blair's fiancé/prince's connection -- to remove the story before it's published. Right after he says that no one can ever see the book (which apparently has a salacious secret about his relationship with the princess to be) he opens a letter from Vanessa with a $10,000 book advance… which shows that she is not only a shitty person, but a shitty agent to boot.
Blair on the doomed road to becoming a princess? Check.
While Blair (middle name Cordelia?) is usually the driving force of the show, when she wasn't whining about not being able to carry peonies at her wedding or go to the UN General Assembly's royalty-only ball (because that's what the UN does when it isn't hearing bids for statehood and the like), she just seemed kind of doe eyed, flat haired and off her A-game.
Blair's worried that Louis (her fiancé/prince) is always taking his mother's side over her own -- she doesn't want to wear the family's royal wedding gown, it's used -- and when she thinks he's ditching her to take his mother to the ball instead of her, she runs to Dan and asks him to run away with her. Eager beaver Dan is ready to go, keys in hand, until Louis reveals that really he was saving her dignity by pulling Humphrey's story. Order restored. Blair's pissed at Dan, back to princess training and should definitely still get married since she's already a college junior/old maid.
And I think that's it, right? Nothing at all left to talk about except, I don't know, maybe…
Blaire isn't drinking. She must be pregnant. Serena isn't drinking. She must be pregnant.
(To be fair, we've been watching these girls guzzle down champagne flutes like it was Yoohoo since they were what, like, 14 years old. A lack of booziness is cause for concern. Just ask Dorota.)
Oh wait, we should ask Dorota. Even though she looked askance when Blair refused prosecco, she later reveals that she's the one who's pregnant with a second child. Unless, of course, she's lying to cover for Blair -- which would explain why she was hiding a copy of "What To Expect When You're Expecting"… Plus an all-knowing French seamstress informed Blair that she wasn't eating too many wedding cake samples but was six weeks along.
So who's the baby daddy? Louis? Chuck? Dan? (Because he didn't have enough of a scare the first time around). Is Blair even pregnant? Tell us what you think.
Related
Popular in the Community