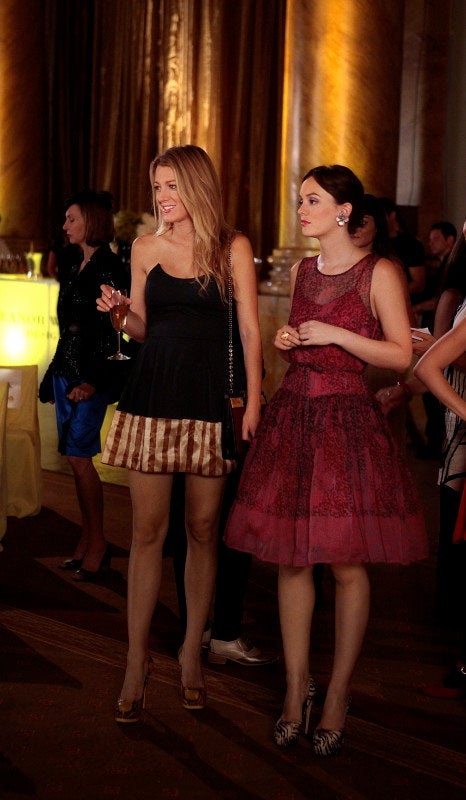 Like "Sex and the City" before it, "Gossip Girl" was a show about New York, a show about love, and a show about clothes. Lots and lots of clothes. It should come as no surprise that the man who assisted the legendary Patricia Field on the SATC costume design (and won an Emmy for it) is also the guy responsible for all six seasons' worth of "Gossip Girl"'s drool-worthy duds.
We watched the Upper East Side crew transform from uniform-wearing teenage fashion plates to still outrageously chic 20-somethings, and last night we bid adieu to Serena, Blair, and the rest of the gang. To celebrate, we asked costume designer Eric Daman to tell us all about how he helped create the most stylish series on TV.
To start off, how did you get the "Gossip Girl" gig?
I was called in for it. I'd done some film styling on Jeff Bridges and Kim Basinger for a movie called "A Door in the Floor" a couple of years before "Gossip Girl" came out, and one of the producers thought I'd be a great match for the show. [Series co-creator] Stephanie Savage wanted to meet me, so I did mood boards and pulled tearsheets from magazines of things that I thought were perfect for the characters for our meeting. Stephanie had actually done the same on her side! When we sat down together, 85 to 90 percent of our pictures were the same, which is kind of amazing. It was one of those moments where you're like, "Oh, this is really cool." From day one, we were on the same page about it. We wanted it to be a fashion show and really push the envelope, and I guess it worked.
What was on those original inspiration boards?
Initially for Serena, we were pulling lots of images of Kate Moss through the years. It was that amazing, nonchalant fashion look that feels like you're totally not put-together; you put on whatever's next to the bed, and you look amazing. There was a lot of Kate's influence in the beginning with Serena, just having that "I've traveled to Europe" vibe and a bit of the je ne sais quoi factor. Blair, in heavy contrast to that, was much more meticulous. There was a lot of old Hollywood, a very American fashion and glamour thing that was going on, more Audrey Hepburn-inspired. I felt Blair was very meticulous in the way that Anna Wintour is in her dressing. Anna definitely had a hand in Blair's look -- it's well thought-out, but also looks seamless and effortless.
Did Leighton Meester or Blake Lively's personal style play into how you dressed their characters?
No, I think it was character-driven from the get-go, especially with Blair and Leighton. Who Leighton is in real life and how she dresses on the red carpet is so different from Blair. Leighton's a bit more avant-garde in her fashion choices than Blair would be. Serena and Blake became a bit more symbiotic. I feel like Serena's style definitely drifted into Blake's real life, and as Blake became the fashion icon that she is, also kind of floated into Serena's life. They co-inspired each other.
Were you given free reign to develop the characters' looks?
Definitely, within a certain range. From that moment when Stephanie and I sat down and were like, "Ah ha!", we both understood where we wanted these characters to go. But of course, in the first season as with any new show, you have notes from producers and from the network. However, the feedback was very, very minimal in comparison to other things I'd worked on. From the get-go, everyone was very much on the same page and they let me do what I felt I needed to do for the characters and for the show. Then it just kind of grew and grew, and I think I kept trying to outdo myself every week and every season. The more press we got, the more creative freedom I got and the more access I got to designers. It became its very own fashion monster in some way.
What was the process like in terms of pulling clothes?
We were lucky enough, once the press hit and the show became such a phenomenon, that a lot of designers came to us. It's really unusual for designers and press houses to want to be on television and to work with TV shows, because we have to keep clothes for three to four weeks when we're shooting and they get much more wear than in a photo shoot. I feel like just with "Sex and the City," "Gossip Girl" really created this whole other world and many designers were interested in being a part of it. We had a lot of go-tos, between Jenny Packham, Oscar de la Renta, Dior. And it was even more so with the handbags! A lot of people didn't realize how many handbags and how many handbag designers we would have to go through, because they were so willing to be a part of it. We had access to $30,000 beautiful crocodile handbags I would never be able to get on the budget we have for the show. It really added that extra "wow" element, and gave it that push that elevated it to the next fashion level.
Speaking of accessories, some of the most iconic "Gossip Girl" looks from the early seasons were those insanely-styled high school uniforms. Where did you get the idea for that?
I was looking at schoolgirls! I used to hang out outside the Upper East Side private schools like Chapin just to see what they were like and what that world was like. I'm not from the Upper East Side. I live in the East Village, and it's a very different world. I'd go to these schools and see the girls come out and be like, "Oh my god, she's carrying a Balenciaga bag, and that one is wearing knee-high argyle socks, and that one's in Tory Burch shoes." You could tell there were different clans of girls by how they were accessorized or what they were wearing. You could definitely see they had a fashion sense to them even in their uniforms. Then I took that and ran with it, and wanted to push it over the top. It's the heightened reality that we were trying to create. Looking at the real girls, they were already in a heightened reality themselves!
As the characters got older, what did you have to change about their wardrobes?
It was important to kind of help build their character through their clothes. They were evolving, they were growing up, and they weren't in high school anymore. Of course they weren't wearing school uniforms, but we had to keep some kind of linearity between who the character was and the clothing they wore. We saw Blair grow a bit and certainly wear fewer circle skirts and headbands, and a bit more Victoria Beckham -- more minimalist and severe. With Serena's character, she was a bit lost for a while. She was going to college and she didn't know what path to follow. We went from schoolgirl to body con and then to even more body-conscious, and then more demure in the last season.
Obviously Blair and Serena are the style stars of the show, but the boys have their own things going on as well. What was it like creating their looks?
Chuck was pretty fun, and so were Nate and Dan. They all have their own very distinct styles, and I think that's the best part about being a fashion designer: you get to create all these characters through clothing. You can really make an impact on what the character says about himself in the way he dresses. Chuck Bass is very happy about the menswear revolution. I think that Chuck kind of pioneered the look; we see a lot more men in bow ties and cravats. Every time we dressed Chuck, I thought it was important that his and Blair's tones and patterns matched, or there are colors that coordinate between the two of them to match the story of their evolution together. I think dressing Dan, coming from Brooklyn and going into his New Wave, '60s French look, he definitely had a kind of Truffaut-inspired thing working. And Nate is your classic East Coast boy. It was nice in this last season that I got to put him into suits and push him towards that congressman look, taking things a bit more seriously.
Which character was the easiest to dress?
Blair was the easiest to dress because I was very into her, and Leighton would just show up and be so into Blair's costumes and really excited about it. I think because Blair was so different from her, she knew that she was putting on a character.
Jenny Humphrey was the hardest, because we wanted to make this arc happen with her character where she was going through a lot in her personal life. For Taylor [Momsen], being 16 and being on TV with all eyes on you, you have an opinion about how you want to look and you want to rebel. We wanted to recreate that, but we didn't want it to be so jarring that it didn't relate to who Jenny Humphrey was originally. We tried to find the nuanced point between not going too goth and not going too over-the-top, but also being like, "Oh fine, she can wear ripped tights and heavy mascara." To find that fine line between the two was a bit difficult, but a lot of fun to create for the character and great for who Taylor is in real life.
Can you tell us a bit about the finale looks? Did you get to have any last hurrah moments?
There were two big finale looks for me. One was definitely the "Chair," the Chuck and Blair wedding. I dressed Blair in an amazing blue dress from Elie Saab that was old Hollywood glamour meets contemporary minimalist. I feel like it embodied what Blair should be in her wedding dress. There were small little flowers embroidered all over this dress in the blue that reminded me of the peony color that she loves. Then we had Chuck's tux custom-made by Martin Greenfield, which is this amazing suit manufacturer out in Long Island City. We had to wait until the very last minute, because I wanted his lapel and his bowtie to match the dress, but we didn't have Blair in the dress yet. I really wanted them to have that link with their clothing along with the actual nuptials. The other moment was with Serena coming down in the flash forward to her wedding, and she's in that beautiful gold dress. She looks like an Oscar! It was really stressful because we were fitting Blake in the wedding dress the day after she got back from her actual wedding. It was was like, "Oh great, we'll just put her in a wedding dress. This is really art meets life meets art, this is just ridiculous." It was actually a lot of fun.
So, how do you feel about it all being over?
If I wasn't working on "The Carrie Diaries" now, I'd have a much emptier pit in my stomach, but I had great closure with it. I would say I'm glad it's over. I think we've really run our course, and we had a great time doing it. I feel honored and privileged to have been a part of it.
Related
Before You Go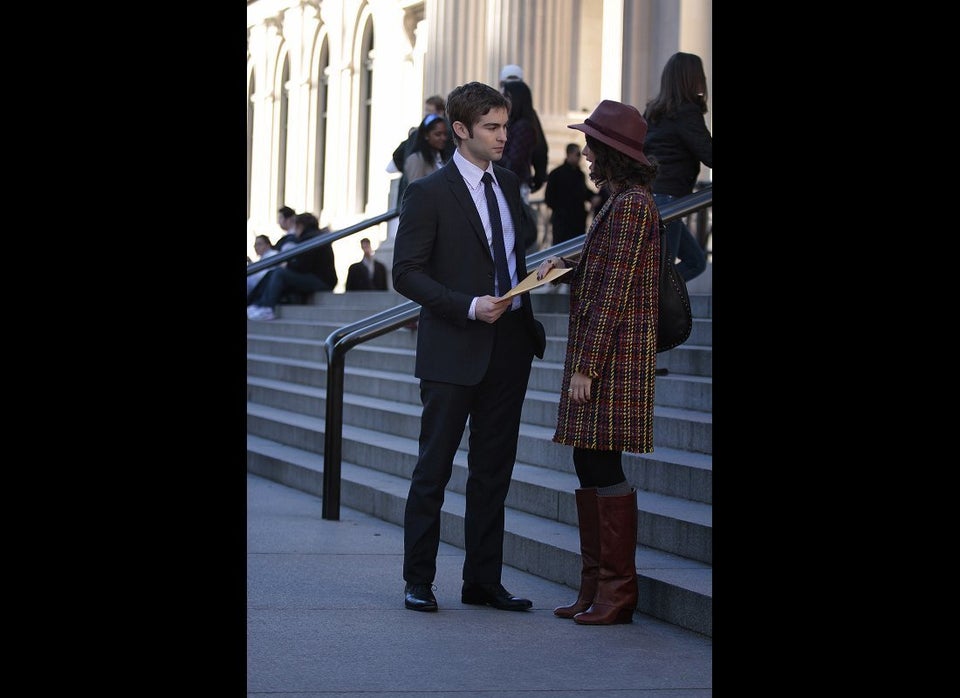 Gossip Girl Series Finale
Popular in the Community