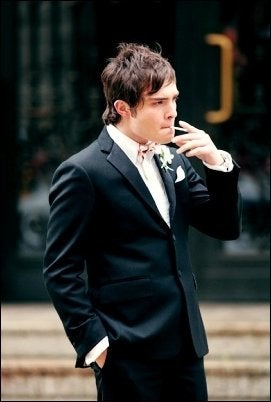 Last season on "Gossip Girl," teenage playboy Chuck Bass tried to force himself on 14-year-old Jenny, take advantage of bad-girl-gone-good Serena and succeeded in deflowering his best friend's girlfriend, the scheming socialite Blair.
When audiences first see him in Monday's premiere of Season 2, he'll be on a beach surrounded by a bevy of bikini-clad babes, who remove their tops just for him (and to, you know, avoid tan lines).
But something funny happened on the way to the Hamptons. Somehow this teenage cad won over "Gossip Girl" fans when no one was looking, despite his bad behavior when they first met him.
His romance with Blair will be the big draw when the show returns, according to executive producer Stephanie Savage. (A photo of Chuck offering up a dripping piece of cherry pie -- and the texty tagline "ready4more" -- covered the preview screeners sent to the press this month.) By the end of last season, it was difficult not to root for the caustic relationship between him and Blair, whom he earlier discarded and compared to one of his father's Arabian horses: "Rode hard and put away wet."
Popular in the Community