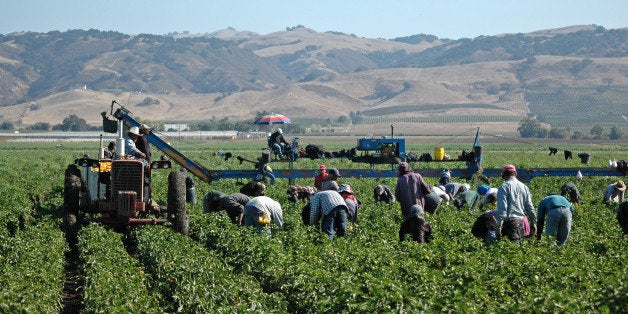 An apple a day keeps the doctor away...but not if you're a farmworker picking 7,000 lbs. of apples per day on average for around 2 cents per pound. Apple pickers carry the fruit around their necks in a 40-lb sack that they empty into 1,000-lb. bins on the ground -- each bin earns the worker $15 to $20.
Doesn't sound very ergonomic does it? Too bad U.S. law doesn't require farms to offer health insurance, workers compensation, or disability insurance.
A few years ago comedian Stephen Colbert had United Farm Workers President Arturo Rodriguez on the Colbert Report for a joint campaign they called "Take Our Jobs -- Please." They invited any American who wanted a job harvesting produce to replace an immigrant worker, with free training. (Despite common perceptions, harvesting food fast and carefully takes a lot of skill and practice.) Even with unemployment soaring, only three people took the UFW up on the offer -- and one of them was Colbert. His day spent in the fields opened a couple million eyes to how hard farmworkers work, for how little money and respect.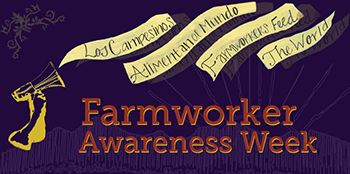 I mention all this because the 16th annual Farmworker Awareness Week starts Tuesday, March 24, and continues through March 31, the birthday of revered labor leader César Chavez. What, you didn't know about Farmworker Awareness Week? I'm not surprised.
Although farmworkers feed the world -- 85% of fruits and vegetables are hand-picked -- harvesting fruits and vegetables remains one of the most underappreciated, poorly paid, and dangerous jobs in America
Student Action with Farmworkers aims to change that with this annual week of educational events and social media campaigns (follow along via #NFAW2015) dedicated to different farmworker issues such as living conditions, pesticides and health, living wages, rights, and more.
Our company, Bon Appétit Management Company, is proud to get the word out once again this year. In hundreds of corporate and university cafés in 33 states, we're setting up information tables with more facts about the pennies-per-pound that farmworkers earn for apples and other commonly picked produce items, and sharing those facts all over social media.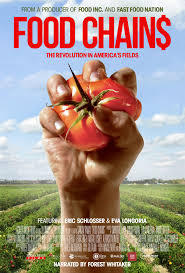 We're also hosting 20-plus screenings of Food Chains, the incredibly powerful 2014 film produced by Eva Longoria. It's about farmworkers in general and the Coalition of Immokalee Workers (CIW) in particular. Many of those screenings are free and open to the public; or you can watch Food Chains for just 99 cents via the film's website during Farmworker Awareness Week. It's probably the best way to become "aware" of the issues.
Bon Appétit was the first in the food service industry to join the CIW's Fair Food Campaign, in 2009, and to draft a strict Code of Conduct for our tomato growers. I was there, and the experience changed my life forever. I will never forget standing alongside a tomato field in hot, humid Immokalee, Florida, watching men (and a few women) hoist 32-pound buckets of green tomatoes onto their shoulders, run with them to a truck, and launch them into the air into someone's waiting hands. The idea that at 45 to 50 cents per bucket, they might not even make minimum wage that day, or be given adequate water and bathroom breaks, wasn't new to me. What was revelatory was that we might be able to do something about it.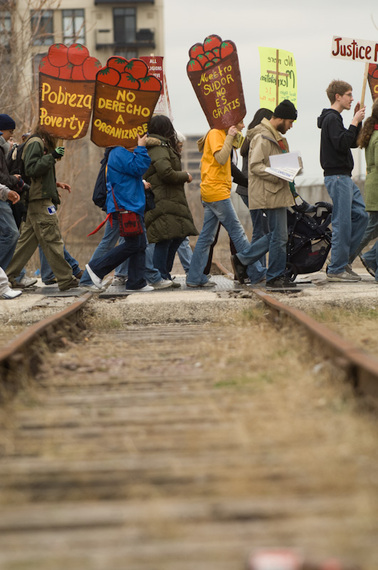 Since then, the CIW has persuaded more than a dozen other food service providers, fast food chains, and supermarkets to give tomato growers their first raise in four decades. Some of them signed on willingly, like us, but others had to be persuaded by protests and marches. I joined CIW for one of those, and it was so inspiring to see the hundreds of students and religious groups singing and trudging for miles along the hot asphalt. Conditions in Immokalee have changed dramatically for workers, thanks to the CIW's efforts.
(The photo at left is by JJ Tiziou, a Philadelphia-based photographer who marched with the CIW. Check out his CIW gallery for more.)
In February 2012, I was watching tomato pickers in Baja, Mexico. This time I wasn't sneaking around -- they worked for Andrew and Williamson Fresh Produce International, which had invited me and several other founding board members of the Equitable Food Initiative on a learning tour of their farms in both California and Mexico. As The New York Times has reported, the Equitable Food Initiative was created by a consortium of major food buyers, growers, farmworker groups and consumer advocates to ensure a dignified livelihood for farmworkers, a stable and professionally trained agricultural workforce for growers, and safer and more sustainable food for retailers and consumers. The first EFI-labeled "Responsibly Grown. Farmworker Assured" produce will be hitting store shelves very soon.
We are making progress. As Martin Luther King Jr., said: "The arc of the moral universe is long, but it bends towards justice." At long last, businesses, consumers and even growers are coming together in ever greater numbers to ensure that justice will someday prevail for the farmworkers who help put food on our tables.
Related