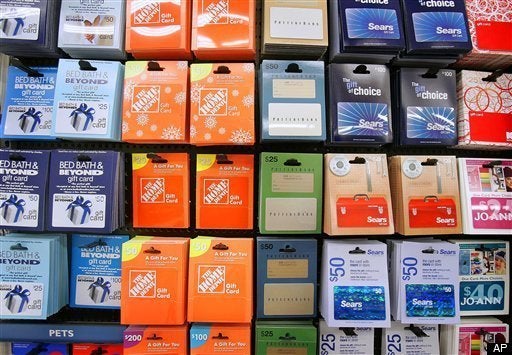 Gift cards were one of the most popular holiday gifts this season. According to TowerGroup, gift card sales are expected to hit $91 billion. Even though the holiday season is over, chances are you received several gift cards from friends and family as holiday gifts. Most of us forget to redeem those gift cards -- they usually just stay in our wallets or in a drawer, never to be seen again. In fact, last year, $5 billion was left unspent by gift cards, according to TowerGroup.
In this economy, help yourself, instead of the retailer, by actually using your gift cards!
New gift card laws, which took effect in August and were a part of the Credit CARD Act of 2009, aim to help consumers. Here is what you should know before using your gift card:

1. Expiration Date: Gift cards cannot expire until five years has passed since the card was opened. This gives consumers more time and flexibility to redeem the gift card.
2. Inactivity Fees: Unless your gift card has not been used for more than 12 months, inactivity fees will not apply. The typical inactivity fee is around $2.50 per month, which can significantly deplete the value of the gift card as time goes on.
3. Disclosure: Beginning on January 31, 2011, the expiration date and any fees associated with the card must be printed on the back of the card. (Why is this important provision being implemented next year? If retailers had to print disclosures on the backs of gift cards earlier, or in time for the current holiday shopping season, tens of millions of gift cards would have been destroyed).
Also, disclosures and signs must be posted in the store and around the cash register, so consumers are informed before they purchase the gift card.
If your card expires, but there is money left on the card, you can ask for a new card for free, but a fee still applies to activate the card, usually around $5 or $10.
What If You Receive a Gift Card To a Store You Don't Shop At?
No worries! Sell your gift cards for cash, by visiting CardPool.com. You can also purchase gift cards for a discount at CardPool.com.
Overall, these laws are a benefit to consumers. Try to redeem your gift cards as soon as possible, and you won't have to worry about fees, expiration dates or misplacing your card.
Scott Gamm is the founder of HelpSaveMyDollars.com. He has appeared on NBC's TODAY, MSNBC, Fox News, Fox Business Network, ABC News and CBS.


Calling all HuffPost superfans!
Sign up for membership to become a founding member and help shape HuffPost's next chapter