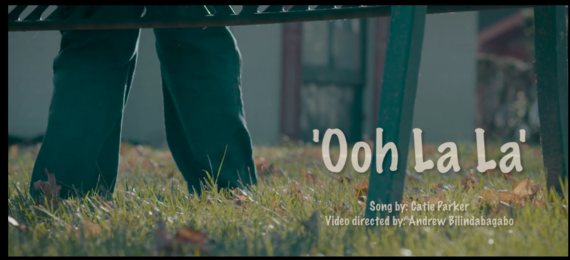 When is the last time you felt joy? I mean pure, unadulterated joy? As adults, the kind of joy we experienced as children just swinging on the playground or spinning around on a merry-go-round can be as elusive as buying that winning lottery ticket.
That's where Melmark's Joybells come in. I dare you to watch the premiere of their first video here, and not, for at least a few seconds, experience that sensation of pure joy once again.
Melmark's Joybells is an incredibly talented hand bell choir that has been around since the 1970s. The choir, consisting mostly of adults with Down syndrome, have made appearances at the White House, been featured on the "Today" Show and performed for Pope Francis at the World Meeting of Families in Philadelphia.
A native of Rwanda, Bilindabagabo is a graduate of The Templeton Honors College at Eastern University with a BA in Communication Studies and a Media Concentration and has worked as a filmmaker in the Philadelphia area.
Singer-songwriter Catie Parker is a music therapist and co-director for the Joybells and the writer and performer of the video's tune, "Ooh La La." Parker makes up a third of the Little Hill Trio (her sister Amelia Parker and cousin Tess Beckwith round out the group), which released its newest CD at Scythian's second annual Appaloosa D.C.'s Roots Music Festival over Labor Day Weekend 2016.
"I was writing a song about the Joybells specifically and my experience with them and their attitudes toward life, which tends to be about openness and warmth," Parker explains.
"We took a break from ringing the bells and I thought it would be fun for them to act out the song so I started playing it for them and they just started acting out so well. Their comedic timing is so good!"
Parker continues, "The Joybells rely almost entirely on donations to continue playing and touring. They could also really use a new tour bus to get around. I thought if we did a music video to advocate for them, to show that they are people too, it could raise money for a tour bus in the process. The money raised through this campaign will go to the Joybells and their cause."
Parker started a Indiegogo fund in part to produce the video. That was before Bilindabagabo stepped in to volunteer his talents.
He says, "I have worked on many different projects, in different capacities; it is rare, but very much appreciated, when one gets to work on a project just for the joy of it. Truthfully, the idea of collaborating with talented friends who I admire, having fun and being silly on set was simply too enticing. I was very honored to spend a day with individuals who exude such 'joie de vivre.' Once we had costumes, a boombox, a choreographer and the camera was rolling, it was not just about making a video, it was just about enjoying each others company while we create something together... hopefully it makes someone smile."
Parker adds Bilindabagabo brought in Laura Parks to do choreography and his wife, Carley Evangelista, who is a professional fundraiser, to help. Scythian's Alexander Fedoryka was very involved in the making of the video as well.
"We had the best, most fun day of dancing and recording even though it was really cold," she said. "It's been an awesome experience for me and the Joybells."
As Parker says in the Indiegogo campaign information, "Join us as we help them create a beautiful music video that will be used to forever capture their joy!"
Want to read more stories like this? Please visit MusicReporterBlog here.
REAL LIFE. REAL NEWS. REAL VOICES.
Help us tell more of the stories that matter from voices that too often remain unheard.