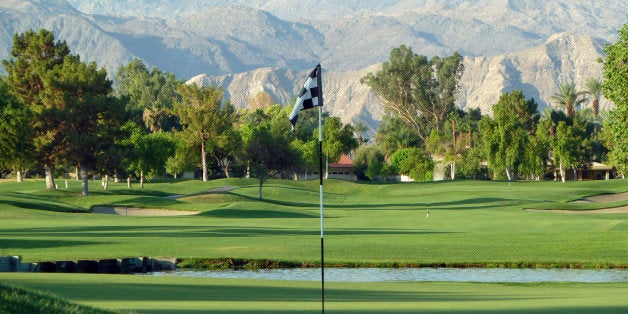 "Hey, Mom," my daughter, Isabel, wrote last winter, "check out this cool house in Palm Springs on Airbnb. I think we should rent it and invite G-ma and have a family vacay there for the Fourth of July. Whatcha think, moms?"
Isabel lives in L.A., and her dad and I had recently moved from Boston to Bloomington, Indiana, so we mainly see her on special occasions. What a sweet kid, I thought, clicking the link -- she misses us and wants to have a plan in place to see everyone. Plus, I knew she wanted us to get to know her boyfriend, James, better, that she wanted to include him on a fun family event.
"I'm in," I wrote back. "Check with G-ma."
I knew what G-ma, Isabel's Connecticut grandmother -- my husband Jim's mom -- would say because she'd taken Isabel on a special trip every year throughout Isabel's teenage years, and Isabel had lived with her during the college semester she'd interned in New York at MTV. They're tight. A team.
"Coolz," she wrote back. "I'll give Dad the dates and tell him when and where to be. Right?"
"Yep," I said, "that'll work."
"He's in!" she replied. "Party on, Momz!"
The day we left for the Fourth of July trip, it was 102 degrees in Palm Springs. So we'll have to use a little imagination to forget how hot it's gonna be, I thought. Isn't Palm Springs kinda old school Hollywood? Perhaps we'll fall down a rabbit hole and end up in Wonderland. Maybe stumble into Sammy and Dean and Frank's Tea Par-tay, like it's 1972. Eat the mushrooms. Drink the tea. Like we're trippin'!
Isabel and her boyfriend, James, drove down from L.A., picked us up at the airport, and delivered us to our Airbnb rental house, giddy like only kids in their early twenties can be. The moment we walked through the door, I felt I'd swallowed a magic mushroom -- just like Alice -- and slipped underground, far beneath the desert, into a cool cave-of-a-house, tricked out with quirky art and a groovy vibe.
A sculpted golden hand, palm-up on the table in the foyer, beckoned us in. Was the Cheshire Cat inside? I wondered. The scene was indeed psychedelic in the living room, where a larger-than-life Seventies lamp promised to light up our lives. Poolside, a candy-striped umbrella shaded a cabana bar -- the ideal spot to sip afternoon tea (well, after sundown).
But in the pool house, where Isabel had planned to sleep, an ancient, in-wall, Frigidaire air conditioner was blasting hot air and no fiddling convinced it to cool the air in there below 102 degrees. Ever the Mom, I rushed to the rescue, phoned the owner, and left a message to see about getting it fixed. In the meantime, we went to dinner downtown while we awaited the verdict.
About an hour later, the owner phoned back. Happy to hear from her, I soon lost hope -- she didn't think the air conditioner could be fixed that night. Upset, I wasn't going to argue with her, so I asked her to speak to my husband, Jim -- a professor, a reasonable-type guy -- whom I felt could help solve the situation. He took the phone outside, to the 100-degree street to talk. When he returned, Jim told us that she'd yelled at him, called him unreasonable to demand the air conditioner be fixed that night -- on a holiday weekend -- that there was nothing she could do because her house manager didn't think it could be fixed either. However, she'd offered to refund our night's rent and see about a repair in the morning. We agreed to wait it out and double up in the bedrooms in the main house.
The next day the owner emailed saying she'd been unable to find someone to fix the air conditioner in the pool-house bedroom, that she wouldn't be able to have it fixed over the weekend, and that she felt uncomfortable letting Jim stay in the house as he'd been so unreasonable as to demand that the AC be fixed. We could stay, but he'd have to go! Like the Queen of Hearts in Alice in Wonderland, she'd swiped her croquet mallet in the air and declared: "Off with his head!" How dare he demand that the air conditioning be fixed on a 102-degree day on his vacation?
Then, Airbnb called, also to inform us that Jim's request had angered the owner, that everyone in the party could stay, but he could not. The owner was kicking him out.

Of course we couldn't stay without the husband/father! We had to have him with us! Dismayed, Isabel felt like she'd somehow messed up, done something wrong. We reassured her that she'd done nothing wrong, that we'd done nothing wrong.
With the traumatic realization that we'd been kicked out, that we'd rented a home from a...well, from an interesting woman to say the least, we jockeyed on the phone with the Airbnb agent, who scurried about like the White Rabbit, attempting to relocate us, fearing it was too late for another house to be had. At last, he secured us accommodation at a hotel. Although it wasn't the dream destination Isabel had planned -- one where we'd be together in a house -- we bucked up and packed our stuff, confused by the strange folk in this unreal world who seemed not to operate like folks in Real-land. Our stay in Wonderland had taken a surreal turn, indeed. So curious!
Reeling from being exiled, we loaded the car. Isabel's lovely boyfriend, James, who never lost his cool, drove us to the Saguaro, which turned out to be a hip hotel with a diorama of Barbie dolls in candy-colored convertibles decorating its lobby.
We checked in and slipped down another rabbit hole to find a tea party, one that was big, mad, and on full blast. Poolside. Cool Cheshire Cats lounged on pink and orange towels beside a turquoise bay, sipping "tea," chattering. Caterpillar-like, one of the humans lounged on a leafy green chair smoking a hooka. When we asked for directions to the rooms, he blew smoke rings and waved at the hotel's rainbow façade. "All the rooms are over the rainbow," he said. Somehow his nonsense made sense. So curious!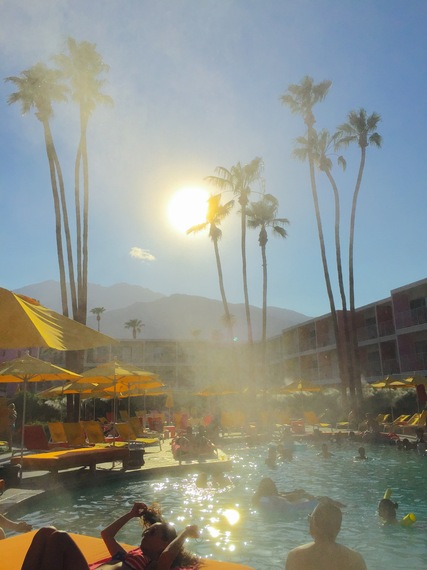 The Saguaro/Palm Springs (Photo Credit: Jim Shanahan)
Our rooms had a stunning view of the mountains that ring the valley, cradling Palm Springs, the palm trees glamorous, slinky attendants guarding the scene, announcing that, indeed, you've arrived in Wonderland and these are our special trees.
To celebrate G-ma's birthday, Isabel had researched the hot spots and made a reservation for dinner that night at the Parker, a glamorous hotel masked from the street by a wall of lush green shrubs, its massive double orange doors vibed out by Hollywood. Had the White Rabbit given us a golden key -- an Alice key -- to the Mad Hatter's Tea Party? It felt so, indeed, as we passed through the orange doors.
Mr. Parkers, the restaurant -- a treasure chest of Seventies cool sunken under the desert -- was worth the trip down the rabbit hole. This Wonderland was lined with polished mahogany paneling, jewel-like paintings ... and dreams: Was that Sammy Davis, Jr. we spied in the discrete corner banquette with his gorgeous Swedish wife? Would Frank and Dean show up to sing alongside the white grand piano in the middle of the restaurant?
With a birthday present for G-ma in tow, Isabel was grinning ear-to-ear, like the Cheshire Cat. "Happy Birthday, G-ma!" she said.
G-ma beamed. "Thank you, dear!"
We were seated at the large banquette that dominates the center of the room. A charming waiter appeared and explained that the three-foot-tall peppermill adorning the table was called the "Rubirosa," after famed Fifties playboy Profirio Rubirosa. So curious! Seeing our interest in his stories, he regaled us with a tale of the hotel's wild, storied past. Evidently, Gene Autry, who built the hotel, liked to throw secret, swanky debauches for his Hollywood friends. And, later, flashy talk-show host Merv Griffin, bought the hotel and squired the bejeweled, be-feathered actress, Zsa Zsa Gabor, about in a swirl of glamour.
The waiter's Mad Hatter, let's-get-this-party-started tale engaged G-ma, a child of the Fifties, who told us all about her love of Gene Autry -- the Singing Cowboy -- and the cowgirl outfit, complete with cap-fired six-shooters she'd had back in the day.
We toasted G-ma's birthday and counted our blessings that we were together -- a special occasion for our bicoastal family -- that Isabel had graduated from college, was working and living on her own in L.A. And now, here she was -- all grown up -- accompanied by a charming, polite, how-can-I-make-myself-useful young man.
I raised my glass to thank my lucky stars, my lucky rabbit's foot, the lucky rabbit's hole I'd slipped down that some difficult times were behind us, that we were sitting on top of a grand, otherworldly day that added up to something real. To family.
The next day -- the Fourth of July -- we ventured into the desert to the canyon station of the Palm Springs Tramway that scales Mount San Jacinto. A bus picked us up in the parking lot and hauled our group through the twisty, switchbacks that wind through the canyon to the valley tram station. The going was steep; the driver a little fast. I looked at my feet, the ceiling, the side of the mountain. At anything rather than the drop-off below the peppermint-swirl-of-a road.
Up at the station, I spied the tram's silver, Swiss-made capsules swinging on a hefty steel cable. Once on board, if I averted by eyes from the sickening view, could I escape the dreaded vertigo, my existential fear of falling through space? The Swiss-made part reassuring, I hoped so because I didn't want to be a wet blanket and back out.
Loaded, all aboard, "Fly Me to the Moon" on the sound system, the silver capsule began to rotate. Perched on a seat, holding on for dear life, I felt myself tumbling down another rabbit hole. "Aren't you gonna be hot?" I asked some folks in long pants and jackets who were lugging camping gear. "It's 68 degrees on the top!" they replied. "Whaaaaaaaaat???" I said. Ah, Alice Land, indeed. A motor began to hum, and we were launched on a 9500-foot trajectory up Mount San Jacinto, the steepest vertical face in North America.
I peeked out only once or twice, and 15 goose-bumpy minutes later, we alighted in an Alpine forest. Pine trees, squirrels, cool air. Snow in winter. Who, knew? Honestly, some days it's a pleasure just to wake up, to see what's gonna happen. "Happy Fourth of July, Folks!" the Earth seemed to say. "Check out my jaw-dropping view across the desert valley below, while you sit in this cool enclave beneath one of my beloved pine trees. In a mountain forest high above the desert. You're in Wonderland."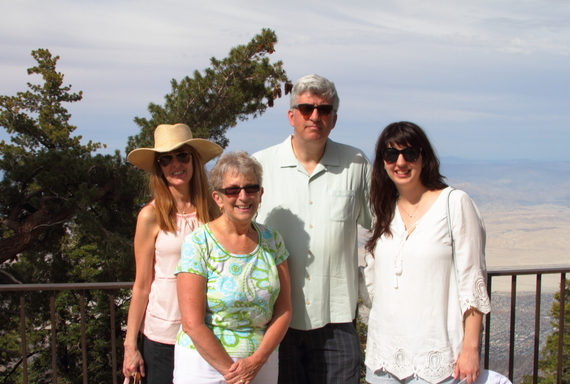 Atop Mount San Jacinto (Photo credit: James Madejski)
"Wow," is all I could think of to reply to the Earth. I looked up into the pine tree to see if the Cheshire Cat was smiling. And, indeed, he was. So curious!
On the way back, celebrating our summit, we sang America's song about their journey into the desert on a "horse with no name." A Wonderland sing-a-long. Wish I could've bottled that moment in time with Jim, G-ma, Isabel, and James -- a "Drink Me," Alice-in-Wonderland tonic for whenever I feel blue.
In town we discovered the perfect libations to celebrate our adventure -- at a Tiki Bar, that fantasy incarnate, that unreal-life walk on the wild side that says, "Life's good, an adventure. Drink up. Through a straw. With a floral, paper umbrella 'cause this tea party's on lock. On high octane." Oh, yeah, we did.
Resuscitated by the Tiki Bar potions, we headed out for the fireworks show, which came highly recommended by our Mad-Hatter-of-a-waiter at Mr. Parker. Circling the neighborhood near the ballpark, we felt the excitement. Folks had decorated their front lawns with lounge chairs, grills, picnic tables, flags. At the baseball diamond where the Palm Springs Power plays, we plopped down on the grass outside. Families with elaborate set-ups -- blankets, coolers, portable chairs, all manner of picnic gear for a night of fireworks -- lit up the scene. Then the fireworks exploded like a shower of jewels in the sky. Ah, Wonderland.
By that time we'd totally forgotten we'd been kicked out of our Airbnb...
That's all from Palm Springs, folks! Wish you were here! Love, Lisa