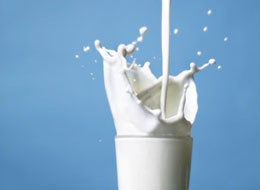 Talk about a serious lack of sense of humor: The dairy producers behind the ubiquitous "Got Milk?" slogan are suing a small T-shirt company that switched a letter and titillated their customers by designing shirts with the slogan, "Got MILF?"
The Secretary of the California Department of Food and Agriculture on behalf of the California Milk Board filed suit against Deez Design, a company based in Alameda Country, California for violating trademark law by changing a "k" to an "f" on their shirts.
(Hat tip to Courthouse News. We'll leave it to readers to sort out what the MILF acronym stands for...)
The California Milk Processor Board now wants Deez Design to halt making the line of shirts. In the complaint, the California milk authorities allege: "This use of a confusingly similar variation of the 'got milk?' Marks constitutes trademark infringement and causes likelihood of confusion, deception and mistake."
The "Got MILF?" t-shirt uses the same font as the "got milk" tagline, which, according to the plaintiffs, "has been named the most culturally influential tagline since the advent of broadcast television." The complaint adds that the "got milf?" t-shirt "has caused the dilution of the distinctive quality of the 'got milk?' marks."
REAL LIFE. REAL NEWS. REAL VOICES.
Help us tell more of the stories that matter from voices that too often remain unheard.