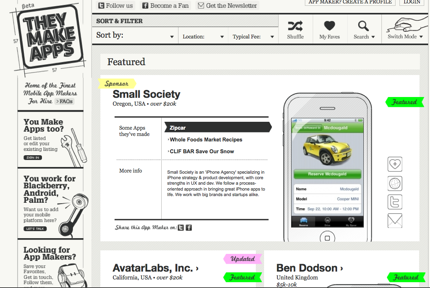 As someone who prides herself on being a digital nerdstress, I often field questions from folks looking for mobile app developers. It's very analogous to that moment where someone texts you looking for a good restaurant or bar in their neighborhood.
iPhone users have so far downloaded over 3 billion applications from the iTunes store. A recent study from Gartner found that users will download, on average, 20.1 apps per smartphone this year. With that much consumption, it's easy to see why everyone is looking for a good developer. With over 100,000 registered iPhone developers, it's easy to see the need for something which weeds though that much choice.
Enter TheyMakeApps, an online directory of iPhone application developers categorized by location and price. The challenge in finding the right developer is in finding someone who can execute the vision at the right price. They Make Apps helps it all come together in a slick user interface that makes the process a bit more fun.
Currently, users can browse through apps filtering by price (up to $20K) and by location. The site was developed by Kettle, a NYC-based digital consultancy. Olivier Peyre, Creative Director of Kettle, tells me that search will be available soon. Clearly, search is a critical feature allowing users to drill down on exactly what they're looking for, be it a mobile app developer specifically or a developer who has worked with a brand of interest. I like that the site allows for users to save mobile developers of interest for a comparative look later in the process. Any developer can easily sign up on the site to be included in the directory.
Currently, the limiting features for me are the lack of search (which is already on its way), the lack of budget options above $20K, and the lack of Blackberry, Android and Palm Pre developers. Some nice-to-have features would be a way to vote up and down certain developers creating a hot list of preferred vendors and a way to email developers of interest to friends.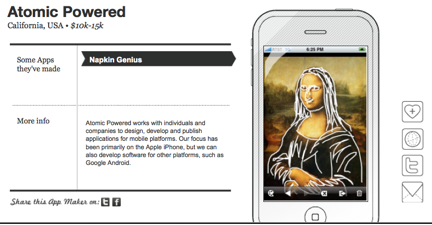 TheyMakeApps isn't exclusively for agencies and developers. SPIN magazine used the directory to find the developer for their latest project. Nick Pandolfi, Digital Edition Manager of SPIN describes his experience:
TheyMakeApps was a huge help with SPIN's latest development project. Rather then reach out to all our contacts for developer references, it was a quick way to find locally based developers and see exactly what they specialize in. I'm sure we'll be using it again soon!
TheyMakeApps is simply the glue connecting need to the solution. And frankly, I love glue.