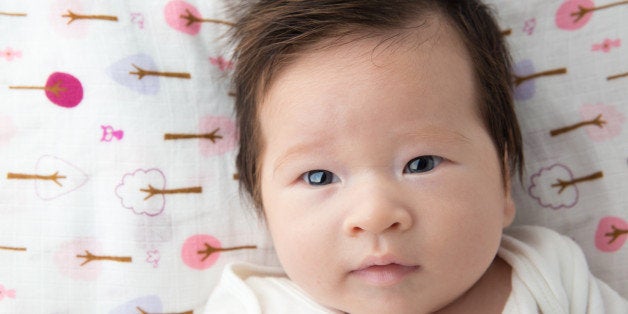 On the eve of his son's adoption from South Korea,
one writer looks back on what that night now means
Most parents go to a hospital to meet their child for the first time. My wife and I went to the Omaha airport, and it was there, shortly before midnight, that our internationally-adopted son arrived from South Korea. He was 51 weeks old.
It was a joyful and overwhelming moment for us, but for him, it was obviously terrifying. Who were these people? Where was his foster mother? Why was a stranger holding him and where was he being taken? Everything he knew was gone. Missing. Even now, five years later, if I close my eyes, I can still hear his shrieks of terror.
Meeting my son was one of the most important nights of my life, and I am so achingly proud of him. It's easy for adoptive parents to see "Gotcha Day" through the lens of joyful fulfillment -- the adoption and the endless paperwork is finally over. That alone is cause for celebration. You have your child and you can turn your attention to raising her or him at last. I'd be lying if I said my wife and I didn't feel this way too. We couldn't have biological children of our own, so we did what thousands of childless couples do: we looked beyond the borders of our country and thought about bringing a young life towards us.
Gotcha Day is a beginning -- this is undeniably true -- but it is also an ending. A door home has been slammed shut forever, and the child has been removed from their ancestral home, their blood ties and their language. These are no small things, and as we go about remembering Gotcha Day in our house, I'm aware that somewhere in Korea is a young woman who must wonder what part of the earth her son landed upon. For this reason, Gotcha Day is charged with emotion. There is joy and sorrow, belonging and longing, home and away. It is a day that sets a young life into motion with a new family, and it is a day that signals an end. Even the term "Gotcha Day" is problematic. It sounds too much like a simple game of tag, and there are undertones of salvation to it.
Does our son have a better life with us? That's hard to say. I do know this much: he's here, with us, and I celebrate this fact every day. I wrote about the night I first met my son a few years ago, and what I had to say in "The Strangers" is just as true now as it was then. In fact, it's one of the few poems I've written that came to me very quickly, which is usually a sign that I've tapped into something deep and true.
As usual, we'll celebrate this year's anniversary of his arrival with a small cake and, as usual, I look forward to the questions my son will ask. As the years tick by, I know he'll have harder questions, and I'm determined to do my level best to help him even if the reality of his adoption (that is, the breaking away and loss) is hard to frame.
But that's the nature of adoption.
It's been gratifying to learn that my latest poetry collection, Adoptable, has touched so many people. I try to explain what it means to bring a young life towards you and to pour all of your resources and love into their future. I also try to see my son's adoption through his eyes.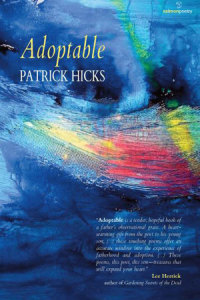 I certainly don't have all the answers, and yet I'm anxious for the questions he'll have as he grows up. I'm excited to watch him become himself and I'm determined to walk next to him and offer whatever support I can on the hard road ahead. Identity is complicated for all of us, and I believe that adoption, especially transracial international adoption, makes identity even more difficult and confusing.
If I had to say anything to a couple that is thinking about adopting, I'd encourage them to realize that adoption is always ongoing. The paperwork may be signed and you will love your child, but it goes much deeper than that. "Gotcha Day" marks a specific point in time when a child becomes your son or daughter, and yet it's vitally important to remember that this day also represents a permanent leaving. Yes, I suppose it's a bit like a birthday, but it represents far more. And it's that "more" I think about as we recall that night, in Omaha, when we first met.
Welcome home, my son. You belong here. This is your place in the world. I also want you to know that I celebrate the fact that you came from elsewhere. And as you grow older, I look forward to learning how you want to commemorate what this day means. I'm already looking forward to listening.
Patrick Hicks is the author of ten books, including The Commandant of Lubizec: A Novel of the Holocaust and Operation Reinhard (Steerforth/Random House) and The Collector of Names (Schaffner Press). He is the Writer-in-Residence at Augustana College and a faculty member at the MFA program at Sierra Nevada College. His website is www.patrickhicks.org