"All tickets are the responsibility of the driver."
- Jon Ferretti, Operations Manager, Gotham Dream Cars
We arrived at Gotham Dream Cars just before 2o'clock.
I couldn't tell if we were in the right place or not. There was no fancy signage or exotic cars parked out front. Just a plain brick building right off William Street in Englewood, New Jersey, some 25 minutes outside of Manhattan. But as I pulled into the parking lot I spotted something ominous behind a garage door: an all-white Lamborghini LP550-2 Spyder.
We were greeted at the door by John Ferretti, the operations manager at Gotham. After signing some paperwork, we made our way into the garage. As I looked around six vehicles stared back at me: a Lamborghini LP550-2 Spyder, Ferrari 458 Italia Spider, Corvette Z06, Jaguar F-Type, a Ferrari California and Porsche 911 Carrera.
The next three hours were going to fly by.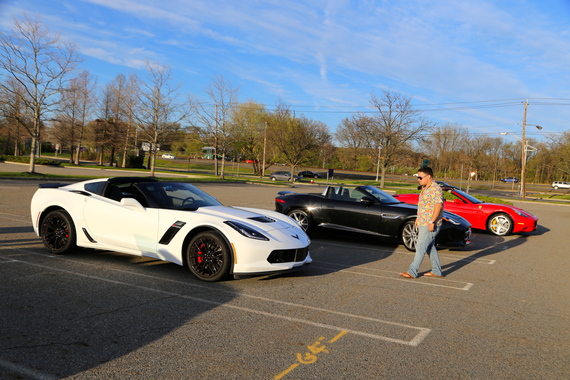 We were about to embark on the Gotham Dream Car Tour, a scenic three hour trip through North Jersey, up into Bear Mountain and back to Englewood. Tour participants are allowed to pilot all six vehicles along the route, switching up rides every 15 miles at designated checkpoints with six other riders. As Gotham puts it, participants will be able to answer the age old question "Are you a Ferrari guy? A Lamborghini girl? James Bond in training?"
I learned I might be a Corvette guy. But more on that later.
I figured the group riding experience would be a drag. In the beginning, several riders strayed from the group so the rest of us had to sit in a parking lot until the staff could track them down. But I was mistaken. After the initial hijinks, the group made the experience much more fun. There's nothing quite like sharing smiles with strangers as you fly through traffic in six figure exotics. The energy and excitement was contagious.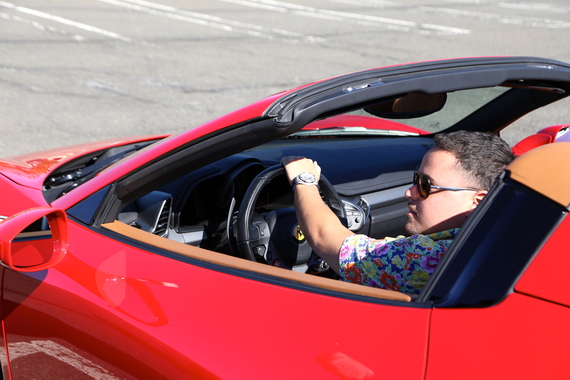 The Ferrari 458 engine roared as I sped around the lower embankment of Bear Mountain. The Porsche 911 and Jaguar F-Type handled the twisty mountain roads with ease. Accelerating through the hills in the Lamborghini Spyder felt like a roller coaster ride, butterflies and stomach knots included. The mix of highways, mountain roads and side roads were just right.
But the Corvette Z06 on a wide open highway was a whole other story.
If I were to get pulled over at my current speed I'd be in a world of trouble. Jon Ferretti had warned us about the last guy who ended up getting five tickets. They weren't seat belt violations either. Plus, putting other drivers at risk is not cool.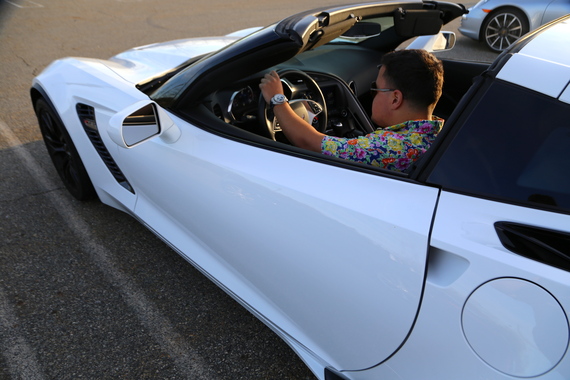 But here I was: on a wide open highway during sunset in a car I might never get the chance to drive again. So, with no other drivers in sight, I punched the pedal. We hit 100 miles per hour in just a few seconds. The speed left me elated. I felt like a pilot in a cockpit. Unfortunately, there were no wings or turbines in that version.
By the time we got back to the garage I felt like Lakitu from Super Mario World: on a cloud.
Here's my Gotham Dream Car Tour review: 10 out of 10.
The instruction we received before pulling off the lot was comprehensive yet concise. The staff that followed along with us were knowledgeable. The group was a ton of fun and the positive energy was so contagious. I can't stress enough how much of a difference the group made. Plus, the tee shirt and certificate were a nice extra touch.
If you ever wanted to take an exotic for a spin, the Gotham Dream Car tour represents an affordable, unforgettable experience worth the $895 investment. Hopefully Corvette will have added those airplane wings by then.
Brian J. Roberts is a writer from New Jersey. Alex Ratajczyk is a professional photographer and videographer living in New York City.
Calling all HuffPost superfans!
Sign up for membership to become a founding member and help shape HuffPost's next chapter