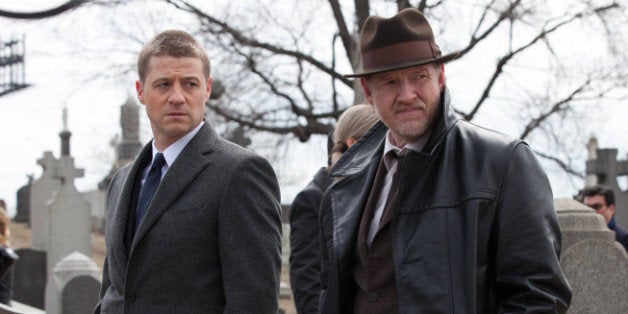 One of the most hotly anticipated fall shows is Fox's "Gotham," which chronicles the career of police detective James Gordon, the man who goes on to be Commissioner Gordon in the Batman universe.
The opening moments of the "Gotham" pilot, which will be screened next week at Comic-Con in San Diego, depict the murder of young Bruce Wayne's parents -- the cornerstone of the Batman myth. But while Wayne and his butler Alfred are part of the show, the drama doesn't revolve around them. "Gotham" stars Ben McKenzie as Gordon, who is uneasily partnered with the shady cop Harvey Bullock (Donal Logue).
At a panel discussion of "Gotham" at the Television Critics Association press tour on Sunday, executive producer Bruno Heller discussed making a superhero show that is essentially without a superhero.
"The show is all about, how do you deal with crime at this level when there are no superheroes," Heller said. "It's about ordinary, mortal men and women and the struggle they are engaged in" to keep crime and corruption from overwhelming an increasingly chaotic city.
"To me, heroes are more interesting than superheroes," Heller added. "The difference is, superheroes do the impossible, and drama is really about the possible -- the physically possible. This is about people trying to overcome real problems as opposed to trying to learn how to fly. … Certainly for me, the really interesting parts of these stories are the origin stories -- as soon as you're into the capes and costumes, it's less interesting than seeing how they got there."
Heller said that the show, which is set in an indeterminate past that melds boxy '70s and '80s cars with flip phones and brooding film-noir elements, will stick to the core, "canonical" elements of the Batman mythology. But he made it clear that "Gotham" won't shy away from adding to or altering the stories that fans may know from the films or comic books.
For example, Jada Pinkett Smith's character, underworld boss Fish Mooney, is a new creation for "Gotham," but the pilot also features a number of well-known characters from the Batman universe. Heller noted that much of the first year's overarching plot will chronicle the rise of Oswald Cobblepot (aka the Penguin) and his power struggles with Mooney, but it remains to be seen how other characters, such as Selina Kyle and Edward Nygma, will be woven into the overall narrative.
In an interview with several journalists after the TCA panel, Heller was asked about one element of the pilot: The introduction of a character named Ivy Pepper, who of course instantly brought Poison Ivy to mind. Without giving too much away, Heller sketched out a season one path for the character that appears to vary from past depictions of Poison Ivy. (IGN has more details on what Heller said about Ivy Pepper and another character who may or may not be the Joker.)
"It's really about being able to tell the secret histories" of the characters, Heller said. "If you just re-tell the stories exactly as they've been told before, while you're being true to the created mythology, you're not really adding anything to it, so you have to find ways of [coming up with] more."
The good news is that Heller and his writers, who have to run major story ideas past the DC Comics' brain trust, aren't hemmed in by an overly dense Jim Gordon mythology. A few ideas have been shot down, Heller said, but it's been generally clear sailing.
"Because we're dealing with pre-Batman period, there are a few issues of chronology that will come up later that will be tricky, but at this stage, we've got pretty much free rein," he said.
I asked Heller how the show would balance the crime or criminal of the week with serialized storytelling.
"That's the biggest question for us as well. We know the answer, but it's a tough balance," Heller said. "They're cops, Gordon and Bullock, they're the center of the show. Every week, there will be a standalone story or case that they're investigating. We combine that with the serialized elements as we roll forward. Occasionally, when that serialized element reaches a climax, we will do fully serialized episodes that don't have a closed-ended case.
"TV has become more about binge-viewing and DVRs and all the rest of it, so there's more space for that," added Heller, who created CBS' "The Mentalist" and HBO's "Rome." "The networks are more [accepting of that]. Five years ago, no one wanted that. ... Now it's balanced by the fact that the appetite for serialized storytelling is that much stronger. Then the responsibility becomes telling that serialized story in as exciting and satisfying a way as possible. You've also got to tell the standalone stories, and you're never quite sure whether you've got the balance right."
Heller also expanded on the reason to make "Gotham" much more about Jim Gordon and the city's criminals than about the caped crusader who comes to the city's rescue years after his parents' death.
"When you have a superhero on the screen, ordinary people are kind of diminished, and you're just waiting for the superhero to arrive," Heller noted. "So how do you do a DC story on TV? Concentrate on the ordinary, real people."
Though I understand Heller's reasoning, I'd respectfully disagree with aspects of that last statement. One thing the CW's "Arrow" has done well is depict a superhero character who is clearly flawed and whose occasional failures add depth to the emotional narrative, and the roster of worthwhile characters on that show means that scenes without Oliver are far from dead weight. And I've only seen the pilot for "The Flash," which arrives on the CW this fall, but it also has a promising ensemble and a similarly layered lead character -- one who certainly has not reliably mastered his new powers by the time the pilot ends. One thing the pilots for both CW shows had: a lively energy, something the more labored "Gotham" sometimes lacks.
Clearly these are very different shows with divergent tones and goals, and from his comments, it appears Heller has thought hard about how to make "Gotham" work in the long term. I'll write more about the show close to its Sept. 22 premiere, but my chief concern about the "Gotham" pilot, which is generally solid, is that it retains the grim tone of the Christopher Nolan films without also offering those movies' style, scope and visionary thrills. There's a somewhat strained quality to the pilot that makes Pinkett Smith's lively performance as Fish Mooney that much more necessary.
Will "Gotham" ultimately become as addictive as "Arrow" or wrestle with the kinds of lumbering problems that affected "Marvel's Agents of Shield" during most of its debut season? There's no way to tell, but if Heller can inject some "Rome"-style complexity and character-driven storytelling into this evolving Batman backstory, it could be a worthwhile ride.
REAL LIFE. REAL NEWS. REAL VOICES.
Help us tell more of the stories that matter from voices that too often remain unheard.