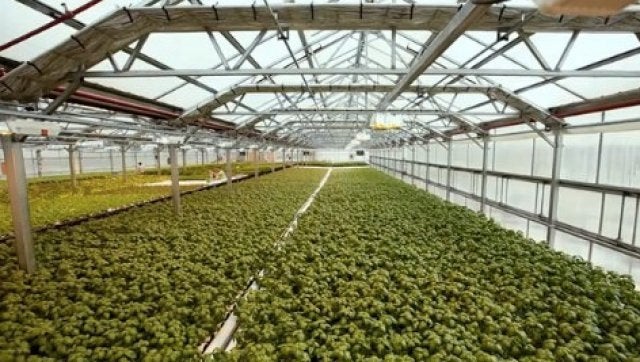 Few places on Earth say "farm" less than New York City. Whereas once the five boroughs may have been verdant, temperate and arable, they now comprise the ultimate urban environment, a place where food is consumed, not produced. But the city has something that smaller cities don't: miles and miles of untouched rooftops.
Those rooftops sit at the core of green entrepreneur Viraj Puri and greenhouse expert Jenn Nelkin's vision for Gotham Greens, which they cofounded with Eric Haley in 2008. Gotham Greens is New York City's first professional rooftop greenhouse operation, which began harvesting herbs and vegetables from a 15,000-square-foot roof (over a former bowling alley) in Greenpoint, Brooklyn, in June 2011. It quickly became a living example of a more environmentally aware, less wasteful farming future that still includes delicious, fresh food.
They designed the greenhouse to give the expert team of urban farmers complete control of the growing environment, including light, temperature, humidity, CO2 and nutrition. The greenhouses are kept fully enclosed, which allows them to control pest infestation without using pesticides, and also allows them to protect their crops against New York's harsh winter weather. Sophisticated computer control systems manage heating, cooling, irrigation and plant nutrition.
"We can harvest something in the morning and have it on the supermarket shelf or restaurant plate that same afternoon," Puri told Crain's New York Business in 2011. "That is very compelling for retailers and chefs."
The farm currently produces three different kinds of lettuces and delicious fresh basil, which are carried in Whole Foods Markets, Mario Batali's Eataly, and independent grocery stores throughout New York City, as well as the legendary Gramercy Tavern restaurant. It will also be expanding operations this fall, opening a 20,000-square-foot commercial-scale greenhouse atop the forthcoming Whole Foods Market in Gowanus, Brooklyn. Its advanced irrigation systems will use less water than conventional systems, and the vegetables will be sold right in the store. Brooklyn likes to eat local, and this is as local as you can get. The city is embracing its newest and most innovative farm.
"On the first harvest day we had so much lettuce we almost didn't know what to do with it all," Nelkin told Wired magazine, soon after the greenhouse opened, "but now we can't grow it fast enough."

Fun fact: Whole Foods Market, with Gotham Greens as its operating partner, will be the nation's first commercial scale greenhouse farm integrated within a retail grocery space. The 20,000-square-foot greenhouse, currently being constructed on the roof of the forthcoming Whole Foods Market store in Gowanus, Brooklyn, is scheduled to open later this fall. Gotham Greens will grow premium quality, pesticide-free produce year round in the greenhouse for Whole Foods Market Gowanus, as well as other Whole Foods Market locations throughout New York City.
Support HuffPost
A No-B.S. Guide To Life
Related
Popular in the Community