When you think of farming, New York City may be one of the last places that come to mind.
But Gotham Greens, an urban greenhouse business, is reversing that mindset and linking urban areas with agriculture. Co-founded in 2008 by Viraj Puri and Eric Haley with the goal of advancing urban agriculture, Gotham Greens works to provide high-quality, pesticide-free produce to grocery stores, restaurants and other local retailers. By using advanced technology and providing a climate-controlled environment, Gotham Greens is able to provide produce year-round -- something that sets them apart from rooftop or conventional farms around New York.
In January, Gotham Greens opened its second urban greenhouse on top of Whole Foods Market in Gowanus, Brooklyn. This 20,000 square-foot, state-of-the-art facility harvests 200 tons of organic, non-GMO produce a year, and supplies grocers like Whole Foods, Fresh Direct and Key Foods. This facility uses the hydroponic technique, meaning plants receive nutrients from their water supply and are grown without soil -- a technique well-suited to urban agriculture where arable land and high-quality soil are scarce, Puri explained.
Since the crops are sloped at a gentle angle, all irrigation water is reused. "It's actually the most water-efficient form of agriculture in the world because we're recycling all of our water," Puri told The Huffington Post. "As droughts become a more consistent issue, especially in places where our food comes from, I think you'll start to see more applications of this type of technology."
The Gowanus facility compliments Gotham Greens' 2011 flagship greenhouse -- the first commercial-scale rooftop greenhouse in the United States -- in Brooklyn's Greenpoint neighborhood.
Urban agriculture projects -- from community gardens to beekeeping and rooftop farms -- are gaining popularity throughout the world, with about 15 percent of the world's food now grown in urban areas, according to the USDA National Agricultural Library. An increased demand for healthier, higher-quality foods, alongside the benefits of urban agriculture like community gardens and education, have fueled this movement and since 70 percent of the global population is expected to reside in urban areas by 2050, an increased reliance on urban farming is crucial.
"I think there are a lot of ways to farm more sustainably and responsibly, and this is just one way to do it in an urban environment," Puri said. "I think urban agriculture will only get bigger, and will only compliment and help our food system get more sustainable."
Take a look below for a peak into Gotham Greens' Gowanus location and some of its produce.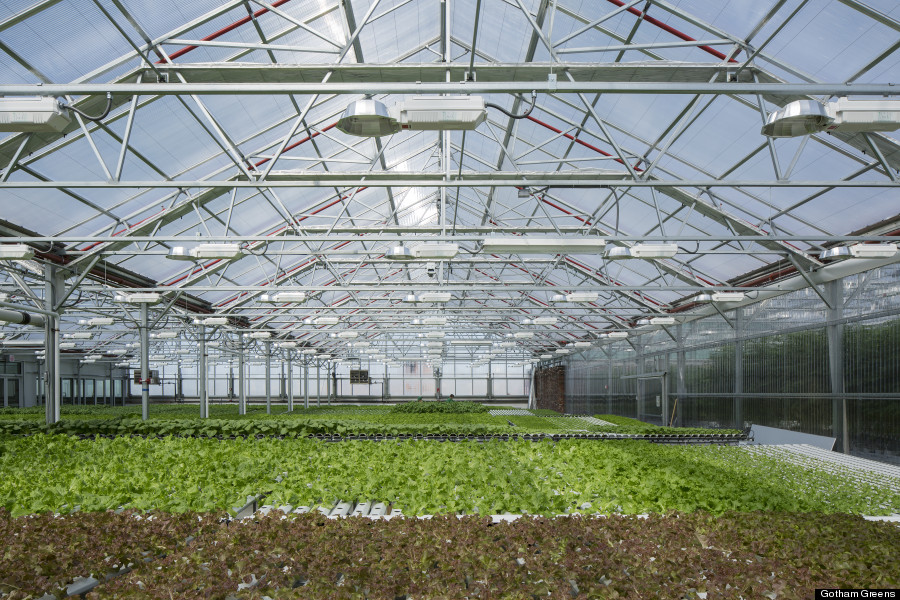 Gotham Greens grows bok choy, arugula, kale, basil, tomatoes and more in their greenhouses.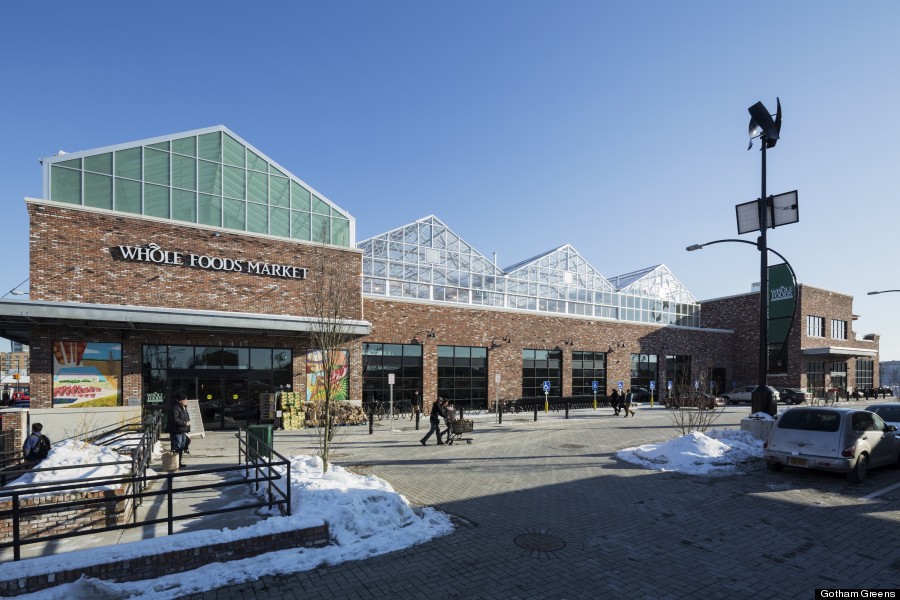 Gotham Green's greenhouse sits atop Whole Foods Market in Gowanus, Brooklyn.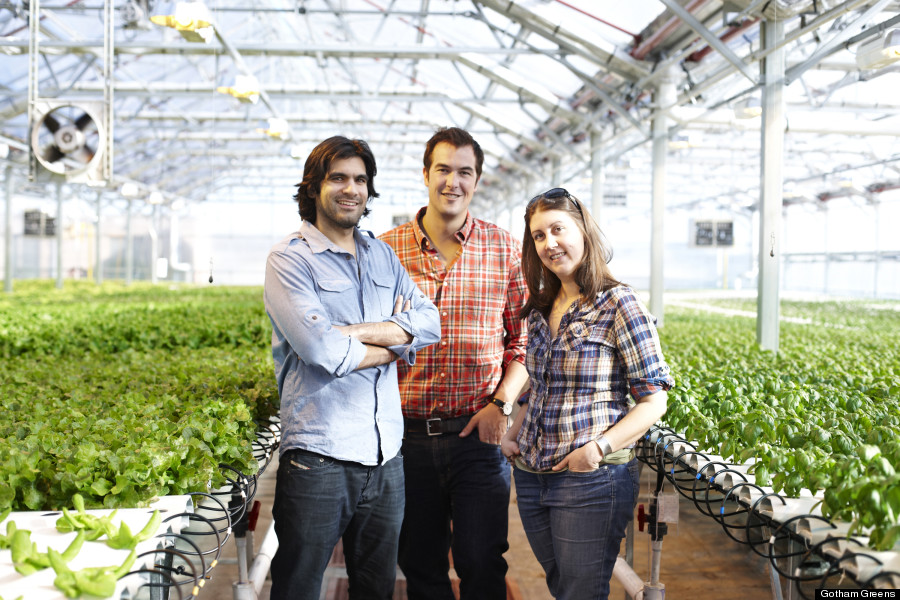 Co-founders Viraj Puri (L) and Eric Haley (C) stand with Chief Agriculture Officer Jennifer Nelkin Frymark (R).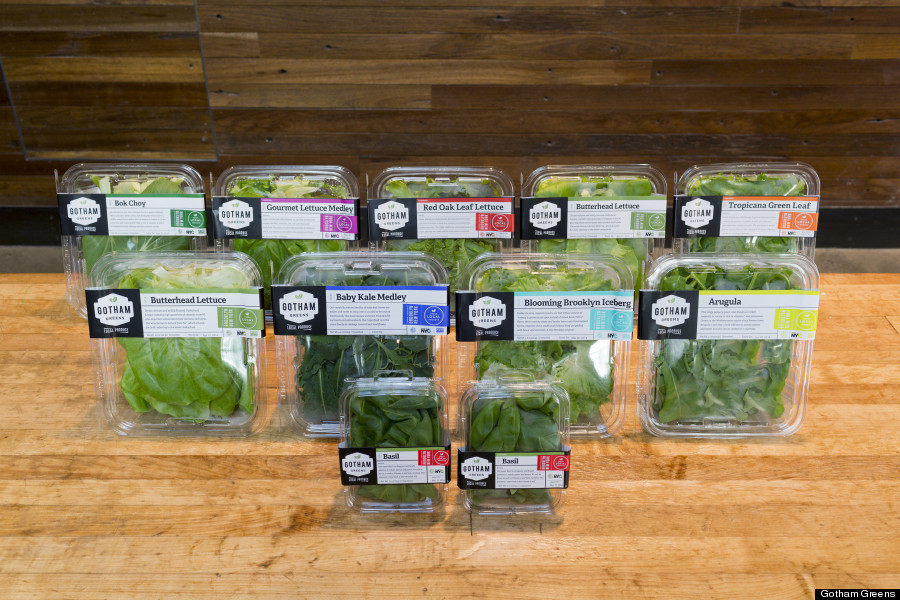 Gotham Greens grows and distributes a variety of leafy greens and other vegetables.
Before You Go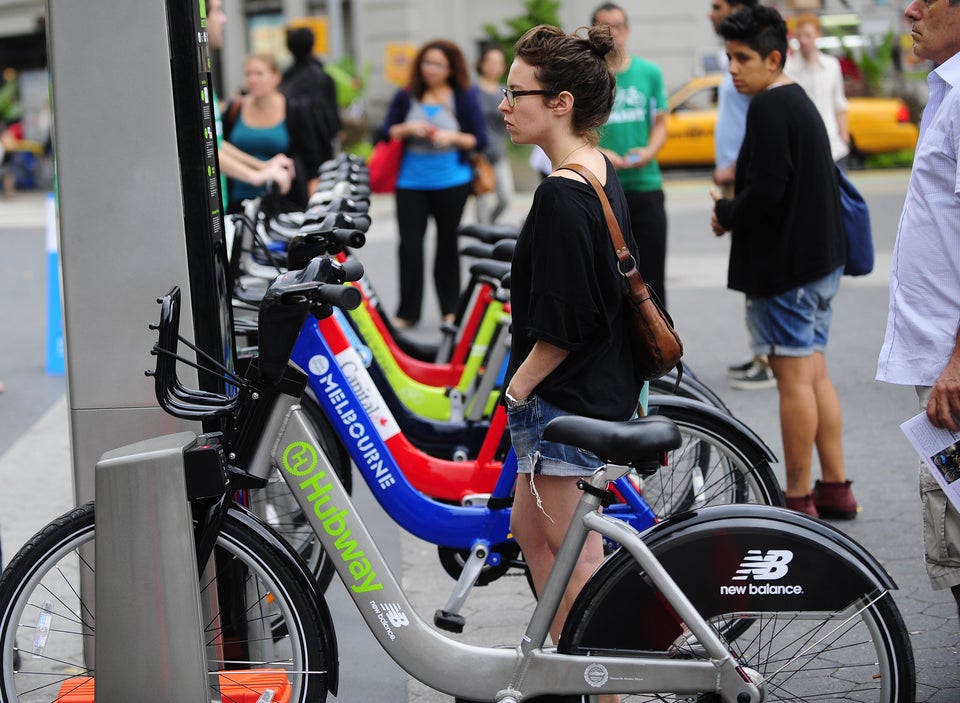 10 Hot Green Innovations