With monsters on the loose, slinging slime balls of anonymous corporate cash in elections, frantic investors are asking, "Who can free us from this dark-money menace?"
In the crowd, a woman remembers rumors of a Securities and Exchange Commission (SEC) chair granted special powers by the government to protect investors. "Mary Jo White is the superhero we need to end this menace," another onlooker shouts. "But where is Mary Jo White?" A new ad campaign blanketing Union Station -- the busiest subway station in Washington, D.C., and a popular hub for SEC staff on their way to and from work -- asks the same question.
The SEC alone can secure fair markets and empower investors with a common-sense rule that requires disclosure of political expenditures by public corporations.
Over the last two election cycles, nonprofit groups that are not required to disclose their corporate donors have spent more than $500 million to influence federal elections, and much of their money likely came from corporate interests. Shareholders should not be left in the dark when companies they own spend money to influence a political cause. Information on political spending is material to shareholders as they make decisions about where to invest, particularly with growing evidence that political spending does not always benefit the bottom line.
This month a diverse coalition of investors and public interest organizations launched the "Where Is MJW?" ad campaign to persuade SEC Chair Mary Jo White to ensure disclosure of this type of spending with a rulemaking popular among investors large and small.
Ads can be seen throughout Union Station, with wall-to-wall, comic-strip-style illustrations depicting Mary Jo White as the superhero investors are waiting for. The question is: Will the SEC chair shield shareholders from the monsters hurling heaps of secret corporate money in elections, or will her cape remain on the coat rack in the SEC Cave?
Since the Supreme Court's decision in Citizens United v. FEC more than five years ago, the potential for corporations to secretly spend shareholder money to influence elections has been an ever-increasing threat to investors. The investors the SEC is charged to protect have called on the agency with growing urgency to deal with this problem, but thus far Mary Jo White hasn't moved the rule forward to increase transparency in the marketplace.
In 2011, a bipartisan committee of leading law professors filed a petition requesting an SEC rule on political spending disclosure. Concerned institutional and retail investors have since submitted a million-plus comments to the SEC, more than 10 times the previous record number of comments, in support of the rule. Yet, under the direction of Mary Jo White, the SEC has not prioritized promulgating this important rule and even removed it from its regulatory agenda in 2014.
At the same time, shareholder resolutions filed at public companies requesting disclosure of all corporate efforts to influence elections have ballooned since Citizens United. Between 2010 and 2014, shareholders filed 530 resolutions on corporate political activity. In 2015, resolutions on corporate political activity account for over one quarter of all proposals, making them one of the most popular proposals yet again this year. Shareholders are winning the public debate for disclosure.
Earlier this month, Mary Jo White came under pressure at a congressional hearing when Rep. Michael Capuano (D-Massachusetts) asked why her agency hadn't stood up for shareholders who want political spending disclosed. She reiterated her standard response that she is focused on mandated rules. We applaud that focus and hope to see more Dodd-Frank rules finalized soon, but a hero can multitask when the demand is so great. We hope that she will soon take the necessary steps to ensure shareholders can make informed investment choices.
Of course, not all public companies are villains. More and more leading public companies understand that robust disclosure of political spending is an indicator of good corporate governance and allows shareholders, directors and managers to assess the risks and benefits of a company's political portfolio. According to the Center for Political Accountability, 140 U.S. companies -- including 10 in 2015 -- have voluntarily adopted political spending disclosure policies.
But our democracy still runs thick with dark-money sludge. Among many examples, the energy industry makes claims it is going green while simultaneously hiding behind anonymous donations to support climate-change-denying politicians.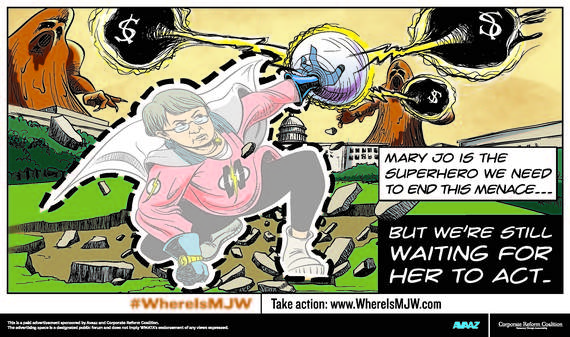 Ultimately, Mary Jo White needs to don her suit and cape and fulfill her duty to protect investors by requiring every publicly traded corporation to inform shareholders of corporate expenditures to influence elections. Putting the rulemaking back on the SEC's regulatory agenda, scheduled for release near the end of May, is step number one.
Lisa Gilbert is Co-chair of the Corporate Reform Coalition and Director of Public Citizen's Congress Watch Division. Rachel Butler is Democracy Campaigner for Greenpeace USA.
Popular in the Community