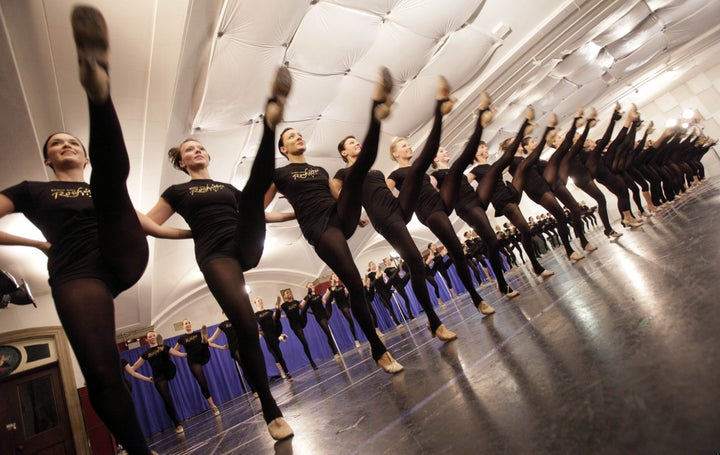 In December of 1962, a father took his four-year-old son by the hand and marched him over to Radio City Music Hall to see The Rockettes and the Christmas special.
The boy was transfixed by the gorgeous dancers tapping and pirouetting into his heart while he sat on the edge of his seat enthralled. "The Parade of the Wooden Soldiers" number and The Rockettes little, tiny precision steps would meld into his young psyche.
This is a scenario which has repeated itself millions of times -- almost 71 million people have seen The Rockettes -- through the ages since 1933 and this will, in all probability, repeat itself far into the future. The tremendous tapping, fluid forms, graceful gestures, brilliant beauty and most of all, the heavenly high-kicking of The Rockettes is as timeless as it is exquisite.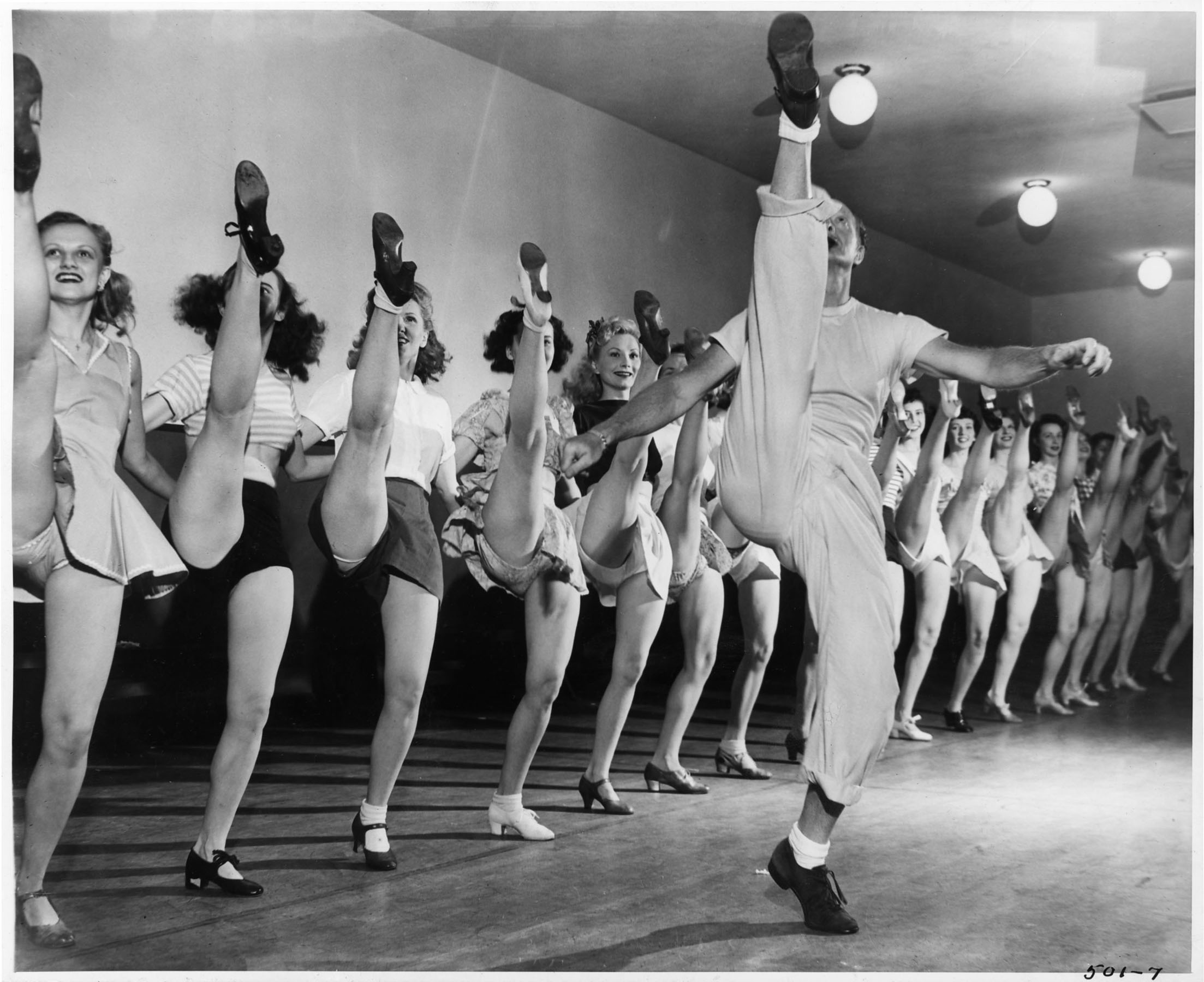 Russell Markert & The Rockettes, 1935 (Courtesy of MSG Entertainment)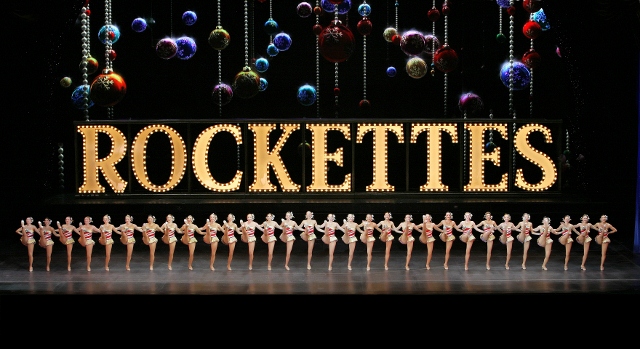 2011 Rockettes (Courtesy of MSG Entertainment)
The boy never forgot that miraculous night in New York City with his Dad at Christmas-time and sadly, never went back until a couple of weeks ago; an absence of 49 years. And though that boy was away so long, the spirit that imbued him that 1962 night and never left him at Christmases since was ennobled, transporting him back to being a four-year-old again.
When the boy finally returned as a man, he brought along his daughter whose hand he held and he watched her wide-eyed absorption as The Rockettes bopped their way into her imagination.
If you're a New Yorker, you know well how special The Rockettes are, but if you're not and haven't seen them, you can't possibly know.
It's trite but true, Christmas is a special time of year; filled with trees, ornaments, stocking, snow (hopefully), presents, turkey dinners, nutcrackers, carols, cards, joyful greetings to strangers on the streets, ice skating, shopping, family, loved ones and charity to others. In New York, the iconic visions of Christmases past are legend: The Christmas Tree in Rockefeller Center, skating rink in Central Park, the 57th street snowflake, Empire State Building decked out in red and green and the store windows which come alive in panorama.
For many, Christmas is also The Rockettes.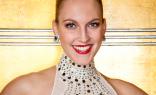 Samantha Harvey, 25, Baltimore, Fourth season (Courtesy of MSG Entertainment)
This year's Christmas Spectacular at Radio City Music Hall is once again --' Old Reliable' -- a tremendous production which will warm your heart and is a perfect show for children, family and the adults. If you long to see your child get all excited and eyes a-bulge and don't want a present or video game involved; if you want to reconnect with a parent or friend and don't know how; or if you're just feeling blasé about life and Christmas this year, here's your prescription: go to Radio City and see The Rockettes.
This is a real, high-tech affair. It's got a stupendous 3-D segment, fireworks, DP (Digital Projection) cameras, the biggest indoor Hi-Def LED screen in the world (Cowboy's Stadium is indoor/outdoor) and another one which 'flies' into and back from mid-stage. There are hundreds of Santas dancing in tight choreography and some with their shadows on the walls move independently, like the Twilight Zone. It's got scary monsters and geese coming right out of the hi-def screens and right into your lap. And then there's Santa starting off the show by taking you and his sleigh downriver and under NYC bridges and through Manhattan streets at a high rate of speed in smashing 3-D color. Children are enchanted and adults mesmerized.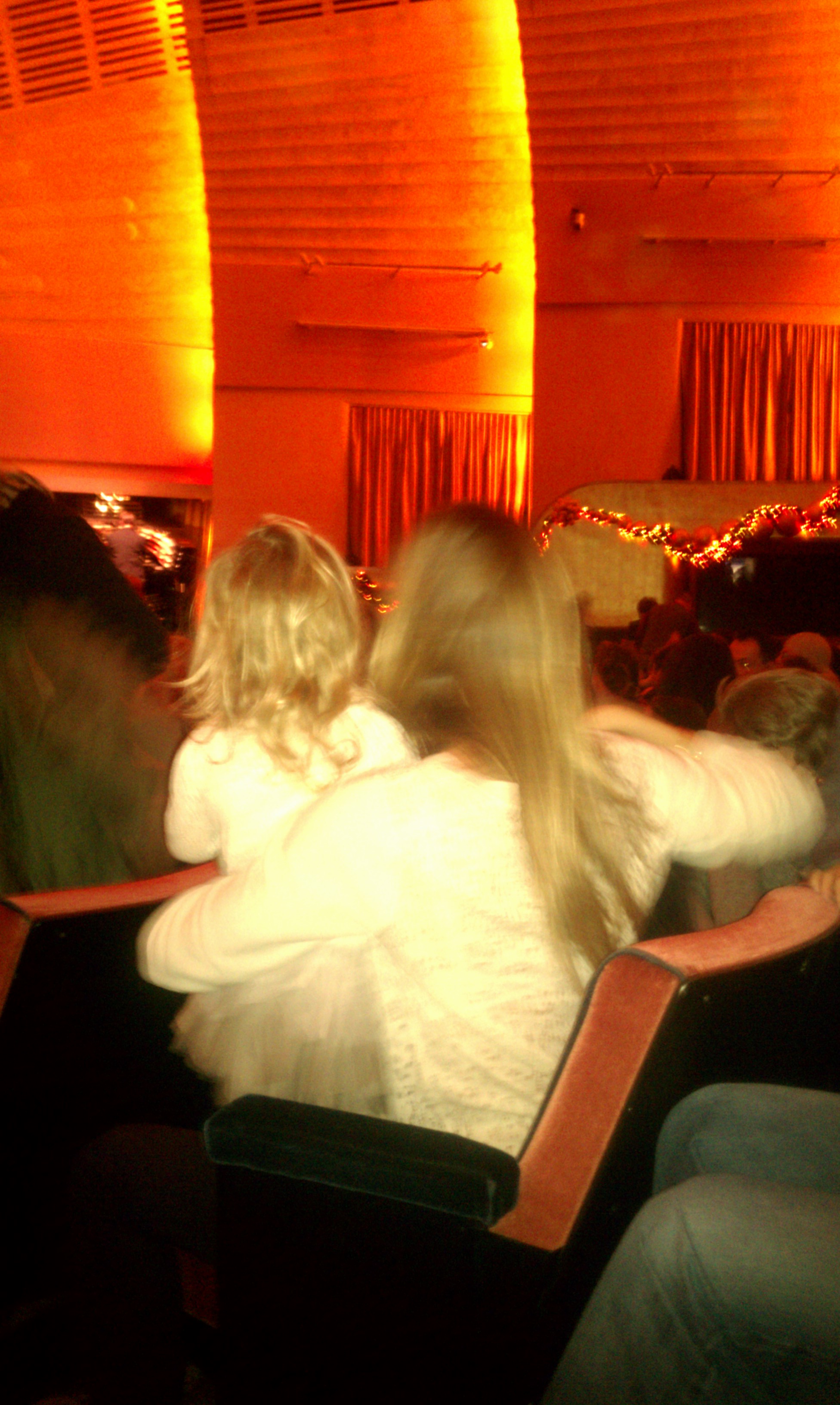 You will witness an updated, high-tech version of the historical family favorites such as the omnipotent "Parade of the Wooden Soldiers;" a "Nutcracker" scene complete with Tchaikovsky-dancing bears for the children and a young, classically trained ballet dancer playing "Clara;" the "New York at Christmas" segment which has The Rockettes boarding a double-decker bus and traveling through the city 'sightseeing' via screen background technology; and a grand finale featuring "The Living Nativity" with magnificent set design, camels, sheep and donkeys and chorusing dancers galore.
Where's the technology in this story? Well, hold your horses; it's coming. I promise to give you all the techtoids you can handle. One of the things this column is about is all the things surrounding technology -- technology alone is cold, sterile and uninteresting. It's the human stories which employ technology that I want to tell.
The injection of technology in this program is deep and wide. Not only have the technologies the audience uses changed since 1962 (when we had no cell phones, Internet, Facebook, cell phone cameras, Google or Twitter) but the technologies The Rockettes use today have advanced exponentially.
But the fundamental fact remains: no matter what technology comes along and is employed by The Rockettes, it's only bells and whistles, anyway. The Rockettes, their beauty, charm, grace and elegance have always been the main ingredients in the magic they weave, the way they captivate their audiences, the way they lift the human spirit.
"They're an amazing group of women -- you have to be very smart to do this job -- it requires a lot of brainpower," said Karen Keeler, who should know because she's a Rockette, too. And she's not just any Rockette either; she's also a Rockette captain and the assistant choreographer of the show.
According to Keeler, who exudes grace inside and out, a Rockette Captain usually doesn't dance as much as they might like but instead watches the performances closely, scrutinizing for ways to improve the shows and makes suggestions regarding production development. "I just found out I'm dancing today though," a beaming Keeler announced triumphantly.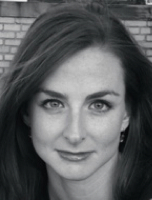 Karen Keeler, Rockette captain and assistant choreographer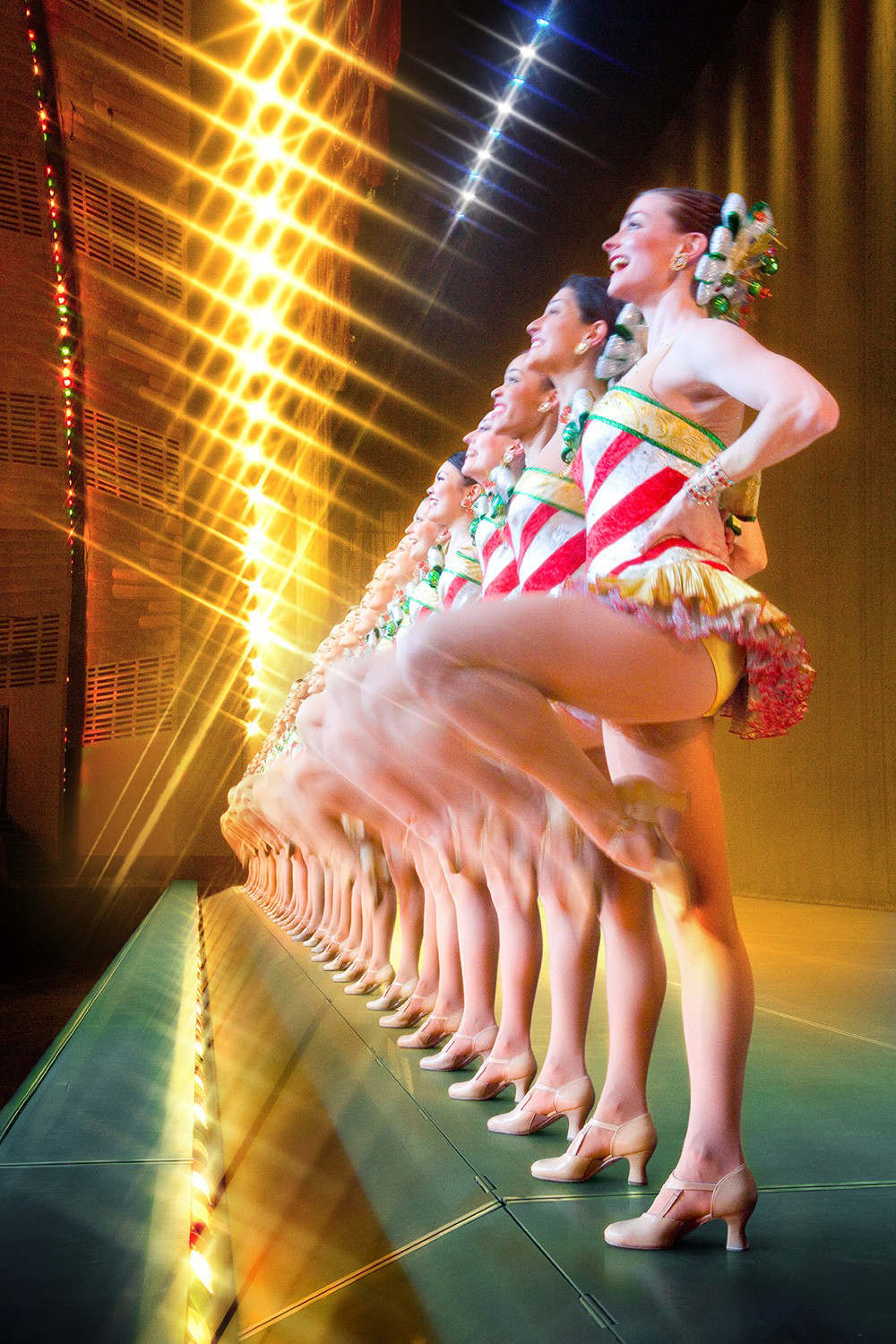 Karen Keeler is the closest Rockette on the end (Courtesy of MSG Entertainment)
Keeler's favorite part of the show? "Without a doubt, the video game scene," she sounded as thrilled as a young child, "we get to act a bit more, be the heroines and the technology all boils down the real importance of a parent spending time with their child."
A Rockette must be at least 18-years-old; be at least 5'6" to 5'10" and a half maximum; and be proficient in the tap, ballet, jazz and modern dance movements.
Auditioning for what is called "The Rockette Dream" can be brutally disappointing; some dancers seek advice, while many try year after year, praying. "A friend of mine said 'why don't you audition for The Rockettes?' I didn't really think I'd get it," Keeler recalled.
I asked Keeler if being chosen as a Rockette wasn't kind of the pinnacle for a dancer. "When I started here 12 years ago," she recalled, "I really didn't understand why it was so important what angle my elbow was or how my head was tilted, so it was a great education for me as a dancer. I had already received my MFA in Dance from Tisch/NYU and danced professionally quite a bit but never fully understood this kind of 'clean technique' of a precision-dance company like The Rockettes."
As Keeler talked, I realized the true 'precision' of a Rockette and what she meant when she used that flawlessly chosen word. Keeler was a great example of this 'Rockette precision.' Though she was dressed informally and was about to hit the stage to dance shortly after our chat, I realized that there was precision in everything this woman does. The way she sat; perfect posture. The way she spoke; not affected in any way, just faultless. Her personality was precise in its optimism and it was obvious she loved being a Rockette. Even the way she smiled had a lot of precision to it.
And that brings me to something else I noticed quite quickly: something I'll call 'The Rockette Smile.' After all, a dour, sour-pussed Rockette wouldn't do; they're supposed to instill the Christmas spirit in audiences. So they're always smiling. I don't know how they do it but every woman on that stage has perfect, gleaming-white teeth that don't quit. And it's this omnipresent, delectable smile which transmits the smiles to others' faces.
As long as we're on the subject of Rockette assets, who could possible write about them without going into their trademark "eye-high kicks." You haven't lived until you've seen 40 Rockettes doing these iconic leg kicks. "When we're taught to do these 'eye-highs,'" Keeler added, "it gives a reference point for each Rockette, so that no matter what their height, it all looks incredibly even. There are many other kick we use in addition to these famous ones; we use swing kick, strut kicks, angle kicks, developé kicks and ronde jambe kicks."
These stunning dancers don't just dance at Radio City Music Hall, either. There are real Rockette companies performing in Nashville, Boston and Durham, too. And when they're not dancing on a great stage somewhere, they are always involved in sharing their gifts at charitable events, fashion shows or the big events like Macy's In Store Experience, Macy's Thanksgiving Day Parade or the Rockefeller Center tree lighting.
These national treasures weren't always living the dream of The Rockettes dancing on 'The Great Stage.' Starting out dancing in St. Louis in 1925, they were originally known as "The Missouri Rockettes." Founder Russell Markert had said, "If I ever got a chance to get a group of American girls who would be taller and have longer legs and could do really complicated tap routines and eye-high kicks ... they'd knock you're socks off!!"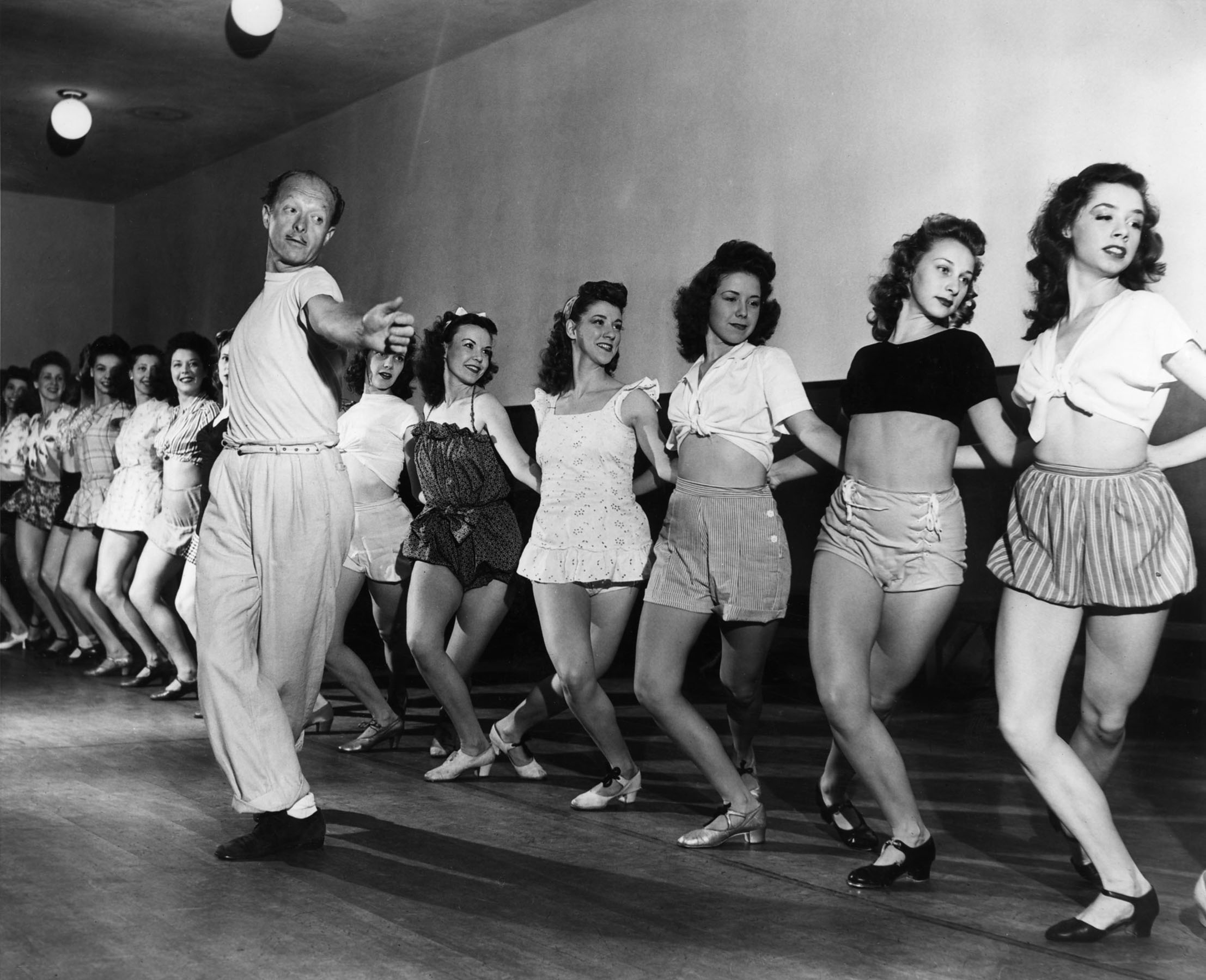 Russell Markert & The Rockettes, 1935 (Courtesy of MSG Entertainment)
Discovered dancing on Broadway by theater impresario, S.L. "Roxy" Rothafel, they had another name change to the "Roxyettes." Rothafel then had his special team of dancers perform on opening night of the new Radio City Music Hall in 1932 with 17 other performers, including Martha Graham, Ray Bolger and The Flying Wallendas. In 1934, their name was officially changed for the final time to the current, "Radio City Rockettes."
Now, as for your Technology fix, here are some very interesting and tasty factoids:
• Radio City Music Hall houses the country's "largest flying indoor LED screen" and has incorporated it into many of the scenes throughout the show.
• An additional NEW 3D LED screen measuring 27'x 53' position at mid-stage will be used alongside the existing LED screen and 2 LED side panels to immerse audiences in the new technology features of 3DLive and projection.
• This special new 3D LED screen will split into 6 different pieces while transitioning scenes right in front of the audience's eyes.
• For the first time this year, 11 large DP projectors will be used to project onto the Radio City proscenium, creating a starry night sky of Bethlehem in the "Living Nativity" and Santa's workshop as audiences are transformed into the whimsical world of the North Pole.
• More than 1 million pairs of 3D glasses will distributed to patrons to experience the new 3DLive scene featured in this year's production.
• Automated decks are placed on top of the existing 3 moving house elevators that will allow performers to magically appear from the floor and lift them 2 ½ stories above the ground.
• It takes more than 250 people just to stage the Radio City Christmas Spectacular, including the cast and crew which "loads in" the production weeks before the show opens. There is a cast of 150 including Rockettes, singers, dancers, musicians and more.

• More than 1,200 colorful costumes are worn in the Radio City Christmas Spectacular. Each of the Radio City Rockettes must change costumes eight times during each show and in a few of the changeovers, they have as little as 78 seconds in which to change their costumes.

• The double-decker bus seen in the scene "New York at Christmas" weighs an astounding 7 tons and is 34 feet long, 12 feet high. In the course of the 8 week run, it will travel approximately 37 miles onstage! Off-stage the bus hangs 23 feet in the air stage left for storage!
• During the 8-week run, the animals drink 450 bottles of water and eat 340 bales of hay and 560 loaves of 7-grain bread.
• Two of the most cherished scenes in the Radio City Christmas Spectacular are the "Parade of the Wooden Soldiers" and the "Living Nativity" -- both of which have been part of Radio City's holiday tradition since they were first performed on the Great Stage in 1933.
• Wardrobe goes through over 15,000 red dots per season to brighten the cheeks of the "Wooden Soldier" number.
• Part of what makes the show possible is the technical capabilities of the Great Stage. It measures 144 feet by 66 feet. It is made up of three elevators, which may be set at any level from the sub-basement to 13 feet above the stage -- a vertical drop of 40 feet. The orchestra uses a fourth elevator. Together, all four weigh 380,000 pounds.
• Scenic backdrops for the Radio City Christmas Spectacular measure 95 feet in width and 45 feet in height -- nearly double the normal theatrical size. The scrims (hand-painted cloth backdrops) are housed in storage space above the stage four stories high.
• The Christmas Spectacular features an "ice" rink built on a movable platform. Used during the "New York at Christmas" scene, this huge rink is made from an artificial surface with the same properties as real ice.
• The production staff for every show includes: 23 carpenters, 20 electricians, 15 prop people, 7 sound people, 28 wardrobe, 2 projectionist, 5 stage managers, 8 animals handlers and 40 orchestra members.
• A stage manager "calls" the entire show through a sound system heard only throughout the backstage areas, so the Radio City Rockettes know how much time they have to change and the handlers know when to escort the animals to the elevator. Of course, the audience doesn't hear a word.

• Including all front-of-house personnel (ushers, ticket-takers and merchandise salespeople) the Radio City Christmas, America's #1 Holiday Show, employs nearly 600 people in New York City during the holiday season.
• As space is limited backstage to store all of the props and scenery used during the performance, much of it is stored by hanging or "flying" overhead. 30 chain hoists are used to support the "flying" props and scenery. More than 60,000 lbs of counterweight is used to support the elaborate hanging scenery as well as the lighting equipment.
• 14,096 AA batteries are used during the show's run. These batteries are used to power the wireless microphones that are worn on-stage by the entire cast.
• 180 laundry baskets are used per show to hold/carry the casts' shoes, laundry and costumes.
• Among the Rockettes, chorus and Santa, more than 1200 pairs of shoes are worn per show.
• 350 loads of laundry are done per week, non-stop most days for 16 hours per day during the week and 20 hours per day over the weekend.

• 1,300 Stage Door Tours are guided through the Music Hall during the busy holiday season. Approximately 27,000 people tour the Music Hall in the months of November and December. This tour allows visitors to learn about the architectural history of the Hall, while experiencing the grandeur of the newly refurbished landmark.
(Courtesy of MSG Entertainment)
The show is comprised of 14 scenes including "The Sleigh Ride," "Santa Flies to New York," "The Twelve Days of Christmas," "The Nutcracker," "The Parade of the Wooden Soldiers," "New York at Christmas," "Department Store," "Here Comes Santa Claus," "Closer Than You Know," "Santa's Video Game," "Closer Than I Knew," "Let Christmas Shine," "The Living Nativity" and "Joy to the World."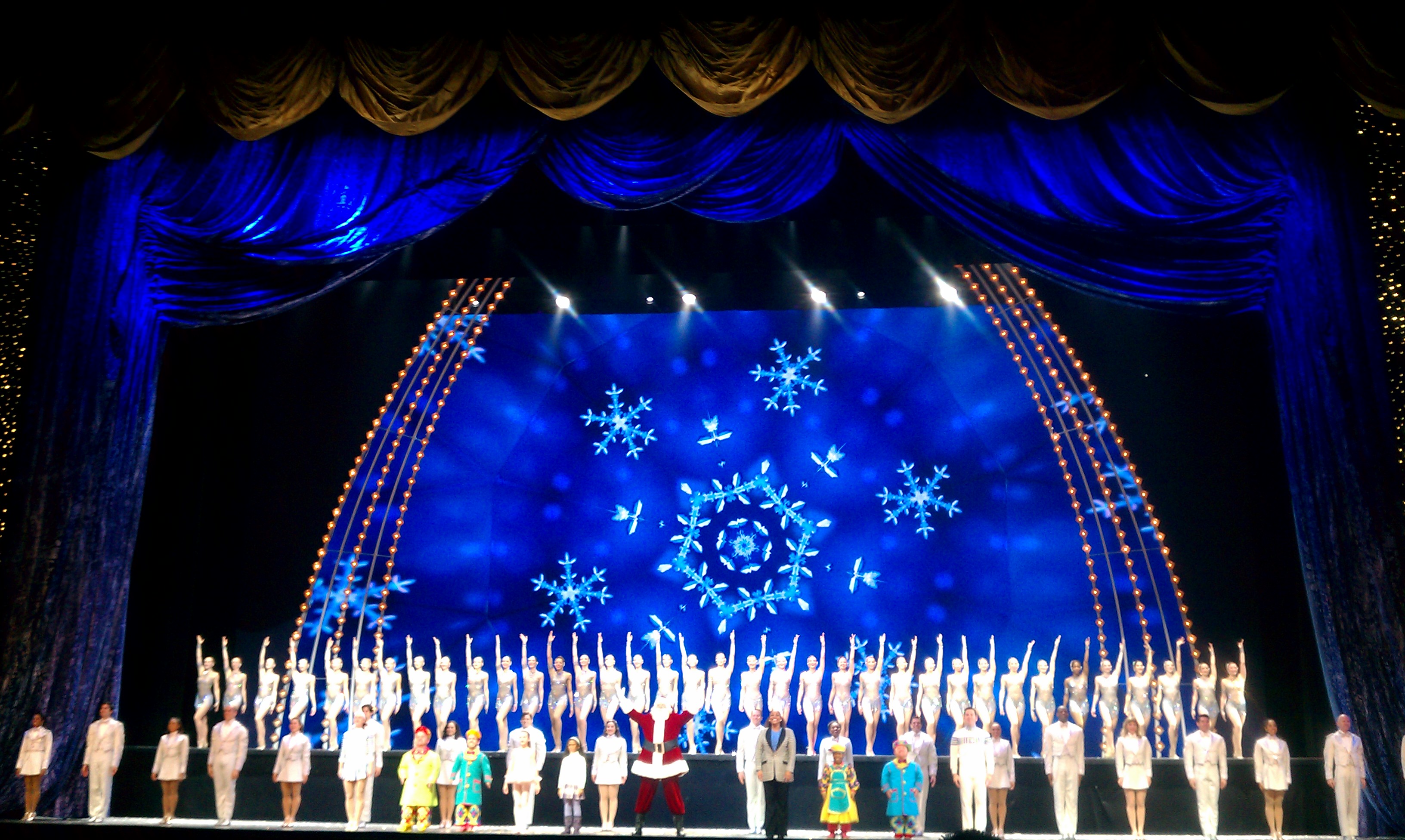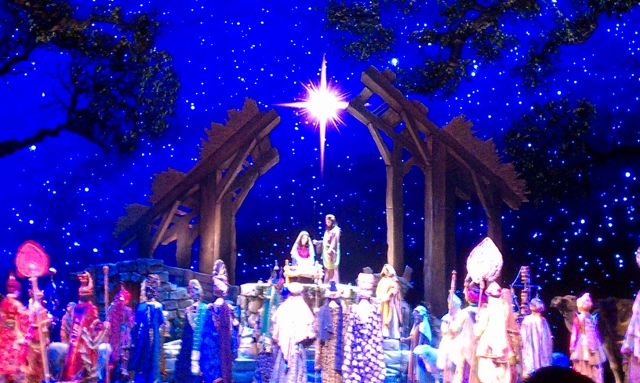 When the "The Living Nativity" drew to a close, the opening strains of "Hark the Herald Angels Sing" brought me to my feet and tears began welling up. Then, "Joy to the World" was the closer that bought the house down.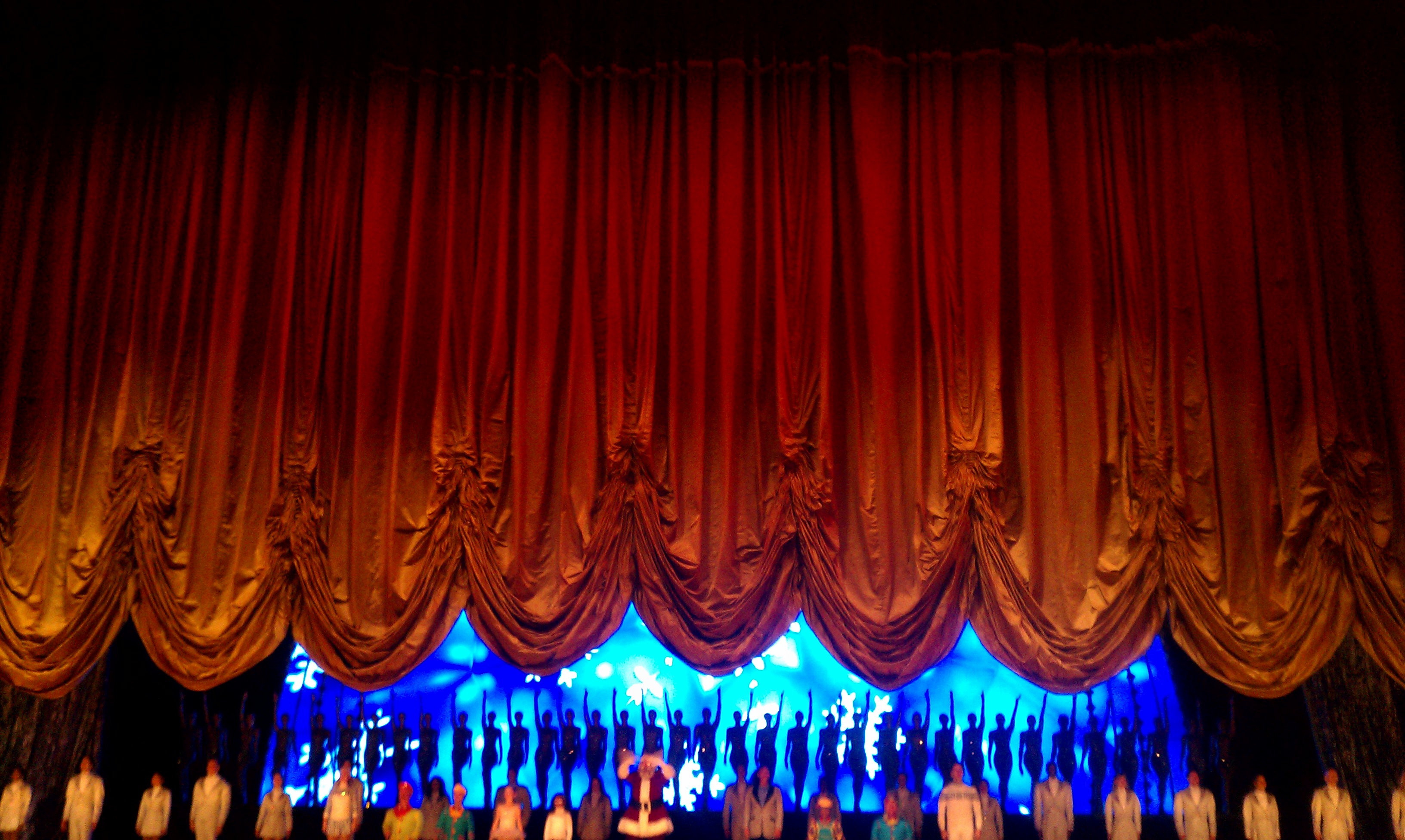 As Karen Keeler told the NY Times in an article last month, "You know what I want? I want the perception of the Rockettes to be what I feel it to be: that it is a dance company. We are a group of women that dance together, and we are certainly a company. I don't want people to just think that we're pretty women who can kick. It's just so much more than that."
Ms. Keeler shouldn't worry too much about The Rockettes being pigeonholed. In most intelligent, sophisticated minds, The Rockettes hold a very special place, one where they are considered a mood and life-altering experience for young and old. You can't get much more respect than that.
Of course, that boy from 49 years ago who recently took his daughter to relive The Rockettes was me.
Popular in the Community