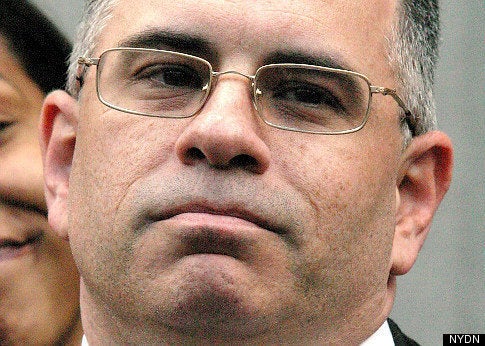 With spectacular Mafia assassinations pretty much a thing of the past - it's been 24 years since John Gotti & Company whacked Big Paul Castellano in front of Sparks Steak House - the biggest mob stories of recent years were usually blockbuster indictments or convictions.
In 2009, the biggest mob story of the year, as most astute Gang land readers will agree, is none of the above.
No surprise here. The number one Mafia story of the year was the Gotti IV mistrial - the fourth in five years for mob prince John (Junior) Gotti, the late John Gotti's handpicked successor as boss of the Gambino family.
As you might expect, many of Gang Land's outstanding achievements in 2009 - as well as the low points - are related in some way or another to Mistrial IV.
For example, the Joe Namath Award, for guaranteeing a victory against seemingly overwhelming odds, goes to Gotti's main defense attorney, Charles Carnesi. Back in May, right after losing his co-counsel in Gotti I, II, & III, he told Gang Land: "We've got truth and justice on our side. John will walk out of court when this is over. It may be more difficult; it may be more time consuming, but we'll get there. I have no doubt about that."
The biggest winner in the case, though, has to be the former Junior Don. He was let out of prison after serving 16 months behind bars awaiting his trial, and is unlikely to have to endure a Gotti V - although the feds are taking their sweet time in making that official.
Gotti dodged another bullet despite having pulled a couple of monumental boners before and during the trial that might have hurt him with the trial judge, and most importantly, with the jurors who ended up being hopelessly deadlocked - essentially at 6-6.
First off, Gotti should have figured out some way to retain Seth Ginsberg, a key member his defense team at the three prior trials, even though trial judge P. Kevin Castel refused to authorize court funds to pay the freight. Whether money was the real issue or not, to break up the Ginsberg-Carnesi team was a mistake. In the end, replacement counsel, John Meringolo & Associates, (Anthony D'Aiuto and Andrea Hoyos) did a yeoman-like job, and the mistake wasn't fatal.
Gotti also should have left the lawyering to his lawyer. He shouldn't have pushed Carnesi - as was evident to all in the courtroom - to ask key prosecution witness John Alite whether he had strangled a girl during a tryst at a Queens hotel. Alite denied it, but said he had heard that Gotti's uncle Vincent had once strangled a young woman.
The fruitless effort backfired even more. At the next break, it led to a furious outburst by Gotti when Alite taunted him and Junior exploded in fury and called Alite a "punk dog" and a "fag" - actions that led to a warning from the judge and an apology from Gotti.
Gotti's dumbest move, however, took place during the critical closing arguments in the case, on the morning when Carnesi, who had begun his summation the previous day, was scheduled to conclude his final words on behalf of his client.
Gotti - in a snit that has never been explained - refused to leave the Metropolitan Correctional Center across the street from the courthouse.
So instead of concluding his remarks to the jury, Carnesi had to switch gears. First he had to convince the judge to permit him to visit Junior at the federal lockup, arguing that he wanted to be sure his client's absence was voluntary before going on without him.
Then he cajoled his reluctant client to show up two hours late. It was a major distraction, but once again, it wasn't fatal. Finally - with Gotti wearing an angry scowl throughout - Carnesi delivered a powerful closing argument that set in motion his client's triumphant walk to freedom two weeks later.
The Best Dramatic Performance By A Mob Mom at a pre-trial performance goes to Victoria Gotti. Her ranting at the judge and prosecutors when Castel refused to authorize court funds for Ginsberg was unparalleled. "Why don't you just hang him now?" she shouted at the judge. "They're trying to kill him before trial," she said about prosecution team, adding: "They fight like little bitches, instead of men."
The Best Dramatic Performance By A Mob Mom during a trial also goes to Mrs. Gotti, for her actions when the judge tossed a juror who had been viewed as pro-defense: "This is a railroad job," she said, standing, her arms flailing wildly as family members tried to restrain her. "Fucking animals. They're doing to you what they did to your father. You fucking liar. You bastard. They're the gangsters, right there. The fucking gangsters. You sons of bitches. Put your own sons in there. You bastards."
The Best - or Worst, depending on your perspective - Performance By A Federal Prosecutor After A Stunning Defeat: Assistant U.S. Attorney Elie Honig shaking Junior Gotti's hand and wishing him luck after the Gotti IV mistrial.
The Dumbest Letter Writer (Government Witness): John Alite for the one he wrote to Junior Gotti on yellow legal paper back in 1993 that he ended with, "I miss ya! I'll always keep writing, I hope you at least read these before you throw them out." The letter, which also told how he was earning money working construction, showed that contrary to his trial testimony, Alite was not flushed with cash, and at the time, was trying to ingratiate himself with Gotti, not the opposite.
The Blind Justice Award goes to Gotti IV trial judge P. Kevin Castel for failing to look down from his perch on the bench and see that a federal prosecutor who did not stand to address him during the first pre-trial proceeding in the case, was seated in a wheelchair, until the assistant U.S. attorney stated matter-of-factly: "I can't stand up." Castel also gets a companion knucklehead award for not voicing any apology or regrets for his arrogant and insensitive actions after he finally realized that the prosecutor, Tampa assistant U.S. attorney Jay Trezevant, was a quadriplegic.
Most Incredible Testimony by a Former Mob Prosecutor: That came from Joon Kim, who served six years as an assistant U.S. attorney in Manhattan, much of it as an organized crime prosecutor. Called as a defense witness, Kim, who was involved in two prosecutions of Junior Gotti, said he had never heard of Sonny Franzese, and could not recall any details about a death threat against Gotti by the Colombo capo, even after he was shown an FBI report about the threat, a threat that Kim had relayed to Gotti's attorneys in 2006.
Popular in the Community